Home
»
Mattel Disney Pixar CARS
,
Retail
Mattel Disney Pixar Diecast CARS: Mack Back in Black (Maybe)
MiaSenorita was kind enough to loan out a new oddball find …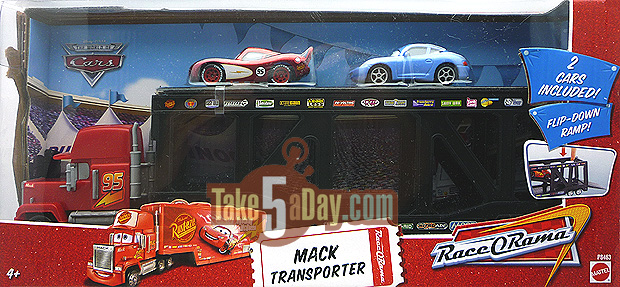 While it was announced a while back and it has been released overseas … its appearance in the U.S. is rather mysterious. It was found at Ross – normally a US discontinued outlet for manufacturers but also for other retailers who have excess stock … so how does something that seems to have had no 'known' release arrive at a store that sells off excess inventory?
Canceled for the US before its actual release?
Or just an oddity mistake?
Unknown.
This could be something Mattel could not convince a retailer to take in the US so there are very few floating around out there (in US packaging?) …
But the more likely scenario is that we will eventually see plenty of these on the shelf – after all, the ONLY difference between this and other Mack Transporters is the carrier portion is black plastic with lots of tiny stickers. Other than that, it's identical to the previous gray carriers without the tiny row of stickers – of course, the two CARS are different than the last several WM "exclusives" but of course, all the CARS included in EVERY variation of the carriers has been re-re-releases …
Here is the international version which we know many people have seen in a variety of countries so not really rare in the int'l packaging.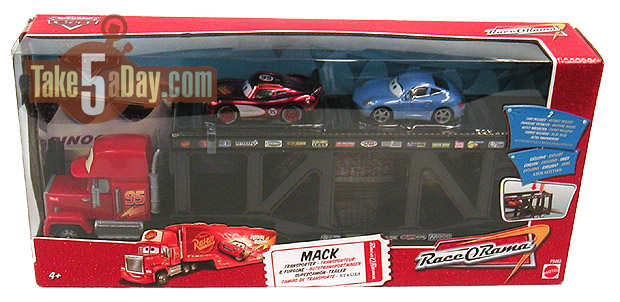 Original post from January 2009 with pics of all the other Mack Transporters.
Thanks MiaSenorita … you either have something that numbers only in the hundreds? Or the first of several million 🙂  … it's like when you walk into Target, do you jinx yourself by pushing a cart thinking you will need a wheeled cart because there's no way you can carry that many CARS or do you carry a cane and stop by the chandelier section first? … I'm not going to handicap this but wish you luck 🙂  but thanks for the loan!
UPDATE:
Okay, I think I have an answer. I think what happened is that Mattel is switching away from the RACE O RAMA banner motif so I have a feeling we will see plenty of these soon wearing the "normal" WORLD OF CARS designation plus perhaps a subtle motif such as the Team haulers now fall under WOC: Piston Cup Nights … so for packaging compeltists, this might be a 'rare' item but for CARS & Mack Hauler collectors, my guess is that we will see plenty of these … of course, this is just a guess …



metroxing

8 September 2009

Mattel Disney Pixar CARS, Retail


32 Comments