Home
»
Mattel Disney Pixar CARS
Mattel Disney Pixar Diecast CARS: Frank the Combine-The Tale of the Tape
Is he is or is he not in scale?
Well, a 100% direct comparison is not really possible as he's not exactly a CASE IH Axial Flow 7010/8010 Combine (with "grain head.") – Frank's back area is tampered off – though since the CASE IH has been around 25 years, it's redish and most combines essentially look like this … we'll call the CASE IH the foundation of the design of Frank.
The "real deal" CASE IH is about 37′ long and about 12′ high (not counting the black piece attached to the top – no idea what that is – it's an attachment so it's not counted in the official numbers listed by CASE on the website).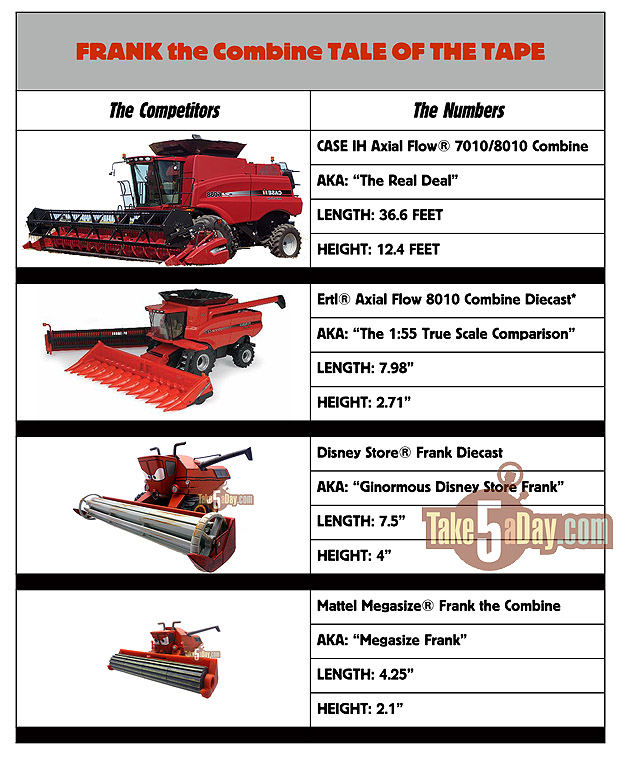 So, while the second photo is the ERTL Diecast that people previously used to customize Frank, I am using it to list the "real deal" CASE IH if it were a 1:55 diecast. As a 1:55 diecast, it should be about 8 INCHES long and about 2.7 INCHES tall.
So Disney Store "Ginormous Frank" is pretty close. It's technically slightly shorter and a tad too tall but also note. It's length includes the "grain head,"  which actually varies in length and size because that attachment in the real world world can vary so that .4″ in difference is pretty accurate since that grain head can be longer-wider or smaller-shorter.
The height on the "ginormous" diecast does NOT include his "ears (?)" but you could quibble he is a tad too high in scale anyway but you could argue that like Salutin' Sarge at FULL ATTENTION, Frank the Combine is steamed and like a real bull is charging with his head up to be as big as possible so the height thing is not too far a stretch.
(ALSO NOTE: I do NOT have the ERTL, it's a 1:32 scale diecast and since I don't have one, I cannot tell you its exact measurements – I am using it as a PHOTO ONLY Stand In as if it were 1:55, what its dimensions SHOULD be).
As for "Megasize" Frank, yea, he now is relegated to the lightweight division and in scale with MINI Mater, McQueen & Tractor …
Here is Micky's nice new Frank diorama …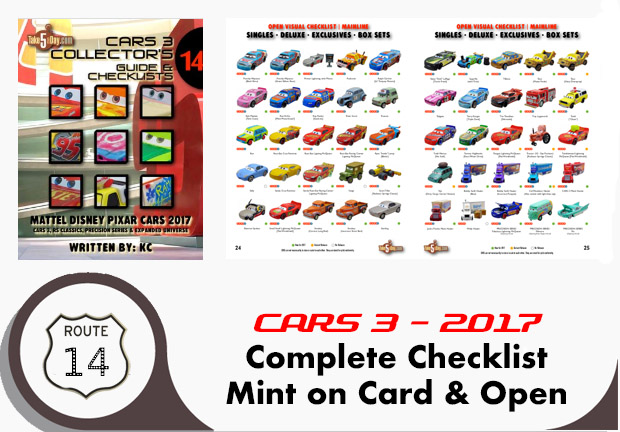 metroxing

23 August 2009

Mattel Disney Pixar CARS


49 Comments