Home
»
diecast
,
Mattel Disney Pixar CARS
,
Retail
Mattel Disney Pixar Diecast CARS: Short Term, Retail Reset Shelves Loaded … Loading … UPDATE!
In the short term, the Fall Reset is happening and the stores shelves are actually filling with new CARS …

Mike E. reports and sends in photos – Target seems to be getting fully stocked on the playsets – will the Final Lap CARS show up in days or weeks?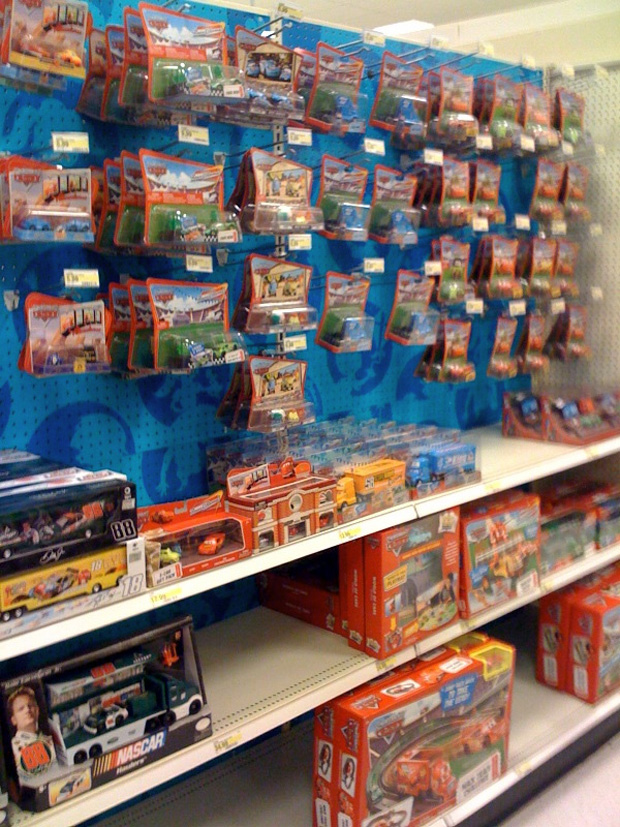 Many of the playsets have already been previewed but before actually seeing this on the shelf, it was only a line description … a new Storytellers playmat with a re-release of "Brand New Mater."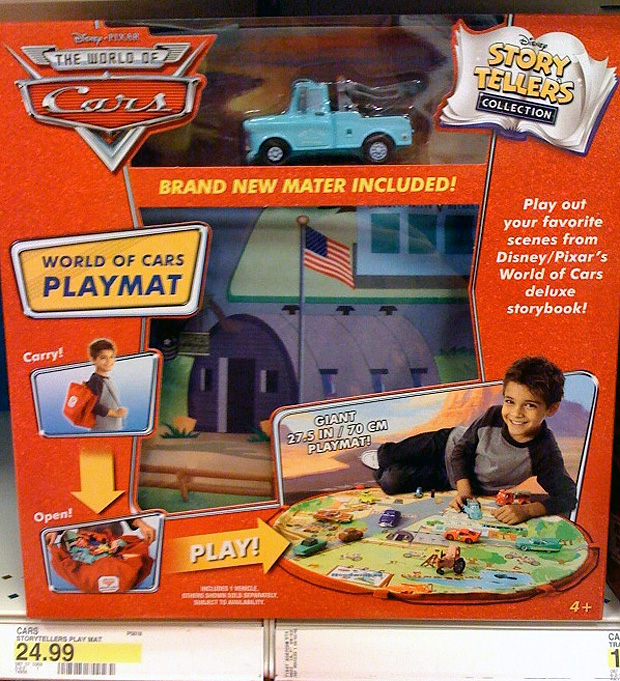 The three playsets all feature PLASTIC CARS – though in some cases, you can actually use the metal 1:55 diecast CARS though your results and resultant facial, eye or house scarring issues are your own responsibility 🙂
Mack Track Challenge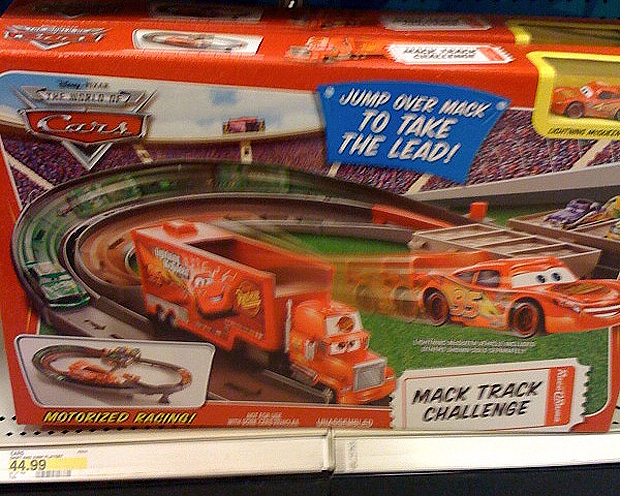 Be sure and send us a review if you buy and crack it open!
Original POST HERE.
Piston Cup Starter Set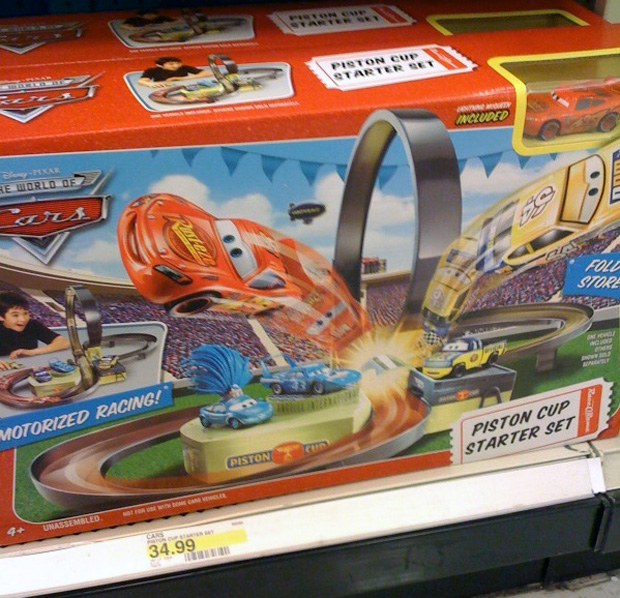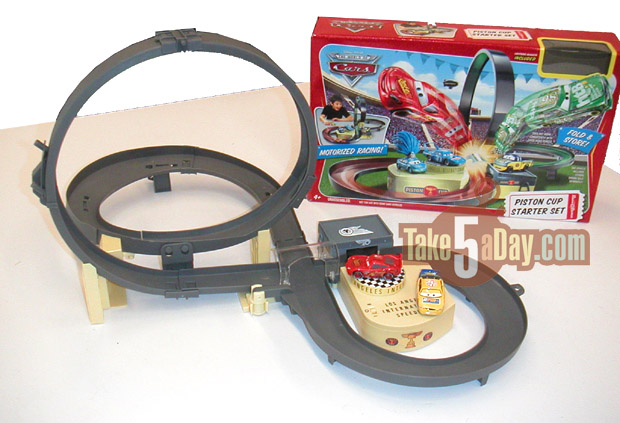 Original POST HERE … again, send us a review!
Mike E. also sends us the 1st new MINI's 6-pack to hit the shelves, he actually found them at Fred Meyer but others have reported in from Target …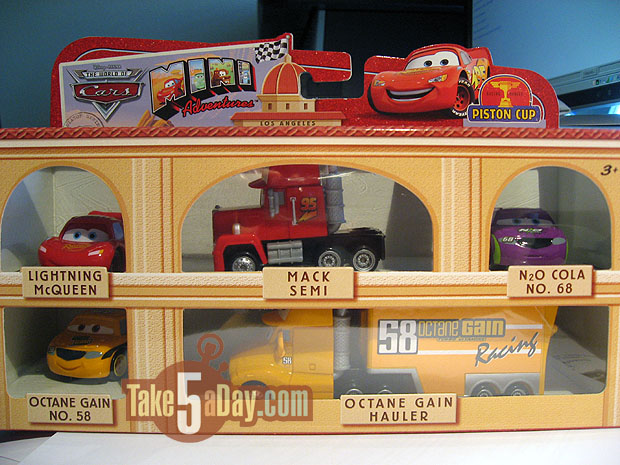 A nice set with the first release of Mack cab only as a MINI along with new releases of N20 Cola, Octane Gain and Octane Gain Hauler.
Also listed on Amazon (as a Pre-Order): Piston Cup 6-Pack
The next two to come … soon> Or moving from the backroom to the front?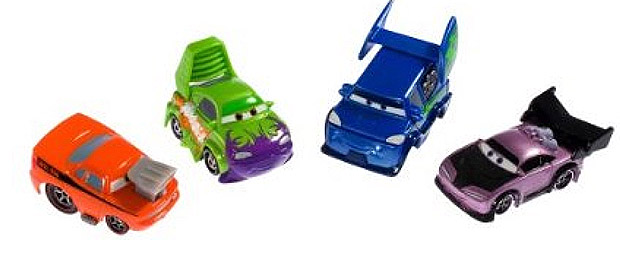 (of course, not all 6 MINI's are shown)
From Joshoa C, the Mater the Greater Stunt Super Stunt Set … is also in stores at TRU.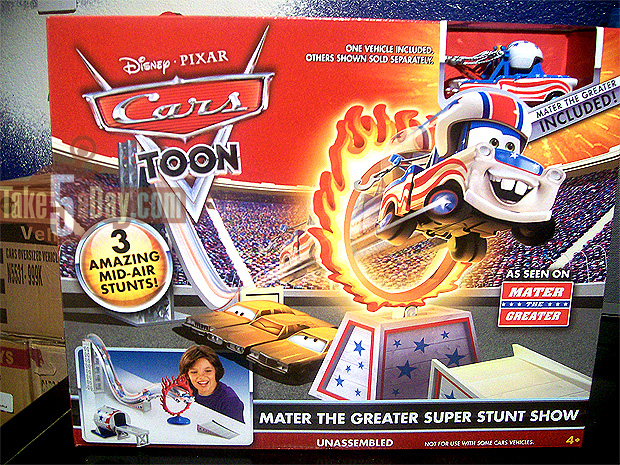 Again, plastic Mater – not bad but not as nice as the diecast in terms of detailing.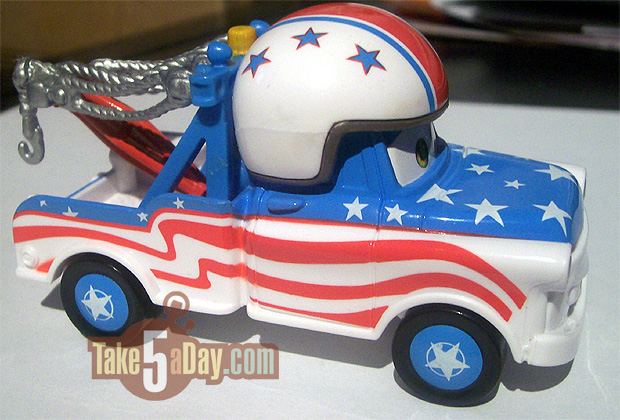 Looks metal but not …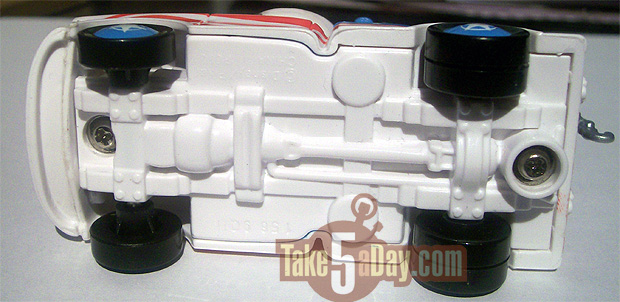 Original post HERE.
This has been out a few weeks also …
Radiator Springs Speed Trap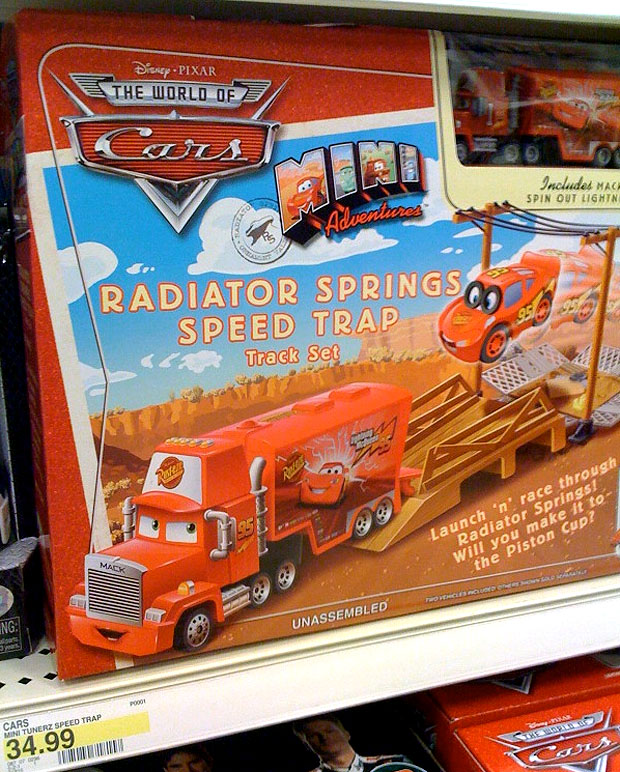 Original Post and interior shots HERE.
And so far only seen at Target, a new CARS Carrying Case – reasonably priced at $9.99 …
(photos courtesy of Mike E. & "dadmanrich."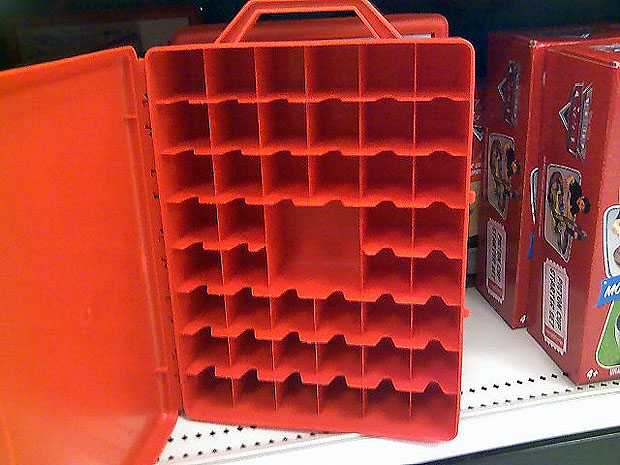 "dadmanrich" notes …
I was checking in at my local Target, here in North Carolina, and my son found this carrying case, and I knew I just had to share.  This case is priced at $9.99.  The lid indicates it holds 50 cars however, I only see 44 slots and 1 = to 4 in the center.  This center slot might hold Al Oft or Barney Stormin'.  You could use it for accessory pieces, pitty tire stacks and tool chests."

And yes, I was at at TRU and actually found these just hanging on the shelf …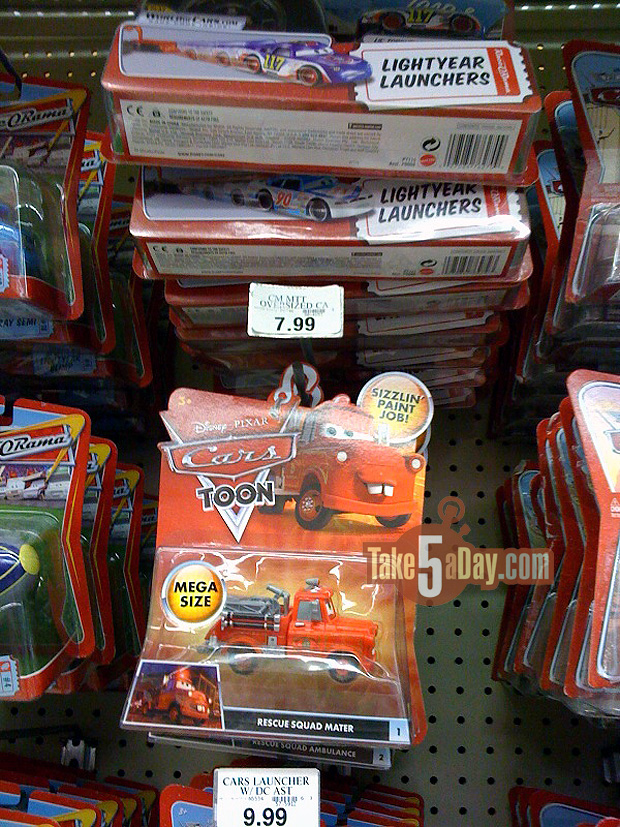 There was no peg space for the singles (or a peg sticker) – anyone see singles at their TRU? More photos and reviews coming!

Meanwhile, the Walmart reset is scheduled for August 15-21 with stock arriving a week before … which of course means that some stores have already put out stock 🙂 … and others, maybe by Labor Day 🙁 …
Rowald R. sends along pics of the reset-restock already in progress at his store including a WM-only CARS Endcap.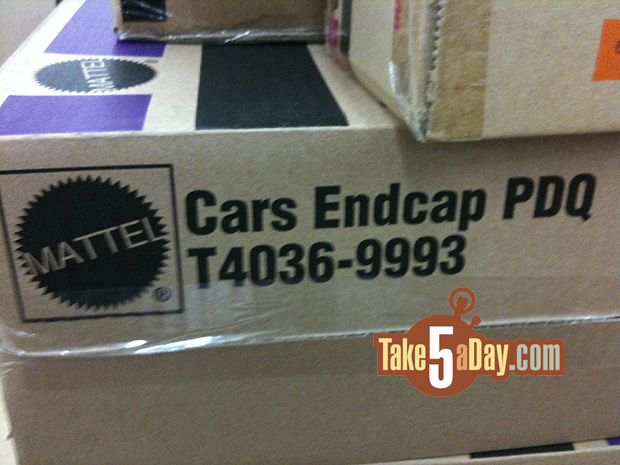 Others are reporting that it seems to be a mix of B & Case C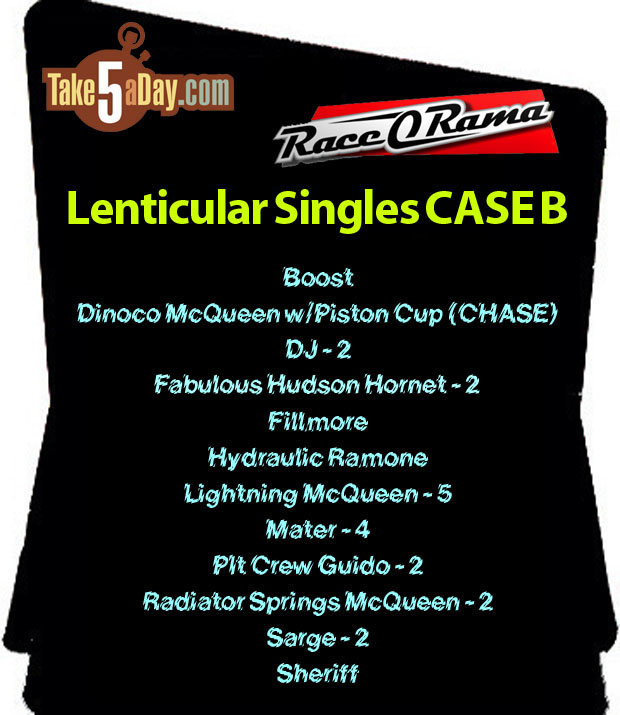 As people are finding both CHASE CARS (with Piston Cups) as well as a Flo & the new Luigi/Guido 2-packs …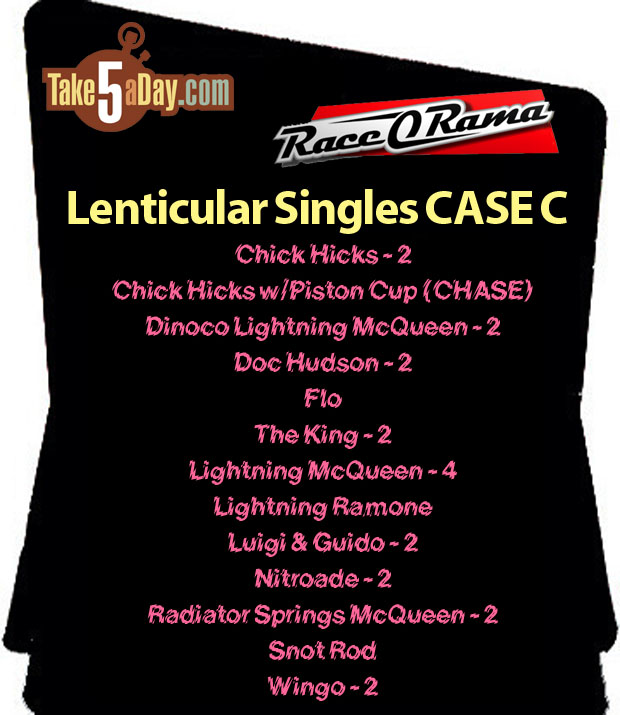 Including Amy-Bravo1616 spotting the ever important cost-savings of a two-piece front Lenticular Nitroade …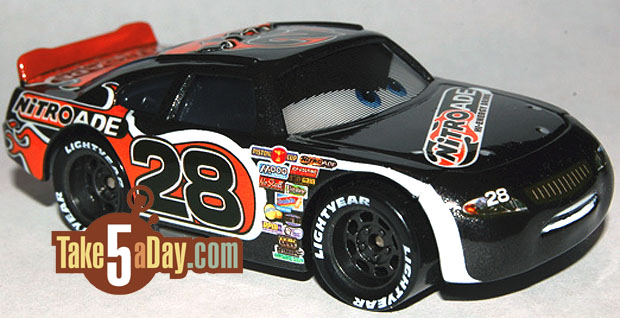 Of course, since the Nitroade body is used on a multiple of Piston Cup racer bodies, they are reading for a multitude of lenticular Piston Cup racer releases with different expressions …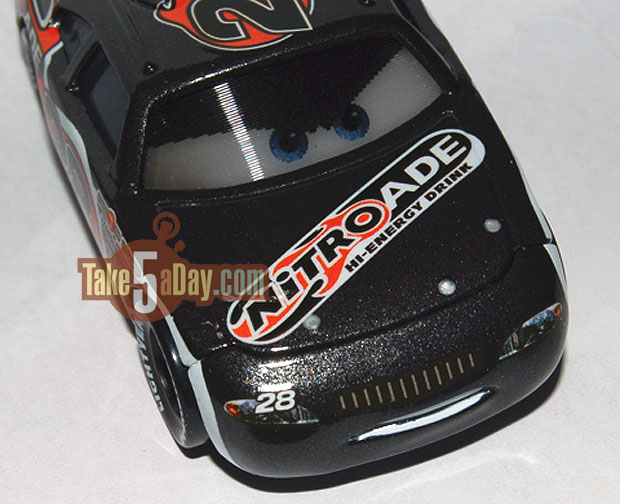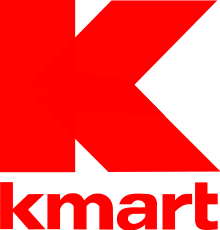 And while not really a reset … it will cause your eyes to bug out …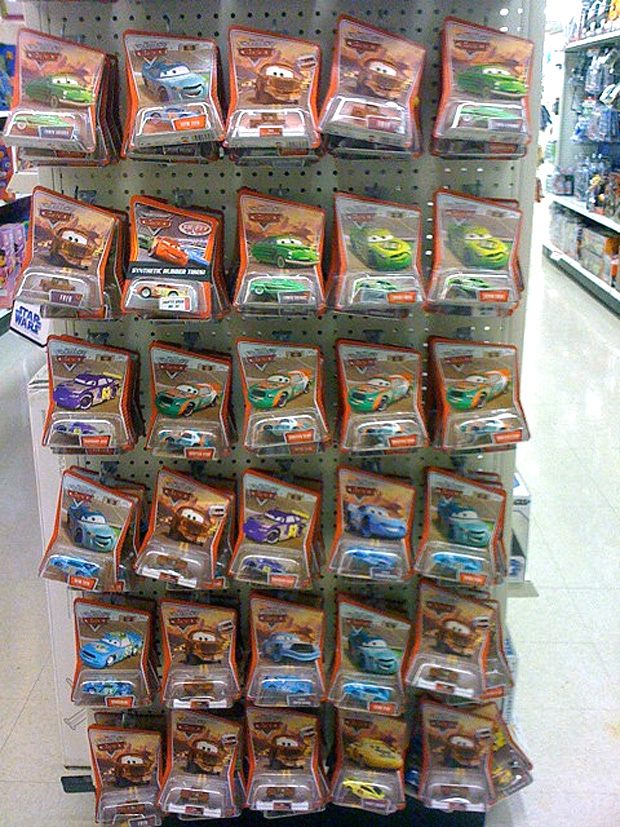 Carla L. sent this photo along a few days ago … I told her that she would be making a lot of Take5 friends very soon … 🙂
Online …

Nitroade Hauler has arrived at CTC …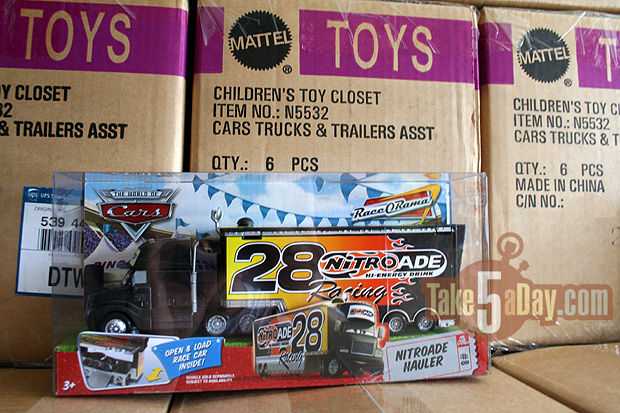 Great graphics …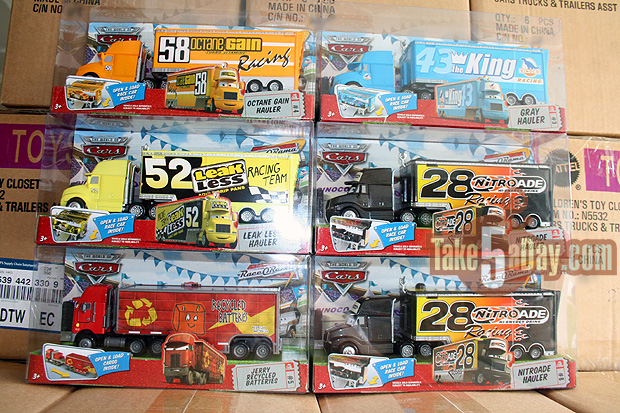 The CASE Assortment … don't forget, there's a coupon code:
Children's Toy Closet (CTC) Coupon Code
Code is: 809
5% off your order and you get an entry to win a Hauler Display Case – auto entry for every $25 or more purchase. The coupon code is good through August 30, 2009.
The TakeFive Magazine Sale!
MagCloud is having a one year anniversary 20% off sale*.
(Our magazine-checklist publisher) so if you click on the link below for each issue.
Each link page below also offers you a preview of each issue.


Note: MagCloud sent us this note, "During this time we are discounting our production costs by 20% and extending this discount to each of you," but it looks like it's 20% off "their" base amount they charge us and not 20% off the final retail price so as someone pointed out, the discount in final total is closer to 10% – hopes that makes sense …
Thanks for the great pics everyone!
So we seem to have plenty of CARS to buy as we wave farewell to Martin A …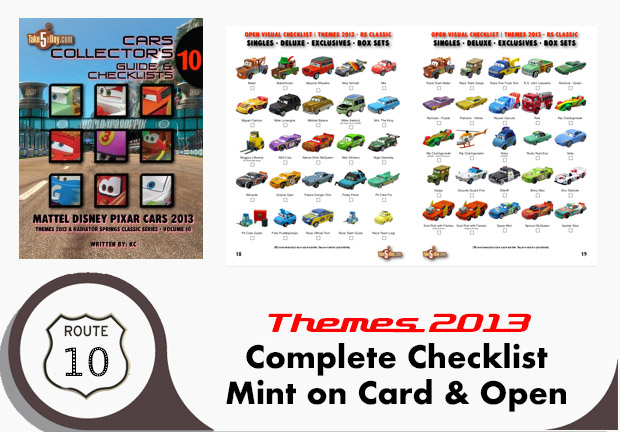 metroxing

31 July 2009

diecast, Mattel Disney Pixar CARS, Retail


117 Comments