Home
»
Advertising
,
collecting
,
diecast
,
Film
,
Marketing
,
Mattel Disney Pixar CARS
,
Retail
,
Toys
,
TV
Mattel Disney Pixar Diecast CARS: CARS Photo Roundup …
CARS & photos and photos and CARS …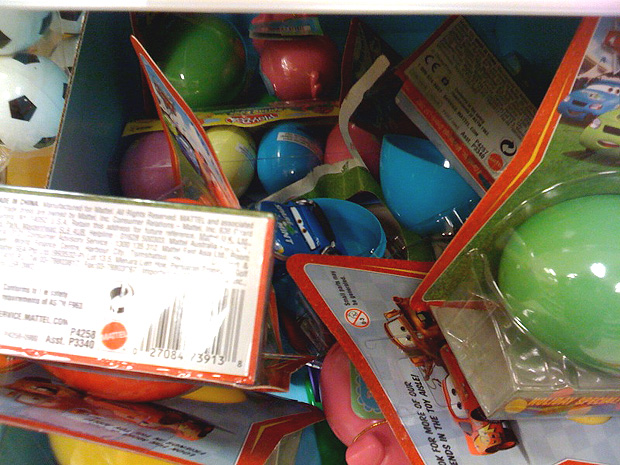 CALLING ALL CARS,  CALLING ALL CARS – I have broken though the outer shell imprisoning me. I am free. Do you roger? You sound muffled – are you still encased in the oval shell? I've crash landed on a strange planet. The impact must have awoken me from hyper-sleep. Terrain seems a bit unstable … No read-out yet if the air is breathable … and there seems to be no sign of intelligent life anywhere …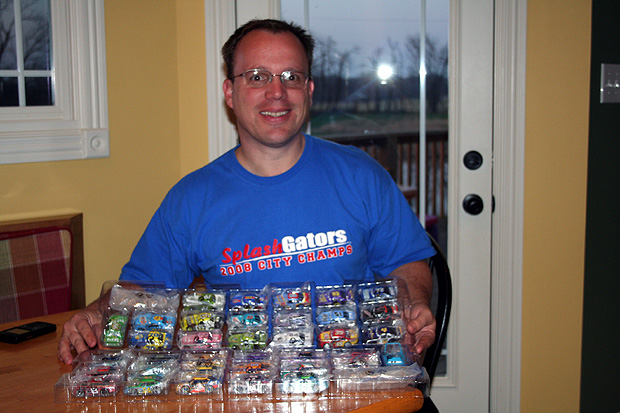 On a related note, Piston Cup Racers have been freed at this household location by crazyforcarsakajim … what do you after you find, receive and hold the holy grail of CARS? 🙂 … Is it just me or does he have the expression there is no air in the room … brain scrambled, brain scrambled, shutting down, shutting down … 🙂 (or maybe that's normal, let's ask his wife 🙂  ).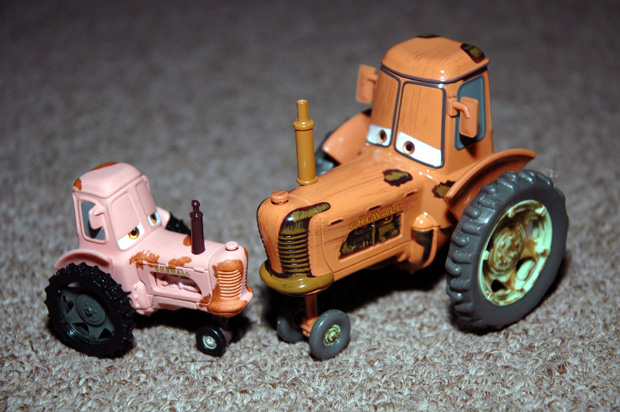 iam speed sends us nice sharp pics of the scale of 1:55 Mattel tractor and Disney Store tractor which is actually nicely detailed but the scale of their CARS vary greatly …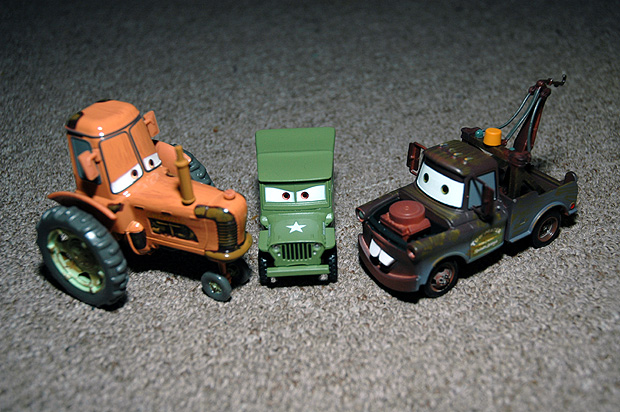 More Disney Store only CARS – or if the scale is not way off, Mater looks like Burnt Mater or is Brownie Mix Mater? Um, fudgey.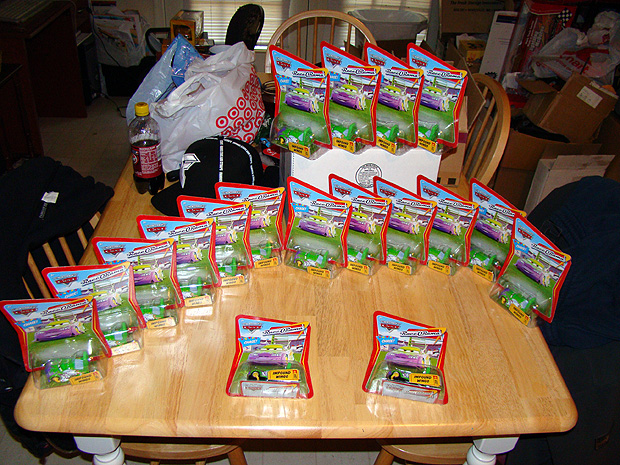 If you live near Ricky S. – you might not find any Impound Wingo's … he says they're on their way to Canada … CANADA?! They get all our CARS … oh wait, is it still June 2008? Oh, never mind … I guess they should see new CARS once a year … maybe Matty is stuck in a snowbank … who will pull him out?
CARS 4: The Matrix … McQueen realizes he's a cyborg and goes deep black.
247 bins on the wall, take one CAR out, 21,894 more as backup …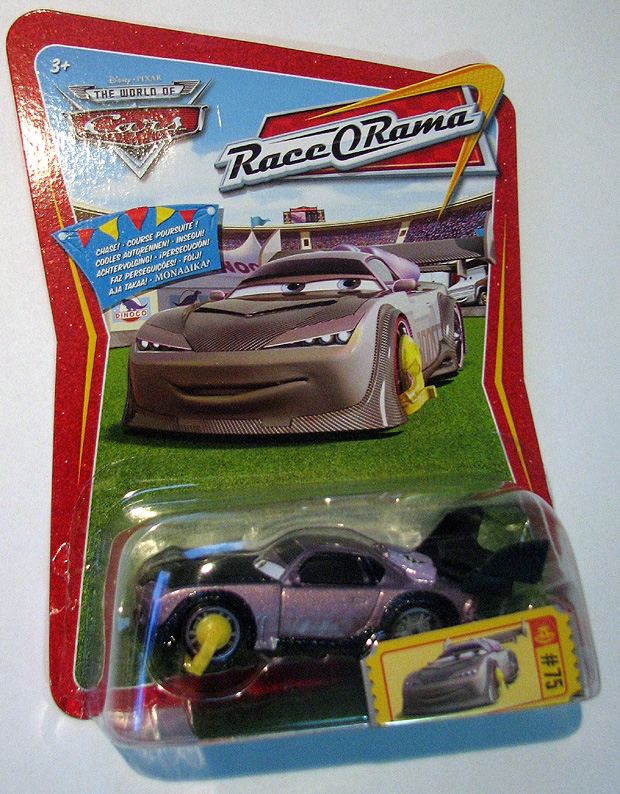 Steven H-B of the UK sends us a snap of International CHASE Boost … I like the mini icon of the CAR on the ticket but maybe a bit redundant with the giant picture above – too bad, they can't do other angles … but a nice way to go – much better than trying to cram 400 words on a tiny ticket.
And reader, RichardP43 sends us not only a funny pic but also a funny and cute CARS story …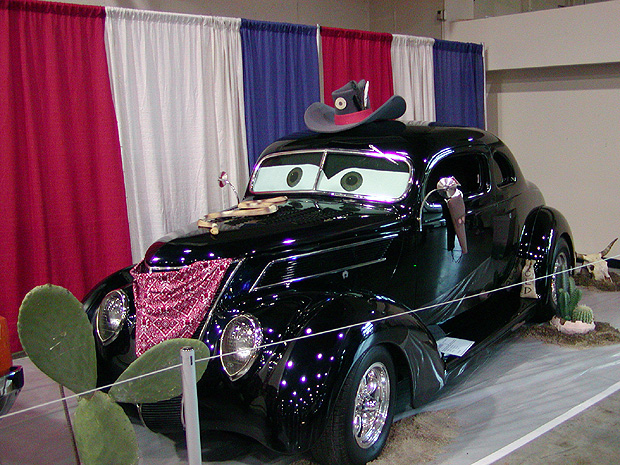 Have a couple items that might be of general interest to the Take Five
crowd:

1.  In January I went to the Grand National Roadster Show here in
Southern California.  If you're into hot rods or customs you may have
heard of it.  For you NorCal guys it was commonly called the Oakland
Roadster Show before they left Oakland and headed south a few years ago.
It is an indoor car show with about 500 cars on display, mostly hot rods
of all types and years, always some customs, motorcycles, race cars, a
few movie cars, and other vehicles of interest.  This year CARS was
represented by a nice '37 Ford dressed in western attire, very
appropriate for the Radiator Springs area.  Please see the attached
picture.  (Speed Racer's Mach 5 was also there but I didn't bother to
take a picture.)
2. In the April issue of Road & Track long-time racer Allan McNish has
started writing a column.  McNish is a Scottish driver and has raced in
Formula One and its feeder series such as F3000 and the British Formula
Three series.  He is best known as a two-time American Le Mans Series
champion and two-time winner of the 24 Hours of Le Mans, most recently
in 2008.
At the end of his first column in Road & Track he writes …
Of course, despite all that hard work and high speeds, it's still easy
to be put straight in your place.
I've got a little boy, Finlay, who is almost 4 and a little girl,
Charlotte, just over 6 months old. Finlay and I were watching the film
Cars. He really likes Lightning McQueen and said, "You know, daddy, you
might be a good race driver, but you're not as good as Lightning
McQueen. He's much better than you."
Kids!  🙂
Thanks for all the pics and stories. Keep 'em coming.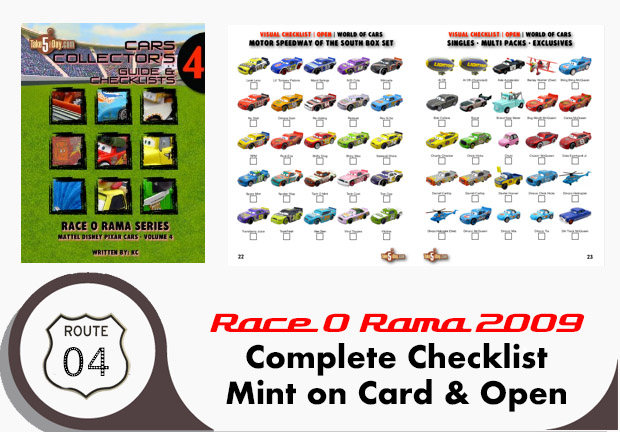 metroxing

23 March 2009

Advertising, collecting, diecast, Film, Marketing, Mattel Disney Pixar CARS, Retail, Toys, TV


61 Comments