Home
»
Advertising
,
collecting
,
diecast
,
Film
,
Internet
,
Marketing
,
Mattel Disney Pixar CARS
,
Retail
,
Toys
,
TV
Inkjet or Laser Print Your Own Decals …
After seeing Aroldo Pongetti's Wally hauler turned into the Apple hauler, many are ready to try your hand at it …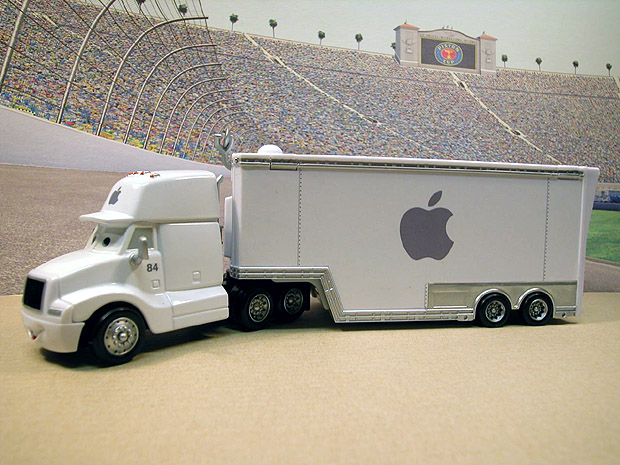 "I removed the Walmart logos on the hat and on the sides with fine sand paper, then masked the parts and repainted first with a white primer coat and second with can glossy white coat. The next step are the decals on the cab and stickers on the trailer."
Sure, sounds easy … 🙂
Now the decal part?
While I'm not ready to tackle doing a Wally to Apple hauler conversion, I can give you a heads up on the decal paper I used … paper by a company named Papilio and purchased from a company called TexasCraft. They offer a huge selection of craft & design items and the customer service was top notch, so I highly recommend them but I'm sure there are others.
You will have to be slightly computer savvy :- as high res images print out much better – you can get away with less than 300 dpi in some cases but I wouldn't recommend it.
You will need a pack of the Inkjet Water-Slide Decal Paper.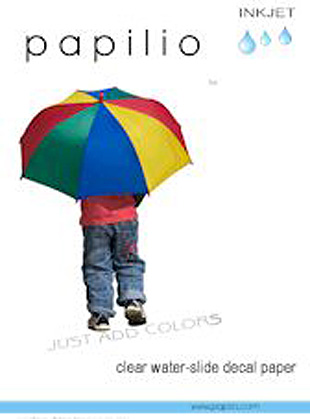 There are two versions – CLEAR and WHITE (back).
The CLEAR comes in packs of 10, 50, 100 and 1,000 sheets – I'm guessing most people should probably start with a 10-pack as a tester but hey, go big 🙂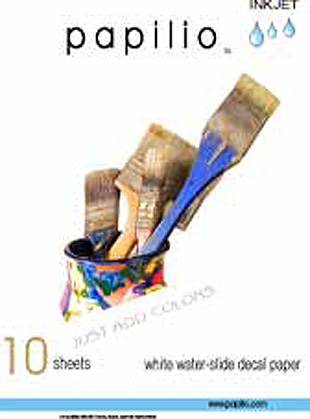 The white sheets for inkjet printers come in a 5, 10 and 100 sheet. Scroll past the "clear" sheet listings to see the white sheets at the bottom of the page.
If you're just doing the Apple hauler, clear might be better but if you're going to do other CARS or projects, white has some advantages in that you can see it on darker CARS backgrounds … for instance, any decals you see on darker color CARs now are all printed on white sheets.
AFTER printing out your artwork, you will need to "seal" the sheet – you will need what they call a fixative, this is what I use: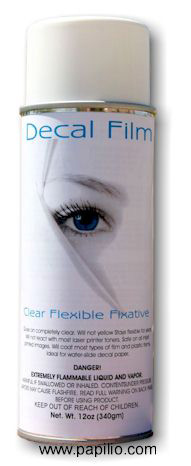 You spray it on to seal it. You will need a VERY WELL VENTILATED room or outside area … NOT FOR KIDS and NOT FOR ADULTS in closed rooms. It's strong and will quickly make you loopy! :-/
Then let the sheet dry, cut out and place in water. Wait a few minutes and then start to slide it off.
Several warnings. You will need to print out several to a dozen of whatever art you want. I found some of the art colors would run in the water and/or you will need to practice removing the art from the sheet and onto your CAR/object. It is not as simple as it sounds so be warned that it's not just like print, cut and attach … it will take you a few tries before getting it to work so gauge the number of sheets you bought to test this out … for instance, they have a "sampler" pack with three sheets and another type of fixative and depending on your skills, that might be enough … or in my case, I needed a couple sheets to gauge the right amount of fixative, water removal and placing …

If you have a color laser printer, it also comes in different version for laser printers.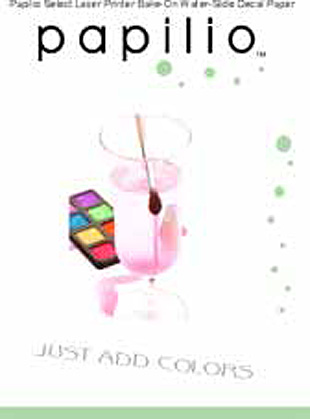 It also comes in from 5-1000 sheet packs (scroll to the bottom of the page – the top ones are for "baking on" the decal … DO NOT BAKE your Wally/Apple hauler … kids, please explain to mom & dad why it's not a good idea to bake plastic things 🙂 … though if you would like to bake all 7 haulers into one modern art thinger, please send us pictures! 🙂
It's pretty amazing what you can feed into the inkjet and laser printer now – like make your own printed holograms or your own glow in dark art?
Good luck with ye Apple hauler conversion – send us pics of your brillance and genius!



metroxing

7 March 2009

Advertising, collecting, diecast, Film, Internet, Marketing, Mattel Disney Pixar CARS, Retail, Toys, TV


18 Comments