Home
»
Advertising
,
Checklist
,
Film
,
Financial
,
Marketing
,
Mattel Disney Pixar CARS
,
Retail
,
TV
Mattel Disney Pixar Cars: "More Coming …" Toyfair 2008 Part II
Mattel didn't spend a great deal of time showing off CARS 1:55 (the Mini Adventures line is another story – our more indepth coverage of the Toy Fair Mini coverage is coming separately).
We still have no word as where the "missing E to J" "new" CARS are … from the display at Toy Fair they are clearly ready to go and not prototypes they are showing off. New CARS shown at Toy Fair are incorporated into the main 2008 SEALED CASES post.
What else can we gleam from the CARS display?
There are actually different types of "Pitty" bodies (including a more correct-sized tire) and Pitty's to come not announced …
Perhaps there will be more configurations in Gift Packs assortments besides this one … while it's cool to get Crew Chief Leak Less & Stacy Pitty … not so much on the 19th version of Leak Less.
And the Pit Row Race Off "launchers" get refreshed with some old …
Um, RPM? I think I might have him, let me check …
Will they release every Piston Cup racer as a launcher? So, instead of charging us $29 a box for 6-7, Mattel will just charge us $7.99 times 36? (of course, above & beyond the $199 + tax + shipping + RL membership for the Speedway of the South entire set?)
Trunk Fresh Pit Row Race Off actually was on a card marked NO STALL so presumably, No Stall will be a launcher relatively soon?
So to speculate further, this could be Mattel's new plan going forward – they could be dividing the line out to:
"Average Collectors"
"Serious Collectors"
"Completists"
"Ultra Completists"
Until December 2007, CARS were really only essentially available in two ways – on blister cards and in box sets. So, of course, whether you only collected the CARS you really liked or were a completist, buying them on blisters cards were your only choice. With the exception of Rollin' Bowling Mater's game/BJ Warehouse set and the Dinoco 400, the box sets only appealed to: openers trying to catch up, gift givers or ultra completists. For the average buyer, spending $2.97 to $3.49 a CAR was a great price point. The CARS were interesting looking and a good value as a "casual" reward or gift for their kids, the neighbor kids, the grandkids, etc … the Movie Moments were a little more but as a blister, it still represented a "casual" buy. A box set always appears as a more serious gift even at $9.99 – that set the bar a bit high as it were, box sets usually only sold well during the holiday seasons …
(The ultra completists do NOT count into this as they will buy anything as long as Mattel makes some effort … Ultra completists have the holiday ornament even though they were essentially a car re-released for the 10th time on a flimsy plastic tray along with a cardboard ornament 🙂 or ;-( ).
Average Collectors
So the singles & Movie Moments will still be geared towards the casual buyers – a quick cheap way to pick up a CAR. This line will mostly comprise of the CARS that hold the most general appeal and eye-catching interest. That's not to say that Mattel is abandoning "new" CARS inserted into here but rather, only the CARS that will are appealing to everyone whether they are rabid CARS collectors or not. Of course, this includes most of the townies of Radiator Springs who most everyone knows by now but also obvious CARS such as Dale Jr., the Elvis RV, etc … who cross all barriers of interest … and while we fanatics want all the Pit Crews and maybe we're even willing to buy 5 of each, for the average fan? They would definitely want My Name is Not Chuck but would they want Trunk Fresh Pitty or Mood Spring Pitty? That's not to say they're not going to buy any of the other configurations but they will carefully weigh spending anymore than $3.49 on a CAR on a case-by-case basis.
Serious Collectors
Serious collectors are going to buy up everything within reason. They are mostly completists with some exception. They are going to buy any new CAR in the single pack but they're not complete completists … for instance, they obviously bought Leak Less as a single a while back but might be willing to buy Leak Less again in the Gift Pack since it includes Stacy, Leak Less Pitty & Leak Less Crew Chief … for Mattel, that's an extra $3.33 in sales since if the other two were available as singles, the serious collector would of course buy them as singles and skip buying Leak Less again … of course, Mattel is going to try to push this as far as they can … witness the Charlie Check CAR with yellow tail-lights bundled in the gift pack with King & Lightning McQueen. Some serious collectors will skip it but for others, Mattel makes three times what they might've sold before. This is where the launchers (Pit Row Race Off) CARS are also an opportunity for Mattel to re-sell the same CARS. These collectors MIGHT buy the launchers or not but these collectors are definitely NOT going to buy the singles again of the racers already out … so for Mattel, they've doubled the odds on CARS already out in re-selling to serious collectors.
Completists/Ultra Completists
This audience, Mattel knows is pretty 100% on board. They only thing they have to be careful in is in not explicitly driving them away like a box set of 6 Lightning McQueen's with the #84 Mac iCar for $29.99 …
So, if we don't get the "missing CARS" as WM exclusives – we might start seeing a revised Gift pack & launcher collection.
MORE
And of course, beyond the Mini's, Mattel is still trying to get us buy another line since the PULLBACK line is dead, how about a larger quasi-pullback with more options and directions?
The Movie Stunts lineup – hard to tell the exact scale but maybe 1:43ish? Or something between 1:43 & 1:55. Looks all plastic – not that interesting to me but there ya go:
Looks like the initial lineup will at least be McQueen, Chick Hicks & Boost.
PART I of the Toyfair post is here.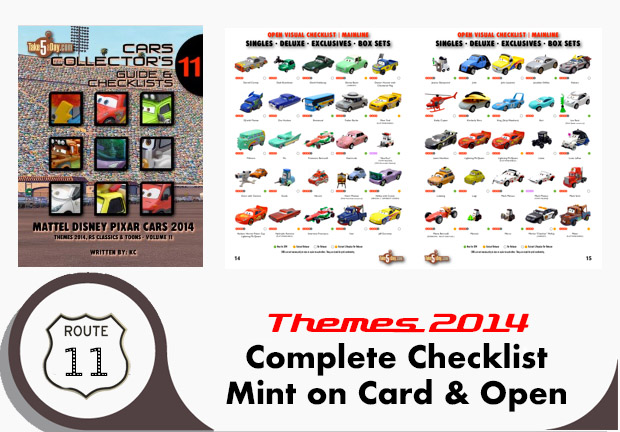 metroxing

24 February 2008

Advertising, Checklist, Film, Financial, Marketing, Mattel Disney Pixar CARS, Retail, TV


16 Comments