Home
»
Advertising
,
collecting
,
Design
,
diecast
,
Film
,
Internet
,
Marketing
,
Mattel Disney Pixar CARS
,
Retail
,
Toys
,
TV
Mattel Disney Pixar Cars Checklist: How to Display Your CARS
If you're collecting the Mattel Disney Pixar CARS and frankly, who isn't … you might find you are running out of room … I'm eying this place as just about the right size for the collection as it'll stand after 2008 …
Or something less fancy and more functional …
Or if you believe you can actually fit it all in your house now, reader Noel has a very classy solution, Ikea's Detolf glass case with optional lighting kit – very nice and very classy – at a very nice affordable price.
Or a simple but functional bookcase from Ikea.
If money is no object, how cool would this look in your study? A custom-made old-style gas pump with the Dinoco logo? (Yes, this is the Sinclair Gas logo but you get the idea).
And while they might be now too small just to buy one now – how about this amazingly cool lighted CUSTOM display case for your CARS? (eBay link).
Another place that sells customized displays if you have the money to spend … Or here.
Not quite as customized for CARS but still cool looking … you might need to check with them if the CARS 1:55 fits onto their current cases …
If you prefer them in plastic cases – Carney is one of the largest places selling diecast display cases. There's also Great Display Cases, Display It!, ClearWater, Aculine, , Cases for Collectibles or if you want a spinning thing (wouldn't the CARS fly around?) – check this out also at Carney.
Though again the CARS 1:55 are an unusual size, so be sure and check FIRST!
The companies above that sell the plastic display cases should also sell the enclosures if you prefer to store the CARS unopened and sealed.
NOTE – I have NOT ordered from most of the companies listed above (well other than Ikea) so I am not necessarily recommending them … just offering you some links. Good luck!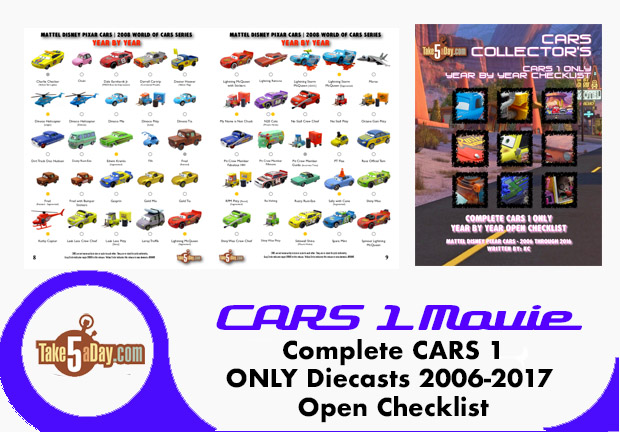 metroxing

7 December 2007

Advertising, collecting, Design, diecast, Film, Internet, Marketing, Mattel Disney Pixar CARS, Retail, Toys, TV


11 Comments