Home
»
Disney
,
Disney Pixar
,
Disney Pixar CARS 3
,
Mattel Disney Pixar Diecast CARS
Mattel Disney Pixar CARS Diecast: Kmart Case October 2013
This looks to be the contents of the Kmart Case for Kmart CARS Day 2013 in October.
It's not perfect but it's pretty good.
The GREAT.
Yep, Mildred Bylane and 2 in the case! 2 Boost with Flames! 3 Silver Metallic Rip Clutchgoneski's!
The GOOD.
Mark Wheelsen, Luigi & Guido with Glasses – though only one of each plus Chase Airport Waitress, Ruka
So, 10 total NEW never before released CARS.
HARD to SAY if it's GOOD or SHABBY.
There is a listing of a "CARS 2 Lightning McQueen with Silver Metallic Paint." Is it merely a repeat release of the Silver Metallic Lightning with Racing Wheels we've already gotten in 2 Kmart CARS Day releases already? Though this will be on a new card – or is it Hudson Hornet Piston Cup (decal) Lightning McQueen? If it's the HH one, then 5 in the case is acceptable which would make 15 new releases out of 24 in the case … BUT if it is merely Silver Metallic LM with Racing Wheel but on a new card? It's weak. WEEAAAAKKKK.
STRANGE & WEAK
There is yet another Sputter Stop in this case. They REALLY cranked out a lot of Sputter Stop's this year and have now scattered them around the last 4 CASES released!
And 2 MORE Francesco Bernoulli's – are Francesco's really that much cheaper to make?
Full breakdown below.
So, if Kmart sells cases, you in?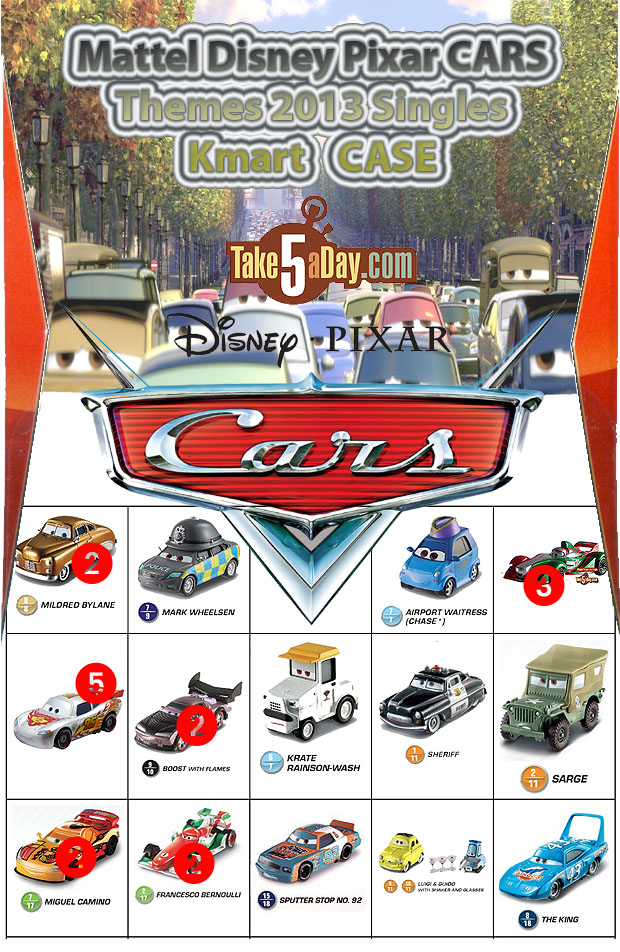 Nico from Germany sends along European cards – probably European Case L? Or the equivalent?  Thanks, "Nico!"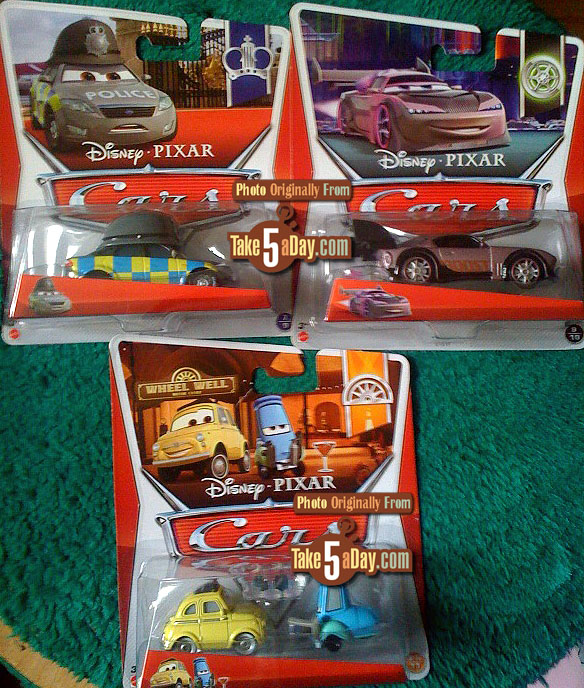 So, if this is the Kmart Case for October, what singles if any from the poster did not make it?


metroxing

3 September 2013

Disney, Disney Pixar, Disney Pixar CARS 3, Mattel Disney Pixar Diecast CARS


40 Comments