Home
»
Disney
Disney Fairytale Princess Designer Doll Collection
Starting today, The Disney Store will debut the much-anticipated Limited Edition Disney Fairytale Designer Doll Collection, featuring five iconic Disney Princess characters and their leading men who, together, magically create a one-of-a-kind Collection.
Including Snow White and the Prince; Rapunzel and Flynn Rider; Jasmine and Aladdin; Belle and the Beast; and Ariel and Eric, these dolls have been brought to life with careful attention. Featuring stunning details, such as satin gowns with subtle ornate prints, embroidered bodices, golden buttons and rhinestone accents, each set is presented in a special keepsake display case with intricate details on the base, including a golden plate with the name of the specific Disney Princess and her partner. Each doll measures 11.5″.
Each couple doll set is limited to an edition of 6,000 globally and comes with a Certificate of Authenticity.
Beginning August 20, a new couple will be available for purchase every two weeks. The dolls will be available in select Disney Store locations in North America and Europe, and online.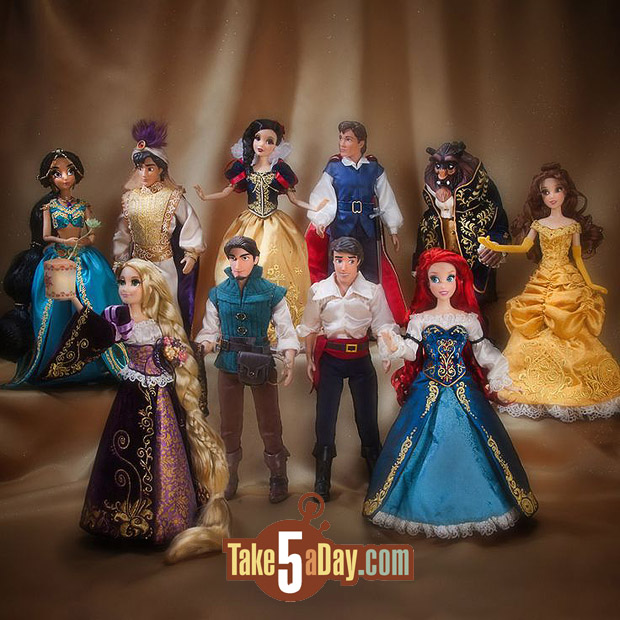 Additionally, for North America only, an online-exclusive set including ALL five couples will be available for pre-order on Monday, August 12, at www.DisneyStore.com.
So, US/Canada buyers can pre-order the 10-pack today – if you want the couples individually, Snow White and the Shoe Prince is up first next Monday – then about every two weeks after that, a new Princess and the Dude is available.