Home
»
Disney Pixar
,
Disney Pixar CARS 3
,
Mattel Disney Pixar Diecast CARS 3
Mattel Disney Pixar CARS Diecast: Gouging & Swapping
The race day exclusives have showed up at my local Target BUT …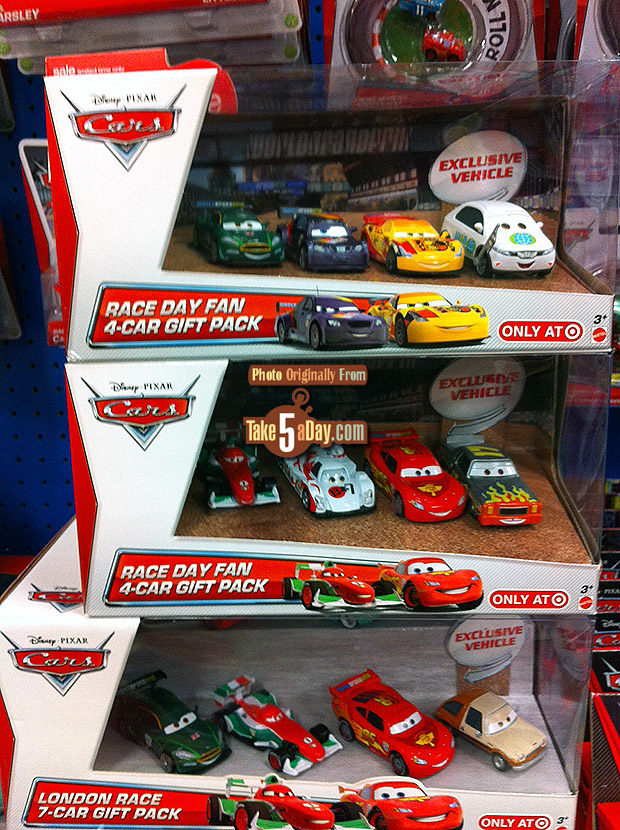 These are not the CARS "exclusives." but rather swaps from someone's open collection. While I certainly don't condone this – however by Mattel demanding that collectors pay up to $76* for 3 character diecasts just beggers the situation for abuse.
(With taxes and at CityTarget Stores, everything costs a little more).
During the initial release stages of CARS 2, you could excuse some of it as – if you're an opener or not a card collector, you might as well buy some of them in a box set OR you could buy the singles and keep them mint while buying box sets and opening those but now, 2 years later, there is very little excuse for this packing assortment other than laziness and gouging.
It's understandable minor characters like Alloy Hemberger might not warrant a single release and a "full" production run – the perfect solution is a 2-pack. It doesn't cost any less or more versus a minimum run box set release of Alloy to put him in a 2-pack. Ideally, you put him in a 2-pack with another new or re-paint release but even as fan of Max Schnell if you include Max in a 2-pack, people might grumble a little but spending only $3 more is not a huge deal – plus it's enticing as Max is a racer for new collectors. And unlike other 2-packs that might get a release many times throughout the year, maybe the Alloy-Max 2-pack only gets 2 releases … enough to satisfy most collectors.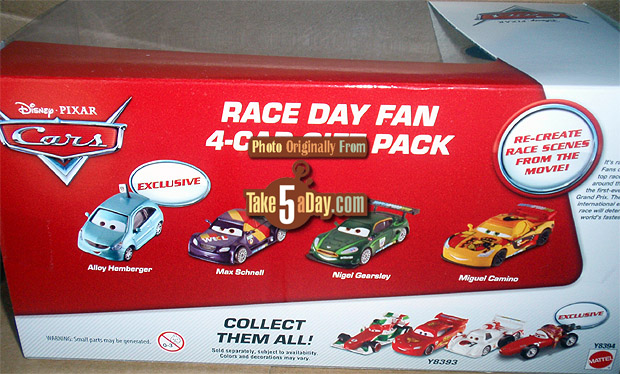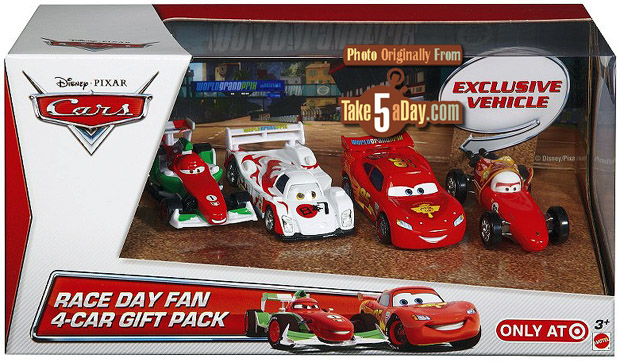 While the obvious choice of a Mama Bernoulli 2-pack is Francesco, we're all pretty tired of him so unless it's a variant and even if you insisted on canonocity that a 2-pack must be a "Movie Moment" where the characters appear together on screen – Mama Bernoulli appears on screen in the track stands where there must be 500 REPAINT possibilities … if Victor Paveone (aka: Yellow Jag in Stands) can appear as a SINGLE as a repaint of David Hobbscapp, then certainly we can find ONE other re-paint car to match with Mama Bernoulli – another red Fiat 500? Either an old style Luigi repaint (tiny piece of diecast, cheap – perfect!) or the new Fiat 500? Or the laziest 2-pack – Mama with Bindo would be okay with 99.9% of collectors and buyers – even new collectors …

Or if you are okay with a "movie moment" as not absolutely having to be a CARS character directly NEXT to that other character, er I think ANY of these 500 choices is okay with 99% of collectors?

And this is presuming Mattel would NEVER release a new release with Mama or Alloy … even re-releasing Denise Beam, right?
Instead, we get box sets that serve no real purpose … newbies wonder why they can't just get 4 racers? Long time collectors get that gougie feeling of having to re-re-re-rebuy 3 other CARS to get the one new character … when it's TOTALLY un-necessary. With certain properties, you are limited, Spiderman or Batman, well, people ultimately just want Batman or Spiderman but CARS is EXACTLY like Star Wars. We are perfectly happy with a re-paint DROID versus another Luke or Han … we are perfectly happy with a re-paint with a made up name. What could be better, re-selling a repaint that makes EVERYONE happy – from the accountants at Mattel to retailers to customers. Hello? Hello?


metroxing

6 July 2013

Disney Pixar, Disney Pixar CARS 3, Mattel Disney Pixar Diecast CARS 3


13 Comments