Home
»
Disney
,
Disney Planes
,
Mattel Disney Planes Diecast
Mattel Disney PLANES: Target 4-Pack Lands + Updated Buying Guide
"Lane Change" spots them out at Target …

These are the only two box sets listed so unless a surprise pops up at WM or TRU, these are it (there are no 7-packs listed).

These are the only two box sets for now – there are two more scheduled for later in the year at Target.

I don't think any of the singles are out yet so it's hard to tell if it's $7.99 or $6.99 but if you're an opener completist, you'll save $4 if these are $6.99 or $8 if the singles are $7.99. It's impossible to say at this point if there will be "variant" eye positions but since the windshields on PLANES are so small to begin with, it seems pretty unlikely. As I have not seen every single or Gift Sets (with the Pitty and Tent), it's hard to say with any certainty but again with the limited design space for the eyes, it seems unlikely they are going to spend too much time trying to move the eyes around except maybe for Dusty.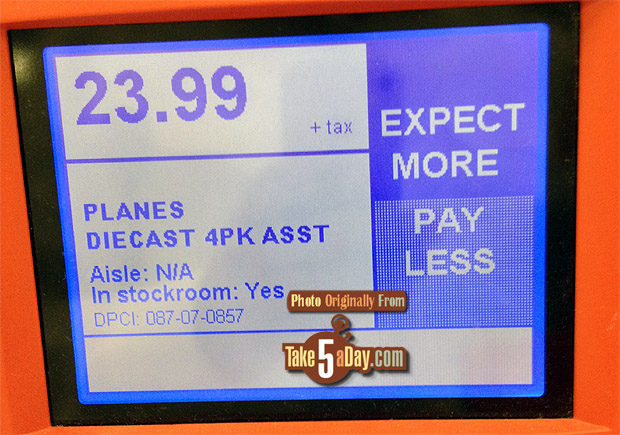 And in this store, more in the backroom! 🙂 And there's the DPCI number.
Thanks for the great photos & info, "LaneChange."
Here's the updated BUYING GUIDE CHECKLIST if you're an opener trying to avoid duplicates … well, you'd be hard press to but you probably knew that …


metroxing

25 June 2013

Disney, Disney Planes, Mattel Disney Planes Diecast


8 Comments