Home
»
Disney Pixar
,
Disney Pixar CARS 3
,
Mattel Disney Pixar Diecast CARS
Mattel Disney Pixar CARS Diecast: Kmart Free Ivan Offer Now LIVE
The Kmart Free Ivan Deluxe Diecast Offer is now LIVE!
Buy $20 worth of Mattel Disney Pixar products (Mattel products! $20 Before TAXES)!

Then go to www.Mattel.com/KMCars to begin your redemption process.
Before you begin, there's even better news – ZERO postage & handling fees! Nice!
AND NO UPC's to mail in so all you need is proof you bought $20 worth of Mattel Disney Pixar CARS products (before taxes) and you are set!
The first screen asks you to enter in the number of Ivan's you are redeeming.
John in MO says they are okay with doing math (ie: every $20 on your Kmart receipt of Mattel CARS products nets you one free Ivan).
In Mattel's words … "You must purchase at least $20 (twenty dollars) (minimum amount must be met before taxes) of any Disney·Pixar Cars toy products from Mattel on one receipt within the promotional period."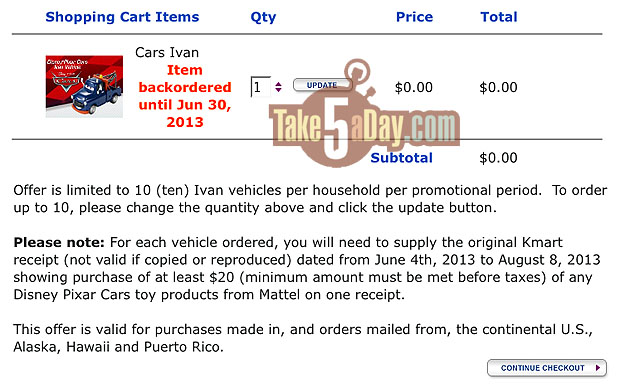 It looks like they will not start mailing out Ivan's until the end of June – or at least that is what they are saying – they might start mailing them out tomorrow so it might just be a wild estimate so they can overdeliver so if you get it in 2 weeks, you are still happy.
Page #2 asks you to fill out your address (not shown here).
Page #3 shows they are not charging for P&H – nice!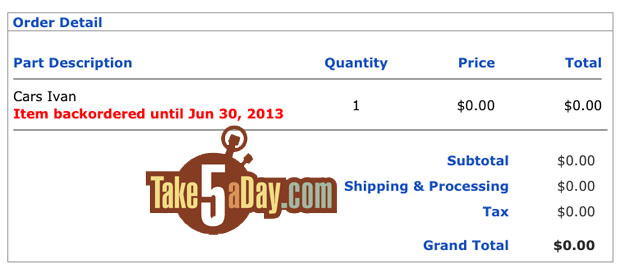 The East Aurora address is the place to mail your receipts and your personal form. Note disclaimers and due date of receipts and form.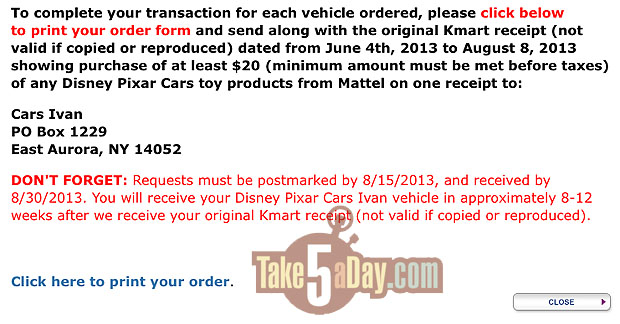 When you click to PRINT, you will get this sheet below with your own barcode so they can match it up. Note, you need to tape the address with the barcode on the outside of your envelope.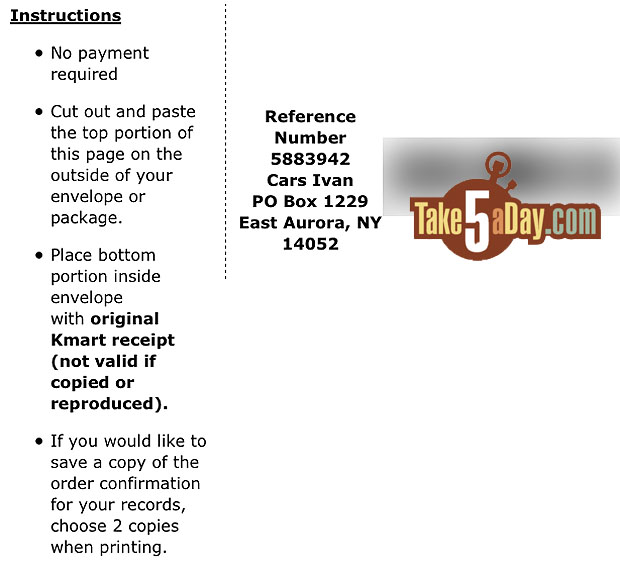 So, you can send up to 10 receipts/redemption offers in ONE ENVELOPE. If for some reason, you need another 10, you will need another address as it's 10 per household.
"Toomsterev" also found these legal disclaimers …
"3. Receive a Disney·Pixar Cars Ivan vehicle by mail in 8 – 12 weeks. Sponsor reserves the right to substitute an item of equal or greater value, should it become necessary.
Damage to the blister card packaging will not be considered a defect to the product, and thus replacements will not be provided."
Good luck! Send us a pic when you get yours. It sounds like it should arrive on a card.
Also note – Kmart receipts only – no Kmart.com receipts.

metroxing

4 June 2013

Disney Pixar, Disney Pixar CARS 3, Mattel Disney Pixar Diecast CARS


36 Comments