Home
»
Disney Pixar
,
Disney Pixar CARS 3
,
Mattel Disney Pixar Diecast CARS
,
Mattel Disney Pixar Diecast CARS 3
Mattel Disney Pixar CARS Diecast: Singles Case G – On Deck
Now, that we are getting cases fast and furious, who knows, this might just show up in a few weeks …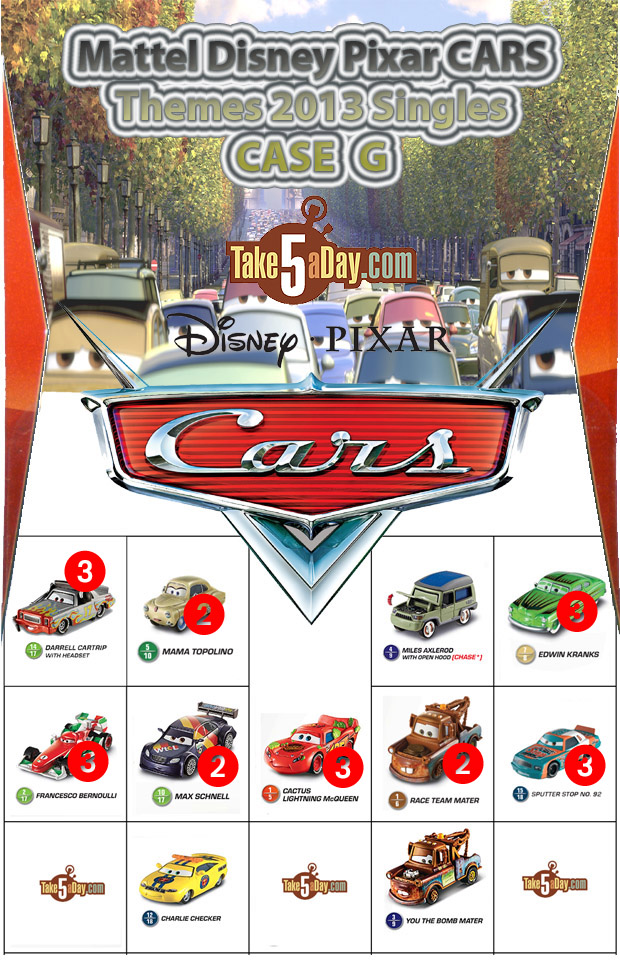 Even the "new" CARS in this case are essentially re-releases but it's a nice retail case – highlighting the wide spectrum of characters (well, maybe not yet more Francesco's) so while it might be enticing enough to buy as an entire case but here's to note:
"New"
Darrell Cartrip with headset is technically new though of course, he's been often released, just the first time with headset and of course, he does not look much different than the lights and sounds version.
Mama Topolino while new to the singles packaging is not really new – released in a 2-pack last year though she has been upgraded to a unibody and while available in the 2-pack in Europe as a unibody, this is her first US release as a unibody. Unibody.
Miles Axelrod with opening hood is the first CHASE CARS of Themes 2013 cards.
Hard to Find Re-Releases
Sputter Stop has not available as a plastic tire CAR for a while (as a launcher or in a box set) and not as a single until way back in Kmart CARS Day 1.
Edwin Kranks – a few releases but hard to find.
And the rest.


metroxing

21 March 2013

Disney Pixar, Disney Pixar CARS 3, Mattel Disney Pixar Diecast CARS, Mattel Disney Pixar Diecast CARS 3


17 Comments