Home
»
Disney Pixar
,
Disney Pixar CARS 3
,
Mattel Disney Pixar Diecast CARS
,
Mattel Disney Pixar Diecast CARS 3
Mattel Disney Pixar CARS Diecast: CARS 1 & 2 New Check List + CARS 2 Re-Releases
Here are the current check list of singles, 2-packs and box sets for:
CARS 1 & CARS 2 "NEW" diecasts
&
CARS 2 "re-release" diecasts.

This does NOT include everything from the poster as the singles scheduled only goes out so far so it only includes what's already out and what's scheduled for the next few months. For the 2-packs Movie Moments, it includes everything on the poster since it's hard to tell what's scheduled.
There is a slight alphabetizing typo with Tubbs Pacer with Spray paint but it's close enough to where it should be. 🙂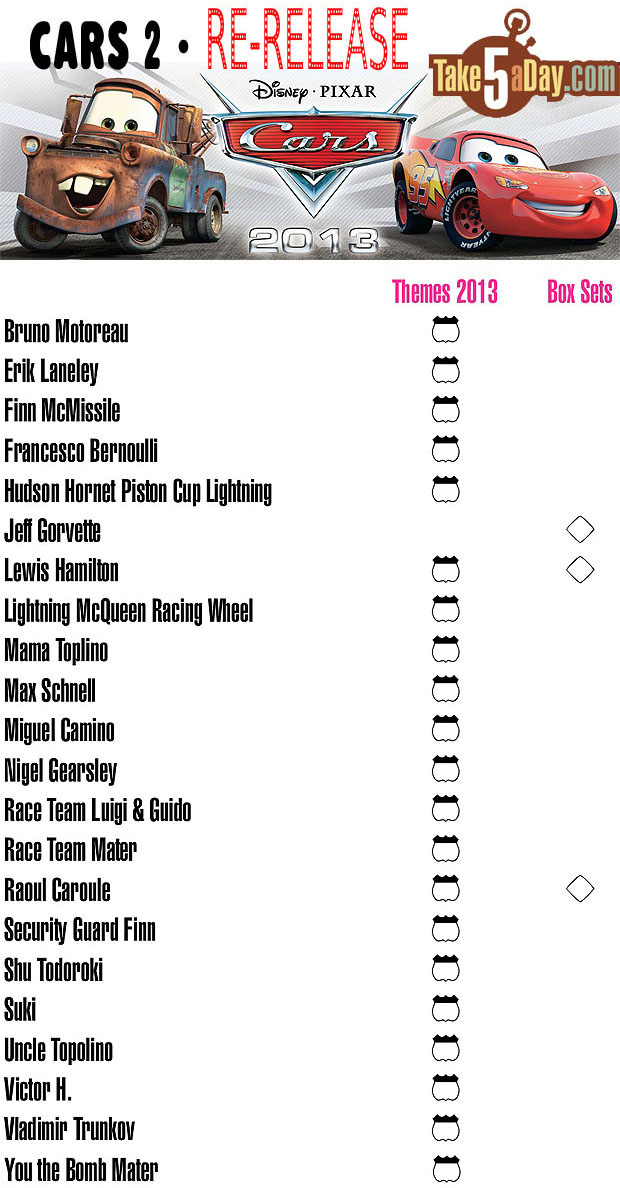 For card completists or for anything you may have missed on Porto Corsa cards, here are the singles, 2-packs already out or scheduled for very soon.
Note: For the box set releases, they are only listed as the current "Themes 2013" design motif releases – your Target stores may vary as to what's still in stock from the Porto Corsa releases but since they are old stock and not re-releases, those in the "red/black" box sets are not shown on this checklist. There is no "futures" listings for box set contents as it's generally impossible to tell what's included until it actually gets released.
For CARS 1 collectors, check back tomorrow.


metroxing

17 March 2013

Disney Pixar, Disney Pixar CARS 3, Mattel Disney Pixar Diecast CARS, Mattel Disney Pixar Diecast CARS 3


6 Comments