Home
»
Disney Pixar
,
Disney Pixar CARS 3
,
Mattel Disney Pixar Diecast CARS
,
Mattel Disney Pixar Diecast CARS 3
Mattel Disney Pixar CARS 2 Diecast: Next Singles CASE F – Already Arriving … (UPDATED)
CASE F singles is the next one coming (there is either no CASE E or the letter is reserved for a retailer exclusive case) and sooner than you think.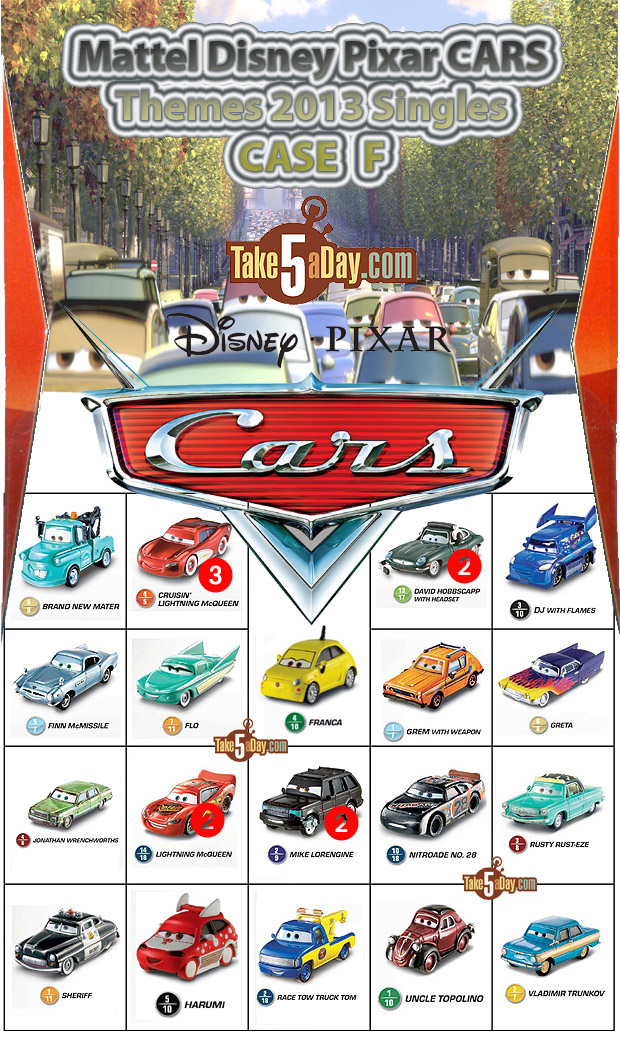 NEW
Franca (Luigi's Dance Partner), David Hobbscapp with Headset, Mike Lorengine (Queen Security Guard at the race) & Harumi.
LONG TIME AS A SINGLE RELEASE
Been a long while for many: Cruisin' Lightning McQueen (available as a lenticular but before that, Race O Rama series), Greta – Race O Rama was her last release, Jonathan Wrenchworths – hard to find Final Lap series CAR and; (CARS 1) Lightning McQueen – the original, not available as a single in the Radiator Springs Classic series so the last singles release was in the Final Lap series.
FIRST RELEASE ON THEMES 2013 CARD DESIGN
Flo (available as a Radiator Springs Classic – hard to find).
UNIBODY UPGRADE
Brand New Mater – While technically a return to his original mold of all metal unibody, it is an upgrade from the release since probably the WOC series … hard to tell exactly when they switched him out. Brand New Mater is back to being one of the heaviest diecast release ever in CARS.
Finn McMissile – believe it or not, a long gap between single releases AND if you did not buy him in the London Rescue box set, this should be the upgraded all-metal unibody version.
Uncle Topolino – yes, strange that he's been upgraded to a unibody since he's so lightweight to begin with and his hood piece is so tiny but I guess it's cheaper to redo his mold than have to buy a tiny sliver of plastic to glue on.
WELCOME REPEATS
I would say nearly every other re-release is welcomed by average and long time collectors from the quick re-appearance of DJ with Flames (who could hate that?) to Grem with Weapon to Race Truck Tom … probably the closest to being a pegwarmer might be Vladimir Trunkov but even if you call him that, 23 out of 24 of this case should sell out fast.
Hopefully the trend continues of this being available at retail, maybe in greater quantities than 1 case per retailer or if you prefer just to buy the entire case, Children'sToyCloset will be happy to take your pre-order.
John in MO has already found the case at Target! Amazing!
What is it like to walk into a store and buy CARS that you want?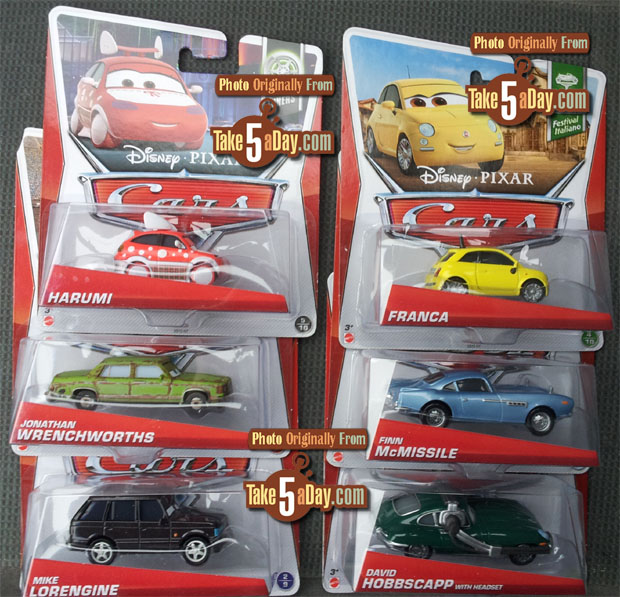 Thanks for the info update: BMW & Fillmore1234

metroxing

12 March 2013

Disney Pixar, Disney Pixar CARS 3, Mattel Disney Pixar Diecast CARS, Mattel Disney Pixar Diecast CARS 3


9 Comments