Home
»
Disney Pixar
,
Disney Pixar CARS 3
,
Mattel Disney Pixar Diecast CARS
,
Mattel Disney Pixar Diecast CARS 3
Mattel Disney Pixar CARS Diecast: Motif Transition CARS Lost in Transition
While it's not a new phenomenon, normally the transition from the old card design to a new one generally means some CARS diecasts get lost in the shuffle. And certainly, the distribution transition from the Porto Corsa design cards to the Themes 2013 card design motif was even stranger than normal. "John H." asks if we might see the CARS lost or quasi-lot in transition.
These are the CARS either in Case Q, Case Y or Case N/P.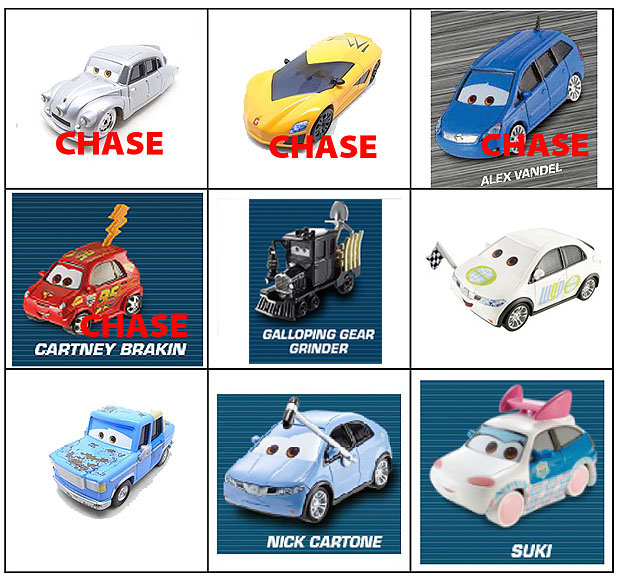 Cartney Brakin' in CASE Q never got much of distribution as it was pulled for a while and then returned – by then, most resellers lost interest and without a Super Chase included is not a very enticing case (contents here). It is has seen some limited retail distribution and it is back in the warehouse for anyone who wants a case. And while CASE Q probably was not manufactured in huge quantities, sufficient quantities exist including distribution in Europe, and as a CHASE CAR, it is very unlikely to ever to return (as Cartney Brakin').
The CHASE CARS in Case P and its twin, CASE N pretty much fall under the same boat. While CASE P was restricted to about 2,000 cases, there is sufficient quantities of CASE N still available. Normally, who would argue with a case with 3 CHASE CARS (Alex Vandel, Fabrizio and Sir Harley Gassup) PLUS at the time, 2 each of 4 NEW CARS (Otis, Erik Laneley, Suki & Nick Cartone) – but of course, CASE P had most of this case PLUS 2 Super Chases (only 1 Suki and 1 Nick Cartone). So, with the release of CASE N, the "normal" CHASE CARS are available in sufficient quantity so we are very unlikely to see Alex Vandel, Fabrizio and Sir Harley Gassup released as their EXACTLY look here.
Alex Vandel was once listed WITH Tires so while he's not on the list now, it's an easy version. They could easily release Fabrizio in another color and Sir Harley Gassup could be released with some accessory so it's possible but nothing firm as of now. but as Chase CARS, they won't get re-released in their EXACT same name or look …
As for the non CHASE CARS – Erik Laneley, Suki have already been re-released and there's no reason Nick Cartone or Otis won't see a re-release. They are not listed as of now.
CASE Y is essentially the same situation as CASE Q. Canceled and then brought back so while there has been some appearances of this Case at retail, it's still pretty uncommon but the CASE is back in the warehouse for ordering. Galloping Gear Grinder is surprisingly not a CHASE so there's no "ethical" obligation not to bring him back. Again, not listed as a returning single but that could change.
There are also two Movie Moments out in Europe that never got a US release: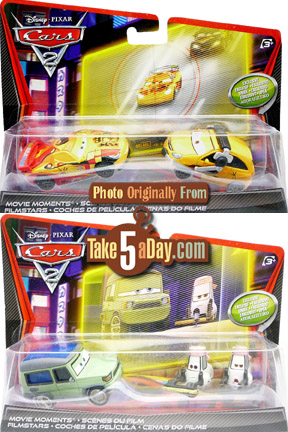 It seems pretty likely these will be out as a 2-pack in the US as the crew chiefs seem to have moved to the 2-packs realm and of course, Miles is no longer listed in the singles lineup (Chase Miles with hood opening is different) and of course, Pitty's are loved by Mattel's accountants and the zinc buyer. 🙂 the only issue is that 2-pack listings are sparse and do not actually reveal what they are so we can't say for certain but it seems pretty likely we should see these.
As for Taia and Taco Mater, it seems their release has been so sparse that it seems likely they will get an actual release – I'm basing it on why waste the mold on such a limited run? I can see it for a release where it's really a repaint or just added accessories that they don't really notice or really need to recoup the money on getting around to a full release (El Materdor, Larry Choke Cables or Brian Parks) but Taia and Taco Mater are new molds so my feeling is we will see them (again). Might it be years? Who knows.
As for Case N, Q or Y, if you can't find them at retail, Children's Toy Closet should be able to order them for you so either check out the website or shoot him an email.


metroxing

11 February 2013

Disney Pixar, Disney Pixar CARS 3, Mattel Disney Pixar Diecast CARS, Mattel Disney Pixar Diecast CARS 3


6 Comments