Home
»
TV
FuboTV – Last Streamer with NFL Network & RedZone
If you were counting on getting the NFL Network and the great NFL Red Zone Channel, FuboTV is the only streamer provider that offers both (Red Zone requires the Sports package). Sling used to but they dropped the NFL Network.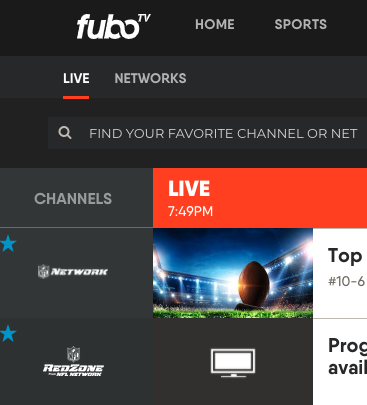 What's also cool is that FuboTV actually lets you rank the channels in the oder YOU WANT! So, while you can't delete the channel you don't watch, you can put it last on your grid! Nice!
So, if you love football, it is the ONLY STREAMER with all the networks that carry the NFL (CBS, NBC, Fox, ESPN & the NFL Network + again, the only one offering the RED ZONE option).
This is their family tier lineup … the only oddity is you don't get any of the AT&T WB networks like TBS, TNT, et al. Check it out here and if you sign up, we also make a few bucks, thanks for supporting Take5!
They also have a bunch of 4K movies on demand as part of the package.