Home
»
Mattel Disney Pixar Diecast CARS
Mattel Disney Pixar CARS: Collecting CARS – Variants …
Collecting Mattel's Disney Pixar CARS diecast is both easy and and not so easy.
It is the Star Wars of diecast – the longevity of the line means that there will  be production differences – do you want to collect 'em all, collect some or just one of each character?
That choice is totally yours but the production shift from Thailand to China to Thailand again has produced some changes … including midstream cost savings measures that have swung back.
Lightning is one the two main characters and unlike Mater, one color so there are not a lot of color production variances or variants.
BTW, VERSIONS in toys means a different release name so while Lightning McQueen with Sign is just CARS 1 Lightning McQueen (literally) with a plastic Sign, ge is a different "version," and not a variant with is just released as Lightning McQueen.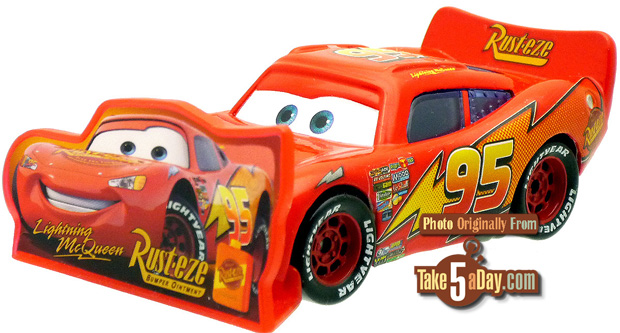 01 – So, based on the actual look of Lightning in the movies, the current release is as close to replicating the film version. In the film, he sports "3D" eyelids (a line, shadows, shading, et al) that the current releases with eyelid lines replicates as closely as possible.
02 – The "correct original one": with the raised metal eyelids is the one in release for the longest time. Most of the townies had raised metal eyelids. It was more "3D-ish"  but without the eyelid line, it's actually hard to tell from more than a few inches away.
03 – the first painted flat eyelid … Most of the townies started losing their raised metal eyelids by their re-releases after CARS 2 but Lightning was one of the last to be changed to a flat windshield.
94 – For the first 2 years, Lightning had the raised metal eyelid BUT was missing the Rust-Eze spoiler decal so technically an error but since he was the first version available, he's listed.
95 – Around 2008 when they started to make Lenticular diecasts, to save money on zinc then at its peak cost), they started making plastic mouth pieces – some of it was to change mouth expression changes cheaper but they also did with most new diecast character releases. A segmented face Lightning McQueen appeared in a spiral track set (they also included a diecast car with most playsets then before switching to plastic), It is an oddball release and never appeared as a single but since LM is such an important character, included here.
06 & 07 – Yep, the lenticular releases of LM included a unibody and a segmented AT THE SAME TIME.

Miguel Camino is more of a typical release for CARS Collector. The current one has the "3D" painted eyelid line.
There was a also a unibody release and a segmented one.
So, for collectors, you get to decide if you should have 1, 2 or 3 Miguel Camino's?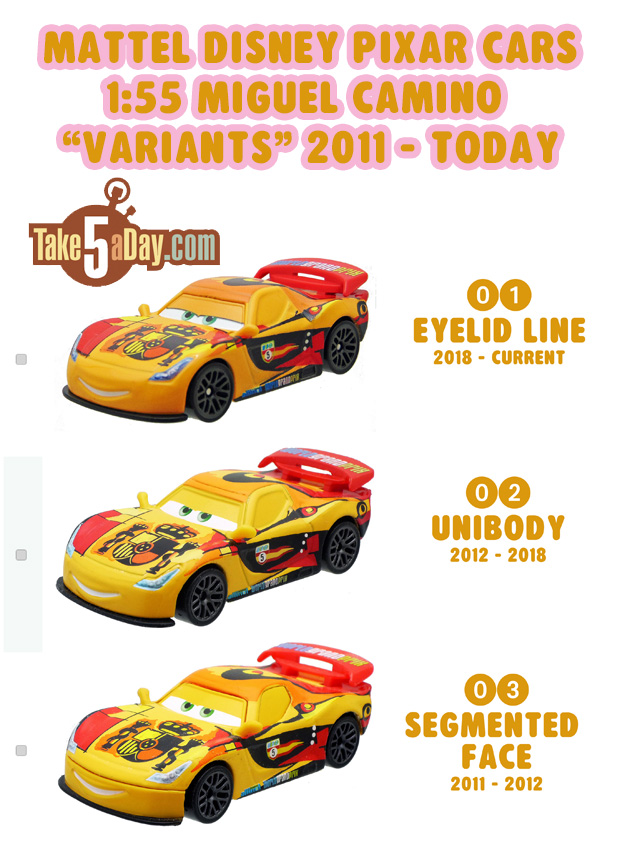 Happy collecting!


metroxing

17 December 2019

Mattel Disney Pixar Diecast CARS


No Comment