Article Archive for 26 June 2019

Mattel Disney Pixar CARS: The TakeFive Checklist Magazine Sale
Posted in
Mattel Disney Pixar Diecast CARS
on 26 June 2019
Stats: and
1 Comment
MagCloud is having a sale – until June 29, 2019. 25% off … Coupon Code -SAVE25 Check out STORE PAGE HERE to get all the details on what is what and the direct links. The 25% is off the wholesale price so it probably works out to about $2-$3 off. Your purchase supports TakeFive, thanks!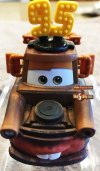 Mattel Disney Pixar CARS: High Hat for Mater with #95 Hat
Posted in
Disney Pixar CARS
on 26 June 2019
Stats: and
No Comments
Thanks, "Mark T." for the nice photos. Nice Mater with #95 Hat. AKA: Mater with Slotted Head. Some assembly required. WARNING – don't eat the #95 Hat and nice he's not a Deluxe.

Mattel Disney Pixar CARS: Dud Throttleman is Chuck
Posted in
Mattel Disney Pixar Diecast CARS
on 26 June 2019
Stats: and
No Comments
Thanks "Mark T." for the nice photos … The name reads "Dud Throttleman" from CARS 3 BUT the car design is based on CARS 1 Mood Springs Chuck Armstrong so I'm going to say it's CARS 1 Chuck mislabeled as Dud … AND he's a variant (from CARS 1 Chuck) with gray back windows and […]