Article Archive for 14 December 2018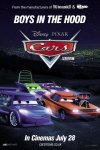 Disney Pixar CARS: The UK Tuners Poster of Ought '06
Posted in
Mattel Disney Pixar Diecast CARS 3
on 14 December 2018
Stats: and
No Comments
If you were in the UK, did this entice you to go to the cinema in July 28, 2006?

Disney Store Japan – It's Chip! It's Dale! Soup Time!
Posted in
Mattel Disney Pixar Diecast CARS 3
on 14 December 2018
Stats: and
No Comments
Pretty cute soup bowl from Disney Store Japan.