Home
»
Mattel
Target Hot Wheels Event – Changing of the Guard?
Thanks for the heads up, "John H."
Target is holding a 
50th Anniversary event this Saturday, June 16 from 10am–1pm.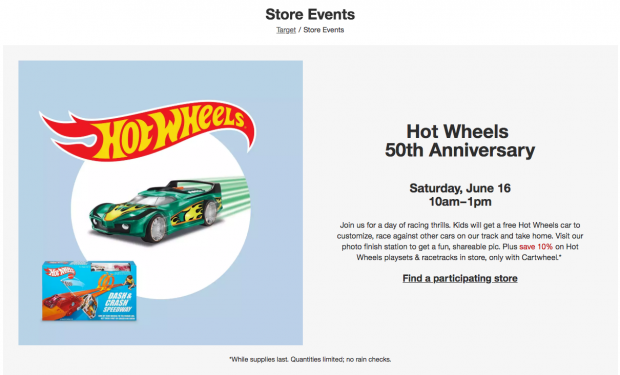 Thus seems different than the Hot Wheels events at Kmart which worked like the CARS Day events? I believe like the CARS Day Events, each store got exclusives cases, a drawing and you got to open and select 5 Hot Wheels or CARS?
Did Hot Wheels Days at Kmart feature this style of "event?"
Join us for a day of racing thrills. Kids will get a free Hot Wheels car to customize, race against other cars on our track and take home. Visit our photo finish station to get a fun, shareable pic. Plus save 10% on Hot Wheels playsets & racetracks in store, only with Cartwheel.* 
So, will this be a precursor to CARS Days at Target?
I did follow the "Find a participating store" link and pretty much every Target in the SF Bay Area was on the list. So, if CARS Days moves to Target, there will be a lot more stores involved.