Article Archive for 24 April 2018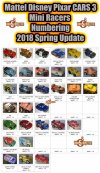 Mattel Disney Pixar CARS 3: Mini Racers Spring 2018 Wave 3 Numbering Visual Checklist
Posted in
Disney Pixar CARS 3
,
Mattel Disney Pixar Diecast CARS 3
on 24 April 2018
Stats: and
8 Comments
Thanks "Bec G." for the beautiful visual checklist and to "Paul R./PaulMartStore USA" for the updated info. Here is the updated Wave 3 numbering on the "blind bags." (bags are n0t really 'blind,' numbering scheme on the back). (file shrunk to fit our page – right click to see it at full size). The 2018 […]

Real? Internet Real?
Posted in
Disney Pixar CARS
on 24 April 2018
Stats: and
No Comments
As I do not follow Chance the Rapper or the other guy … Not surer if any if this is real but I'm amused …