Article Archive for 30 March 2018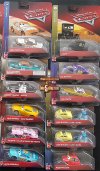 Mattel Disney Pixar CARS: 2018 Singles CASE P
Posted in
Disney Pixar CARS
,
Mattel Disney Pixar Diecast CARS
on 30 March 2018
Stats: and
No Comments
Thanks "Get Me Collectibles" fr the heads up & photos. Francesco Bernoulli Cars 3 LM x 3 Bobby Swift Rust-eze Cruz Lewis hamilton Petro cartalina Jackson Storm x 3 Greg Candyman Metallic Mario Andretti scavenger hunt Sheriff Cruz Tailgate Buck Bearingley Lizzie Lee Revkins Tex Dinoco Luigi Guido x 2 Maddy Mcgear

Car Interior – They Don't Make 'em Like They Used To
Posted in
CARS
on 30 March 2018
Stats: and
2 Comments
So, did your family or you buy/order a car with these kind of seats/interior? Did you just sink in and fall asleep? Was this an upgrade or just the normal seat?