Article Archive for 27 February 2018

Disney Pixar CARS 3: Takara Tomy 1:43 "Precision Series"
Posted in
Disney Pixar CARS 3
on 27 February 2018
Stats: and
No Comments
Tomy Takara has their own Precision Series – 1:43 scale but much spendier at around $60 … It comes in a display box & stand. 6 available so far.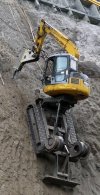 Things to Complain About At Work
Posted in
Internet
on 27 February 2018
Stats: and
No Comments
My main complaint is the creamer at work is not the good kind … this guy might have bigger issues than me … I don't know much about construction work but this does not seem like the safest way to scrap a wall but maybe I'm just a whiner.