Home
»
Disney Pixar CARS 3
Disney Pixar CARS 3: Blu Ray Featurette "CARS to Die(Cast) For"
Sure, there's the fun Pixar CARS 3 film and about 20 great shorts, featurettes & Behind the Scenes … but the most important reason  😆   … yep, TakeFive and I are in the featurette CARS to Die(Cast) For … enjoy!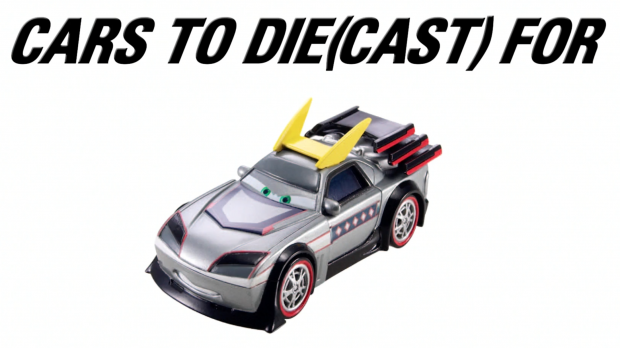 Thanks "John H." for the additional info:
Best Buy Exclusive
Collectible Steelbook
Mini-Movie: Miss Fritter's Racing Skoool
Theatrical Short: Lou
Deleted Scenes
Target Exclusive: Blu-ray™ + DVD + Digital + Storybook
32-Page Storybook
Mini-Movie: Miss Fritter's Racing Skoool
Theatrical Short: Lou
Deleted Scenes
Walmart Exclusive: Blu-ray™ + DVD + Digital + 3 Additional Short Films
3 Cars Toon Short Films:
Radiator Springs 500½
Monster Truck Mater
Rescue Squad Mater
Mini-Movie: Miss Fritter's Racing Skoool
Theatrical Short: Lou
Deleted Scenes
Amazon – Disney Pixar CARS 3 Blu Ray/DVD.
NOTE – the extras are NOT on the DVD only version but on all the other Blu Ray/Blu Ray 4K multi-disc versions.
Bonus Features
Disc 1
LOU (6:45) – The original short that accompanied Cars 3 in theaters finds an invisible force competing against a schoolyard bully to return items to kids from a lost & found bin.
Miss Fritter's Racing School (2:47) – A new short created for this release that takes place immediately after the events of the film. Miss Fritter uses her connection to Lightning McQueen and Cruz Ramirez to help sell her new racing school service.
Ready for the Race (5:41) – Olivia Rodrigo from Disney Channel's Bizaardvark hosts this tour of Hendrick Motorsports, which served as the real world inspiration for Sterling's next gen training headquarters.
Cruz Ramirez: The Yellow Car that Could (7:47) – A deep exploration into the character of Cruz Ramirez and how she was created.
Feature Commentary (1:42:24) – Director Brian Fee, Producer Kevin Reher, Co-Producer Andrea Warren, and Creative Director Jay Ward lead this engaging commentary track. It's full of production anecdotes, inspirations from the creative scenes, and they also point out many hidden references to Disney and Pixar films, including the pumpkin coach from Cinderella.
Disc 2
Behind the Scenes
Generations: The Story of Cars 3 (11:18) – The story team discusses how they arrived at the aging athlete plot of Lightning McQueen's third outing.
Let's. Get. Crazy. (7:42) – Lea DeLaria (Miss Fritter) visits the location that inspired the Thunder Hollow Crazy 8 sequence along with the creators discussing how the sequence came to be.
Cars to Die(cast) For (5:21) – The animators discuss the Cars merchandise phenomenon and discuss the metal diecast pieces, which now number over 1,000 after Cars 3 characters were added to the Mattel line. Pixar employees also show off their personal collections.
Legacy (11:21) – Cars 3 pays homage to several racing legends, whose stories are explored in this featurette.
World's Fastest Billboard (5:30) – Dive into the custom graphics from the film, including hidden references to other Pixar films and funny in-jokes you definitely missed.
Fly Throughs – Three set fly throughs are presented to give you a sense of the scale and detail of these digital sets, often providing angles unseen in the film.
Thomasville (1:09)
Florida International Speedway (0:35)
Rust-eze Racing Center (0:54)
My First Car
A Green Car on the Red Carpet with Kerry Washington (1:51) – The Scandal actress narrates this animated recollection of her very first car.
Old Blue (1:18) – Graphics Art Director Craig Foster describes his first car, a hand-me-down truck.
Still in the Family (2:15) – Pixar Technical Resident Valeria Barra shares her memories of receiving a car as a graduation gift in Italy.
Deleted Scenes – Five deleted scenes are presented with a "Play All" option or individually, each with an introduction to set the scene.
Introduction (0:55) – Director Brian Fee provides a general introduction.
The Boogie Woogie (5:02) – Lightning and Cruz are about to race for the first time in this alternate version of the beach scene.
Lug Nuts (2:49) – An alternate version of the scene where Lightning and Cruz have a fight, in which Cruz had a little too much confidence.
Jars of Dirt (4:19) – Another variation of the same fight scene, which features jars of dirt from different race tracks.
The Bolt (4:16) – A true deleted scene that was cut because it referenced the jars of dirt and boogie woogie dance which had already been eliminated.
More Than New Paint (8:50) – In this scene, Sterling tells McQueen he can't race in the third act because McQueen's brand is worth more if he retires, so he changes his paint in defiance.
Trailers
Crash – North American Teaser (0:53)
Icon – North American Trailer (2:25)
Theatrical Payoff – Japan Trailer (1:57)
All New – International Teaser (0:28)
Rivalry – Global Trailer (2:10)
Promos
Cars D'oeuvres (4:27) – Short clips of character animation strung together, which were used in promotional materials for the film.
Car Reveals
Lightning McQueen (0:39) – A close up of the details in Cars 3
Cruz Ramirez (0:41) – A look at Cruz's details.
Jackson Storm (0:39) – Jackson's highlights get highlighted.


metroxing

8 November 2017

Disney Pixar CARS 3


4 Comments