Home
»
Toys
Toys R Us Bankruptcy News Update
"With its bankruptcy filing late Monday, Toys R Us bought itself $3.1 billion in new financing that will allow it to stock and operate all of its stores through the crucial holiday season. But after the holidays are over, store closings are inevitable, bankruptcy experts say.
The company said it is "currently performing a detailed review of their real estate portfolio" and is identifying poorly performing stores and locations where the rents are too high in order to reduce the retail square footage."
By last week, nearly 40% of the company's toy vendors had refused to ship merchandise without cash on delivery, cash in advance, or in some cases, Brandon said, payment of all outstanding bills. Those actions, he said, left the company with no option but to seek bankruptcy protection.
… Mattel is the largest non-bank creditor listed by Toys R Us in court documents. It is owed $135.6 million by Toys."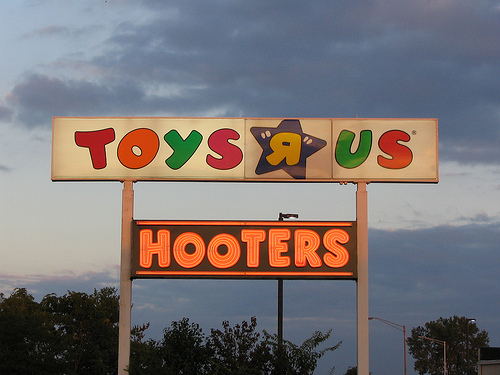 While in 2000, Toys 'R' Us represented 22% of Mattel's $4.7 billion in sales and 13% of Hasbro's $3.8 billion in sales, by 2016, toys shown at Toys 'R' Us represented about 11% of Mattel's $5.5 billion sales and 9% of Hasbro's $5 billion, according to Morningstar.
In recent years, the two toymakers have instead partnered increasingly with Target and Walmart as Toys 'R' Us' ability to successfully sell those toys appeared to have stalled. Wal-Mart is now Mattel's and Hasbro's largest customer, while Target is the third largest for both, just behind Toys 'R' Us.
For those who like the deep dive … Bloomberg ...
"Goldman Sachs Group Inc. could rack up some quick gains from Toys "R" Us Inc.'s rapid unraveling.
 The bank was buying derivatives in recent days that will pay off now that the retailer has filed for bankruptcy. Goldman Sachs snagged the swaps just as they were starting to spike, when few others were expecting the company to file for bankruptcy imminently, according to people familiar with the matter. It is unclear what motivated the trades, which could have been on behalf of clients, the people said."
"Toys R Us plans to use its bankruptcy filing as a way to reemerge on the cutting edge of the retail world, closing underperforming stores and transforming others into "interactive spaces" to thrill both adult and pint-sized customers.
The big-box retailer did not specify how many of its 1,600 stores it plans to shutter but acknowledged in a court filing Tuesday that "leases are a substantial burden" on its finances. The company also hopes to renegotiate some leases."