Home
»
Disney Pixar CARS
,
Disney Pixar CARS 3
Disney Pixar CARS 3: 4K Blu Ray November 7, 2017
The CARS 3 Blu Ray & 4K Disc will be out November 7, 2017 …
"In honor of world-champion racer #95, Disney•Pixar is proud to announce the in-home arrival of Disney•Pixar's "Cars 3" on his date-sake 9/5! "Cars 3" surged to the front of the pack opening weekend with audiences racing to see the legendary Lightning McQueen (voice of Owen Wilson) and spirited trainer Cruz Ramirez (voice of Cristela Alonzo) team up to beat the new generation of blazing-fast racers. Now, this summer's high-octane hit cruises home—loaded with bonus features like the all new mini-movie starring the demolition derby legend Miss Fritter— Digitally in HD and 4K Ultra HD™ on Oct. 24, and on Blu-ray 4K Ultra HD™ and Blu-ray™ on Nov. 7.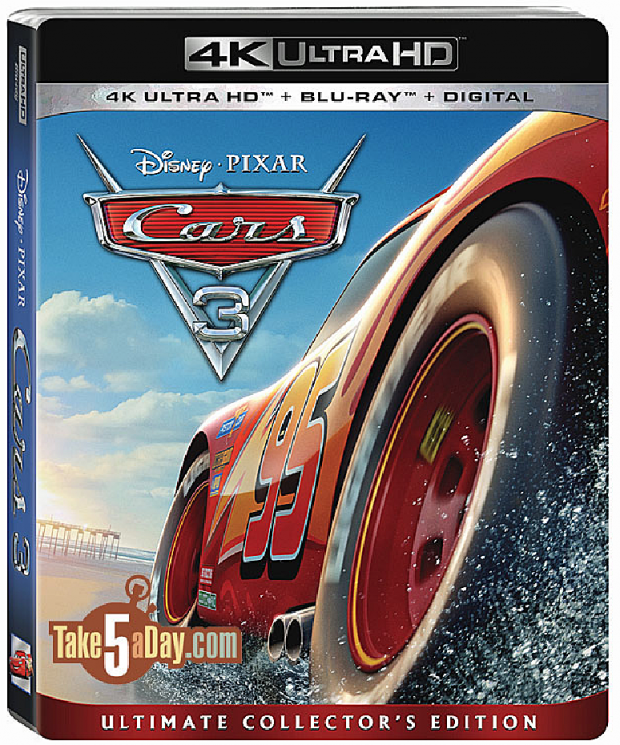 Race fans of all ages are invited to ride along with the "Cars 3" crew for hilarious and heartfelt extras, including an exclusive new mini-movie, "Miss Fritter's Racing Skoool," taught by the queen of the Crazy 8; a feature detailing how real-world race training influenced filmmakers; the journey taken by voice actor Cristela Alonzo and team while shaping tech-savvy trainer Cruz Ramirez; behind-the-scenes access to the story team who crafted Lightning McQueen's third chapter; deleted scenes; and much more."
A fun sequence showing the beginning to finished scene in the film …
Discs includes …
Miss Fritter's Racing Skoool

(Exclusive new mini-movie) – Enjoy blindsided testimonials from the Crazy 8's, touting the transformative impact Miss Fritter's Racing School has had in reshaping the direction of their lives

Theatrical Short: "Lou"

– When a toy-stealing bully ruins recess for a playground full of kids, only one thing stands in his way: the "Lost and Found" box.

Let's. Get. Crazy.

– Get schooled in the world of demolition derby, the "rules" of figure 8 racing, and how Pixar puts the crazy in the Thunder Hollow Crazy 8 race. This piece is hosted by Lea DeLaria.

Legendary

– a close, historical look at the racing legends Wendell Scott and Louise Smith, whose tenacity and perseverance got them into the race even when they weren't invited.

Ready for the Race

– Disney Channel's Olivia Rodrigo and NASCAR Racer William Byron check out the Hendrick Motorsports campus to showcase how real-world race training influenced the filmmakers.

World's Fastest Billboard

– Blink and you will miss all of the graphics and "car-ified" advertisements created by Pixar's Art team to make the "Cars 3" world as believable as possible.

Cruz Ramirez: The Yellow Car That Could

– Join Cristela Alonzo and the filmmakers on their journey to create a race-car trainer turned champion racer.

Generations: The Story of "Cars 3"

– For the story team, creating Lightning McQueen's next chapter didn't involve just a tune-up, but a complete overhaul. 

My First Car

– A collection of illustrated first-car stories as narrated by members of the "Cars 3" cast and crew. "A Green Car on the Red Carpet with Kerry Washington," "Old Blue," and "Still in the Family."

5 Deleted Scenes

– Each deleted scene is set up with an introduction as to why it was removed from the film. Deleted scenes include "The Boogie Woogie," "The Jars of Dirt," "Lugnut," "The Bolt," and "More Than New Paint."

Cars To Die(cast) For

– Take a look at the phenomenon of die-cast toy collecting and the more than 1,000 unique designs that exist in the Cars universe.

Commentary –

Brian Fee (Director), Kevin Reher (Producer), Andrea Warren (Co-Producer) and Jay Ward (Creative Director)

And more…
Tech Specs
Disc Specifications
Product SKUs: Digital = 4K UHD with HDR (HDR-10 or Dolby Vision), HD, SD Physical = 4K UHD Combo Pack (4K UHD+Blu-ray+Digital HD/SD), Blu-ray Combo Pack (Blu-ray+DVD+Digital HD/SD) and DVD
Feature Run Time: Approximately 103 minutes
Aspect Ratio: 2.39:1
Resolution: 4K UHD = 3840 x 2160, HD = 1920 x 1080, SD = 720 x 480
Audio:  4K UHD Blu-ray = English Dolby Atmos, English, Spanish and French 7.1 Dolby Digital Plus, English 5.1 Dolby Digital, English 2.0 Dolby Digital, English 2.0 Descriptive Audio
4K UHD Digital = English Dolby Atmos (platform dependent), English 5.1, English 2.0, Blu-ray = English 7.1 DTS-HDMA, English 5.1 DTS-HDHR, English 2.0 Dolby Digital, Spanish and French 5.1 Dolby Digital Language Tracks, English 2.0 Descriptive Audio DVD = English, Spanish and French 5.1 Dolby Digital Language Tracks, English 2.0 Dolby Digital, English 2.0 Descriptive Audio
Subtitles: Physical = English SDH, Spanish and French Subtitles
Closed Captions: Digital = English; DVD = English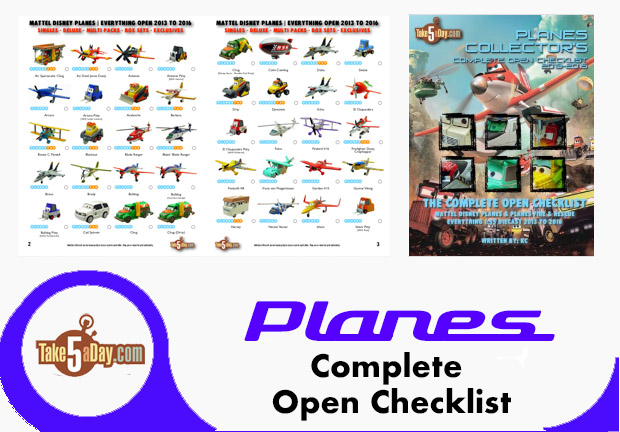 metroxing

6 September 2017

Disney Pixar CARS, Disney Pixar CARS 3


3 Comments