Home
»
CARS Land
,
Disney Pixar CARS
Disney California Adventures Luigi's Rollickin' Roadsters + Diecasts
At Cal Adventures, they have updated and replaced the old Luigi's Flying Tires which proved unreliable, Luigi's Casa Della Tires building/queuing line was reused, only the ride changed.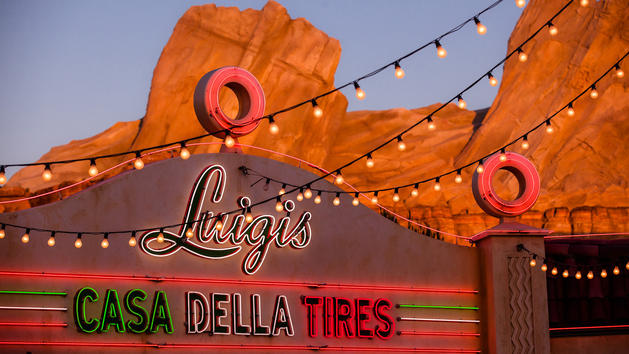 Thanks to "John H" for the heads up info and the great pics of the ride diecasts.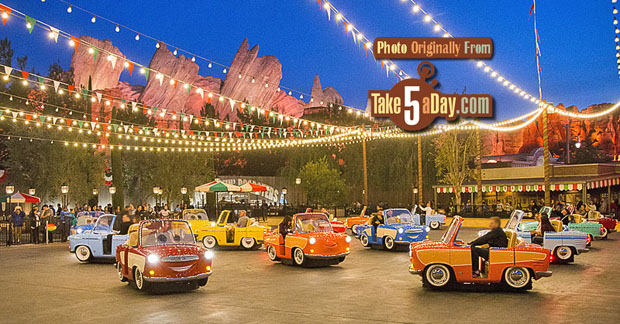 "Don your dancing tires—Luigi's free-wheelin' cousins are ready to give you a whirl! The first trackless vehicles at a Disney park in the United States, these fun-loving Frizzante roadsters were modeled after 1950's Italian rear-engine micro-cars and can only be found in Cars Land. From Gina to Giovanni, each convertible sports names and distinguishing design elements that reflect their bubbly personalities.
The roadsters start their synchronized "moves"—which are unique to each car's character—once the music begins. Songs sung by Luigi and members of his Carsoli crew include Rollicking Night and Day, Mambo Italiano and The Tire-antella.
As you're carried across the "dance floor," notice Luigi's beautiful Italian garden, which features cypress and olive trees, a tile mosaic, tire-inspired details and even an "autopiary" of his legendary hero, Formula Racer Francesco Bernoulli from Cars 2!"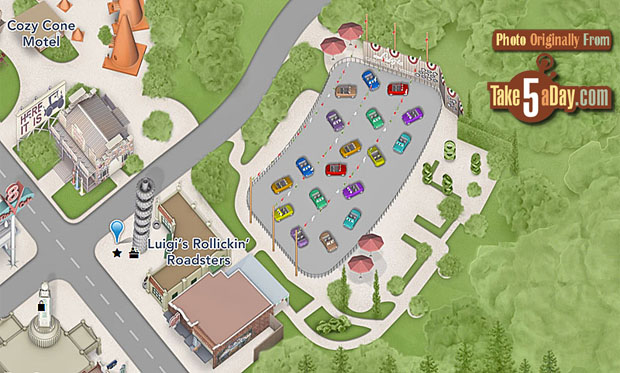 AND of course, there are diecasts!
There are 20 different cars but there are only 5 diecasts so far.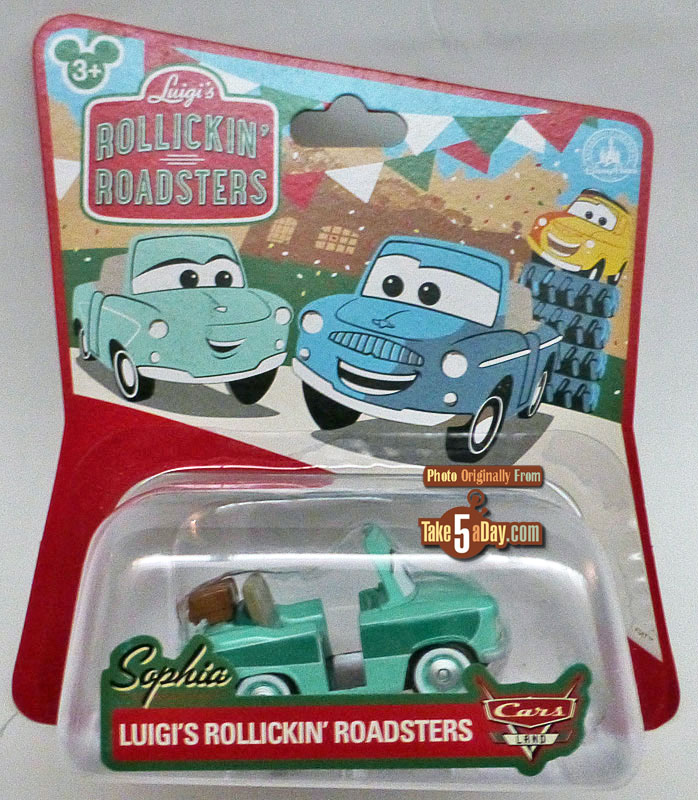 John H. notes : Sophia is a unique casting, her mouth is closed. She is the only one without a grille too. (moustache?) The other four might all have the same mouth or there might be two and two, it is really hard to tell. Eyes are different for all five.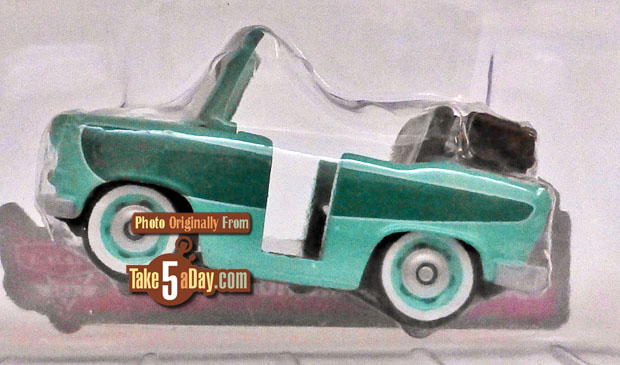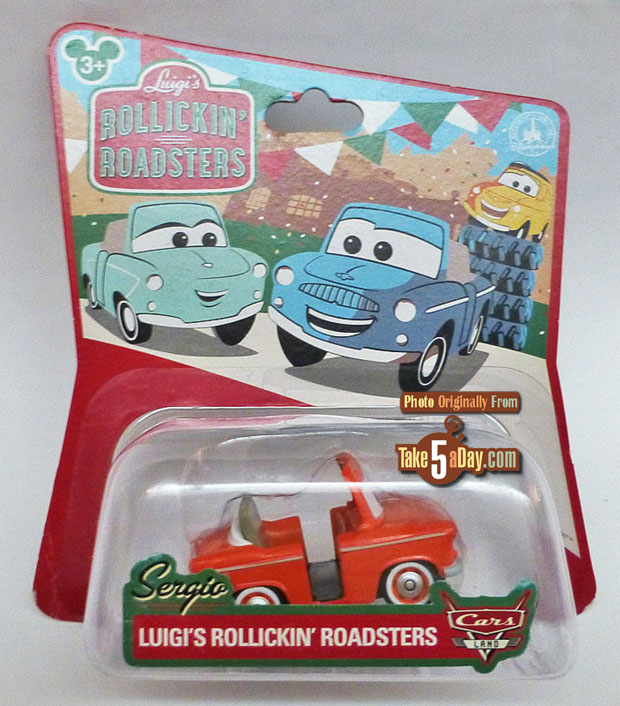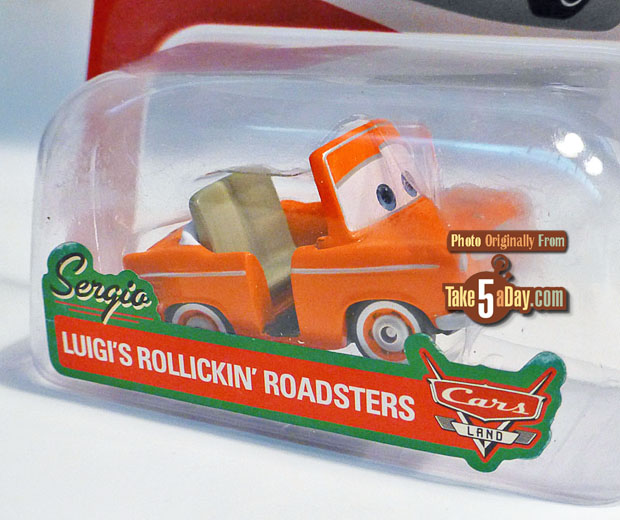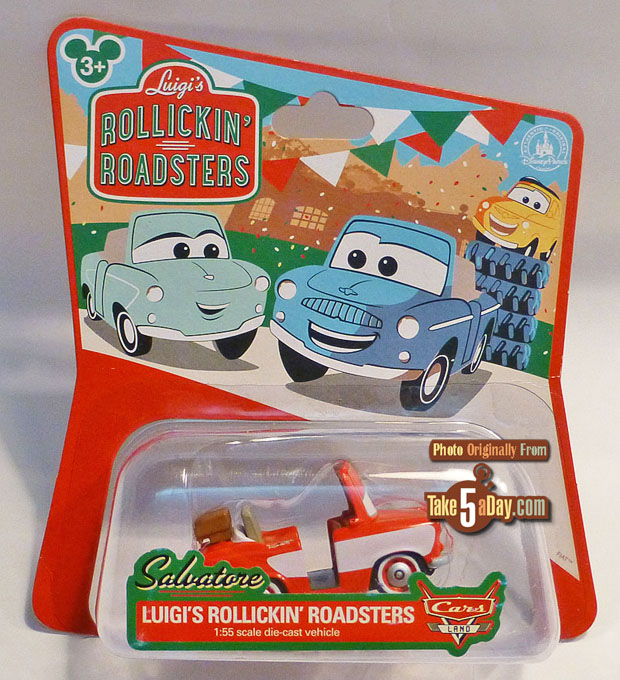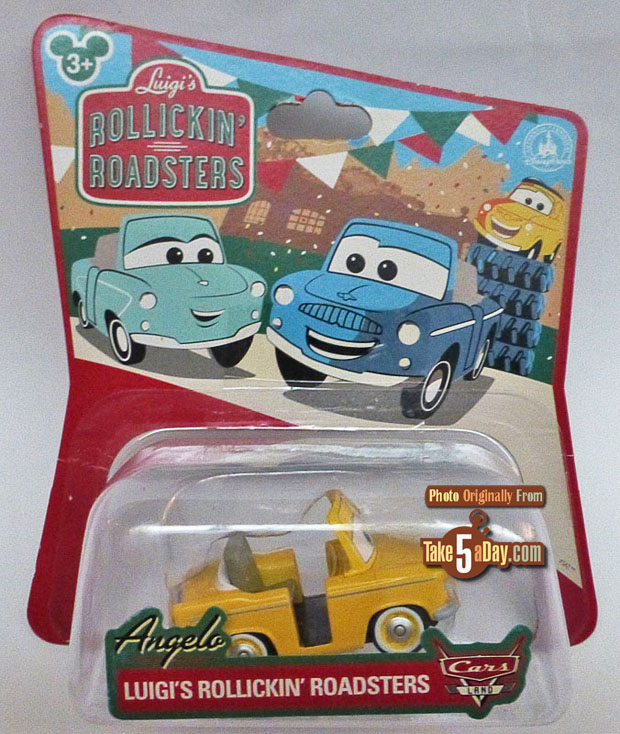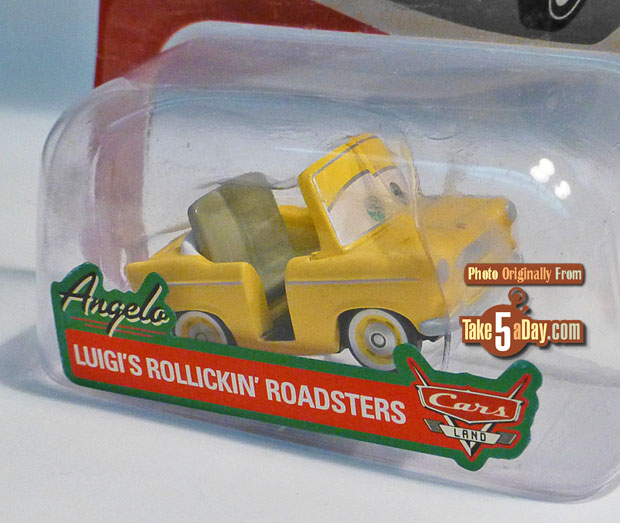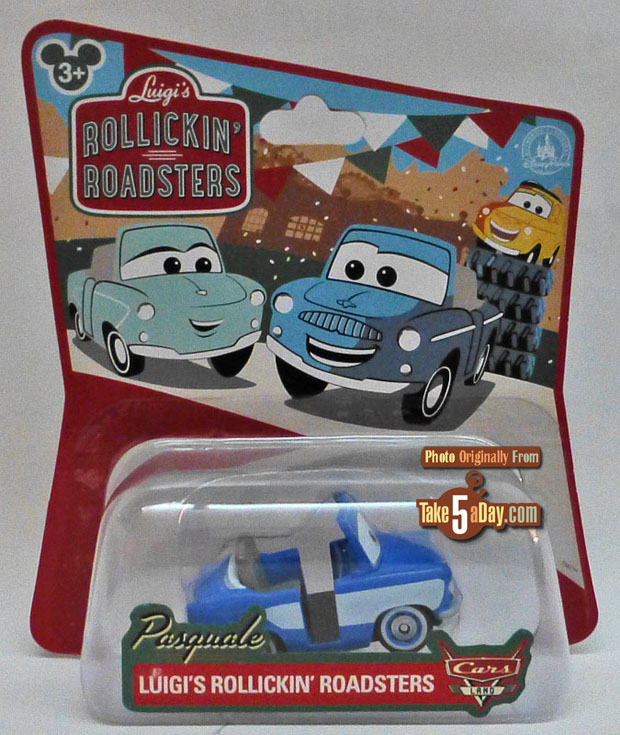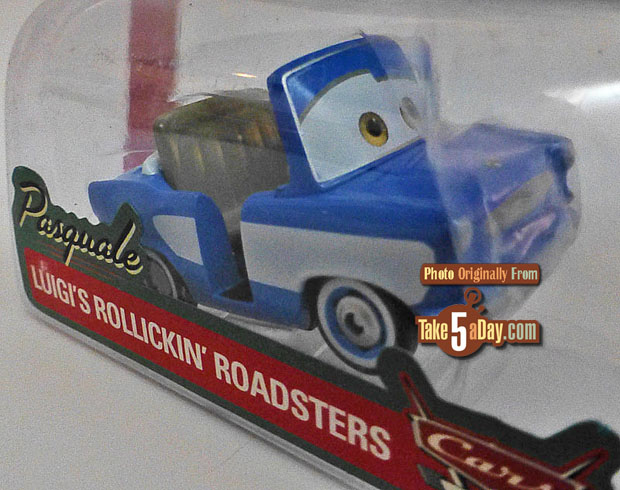 Pretty darn cute.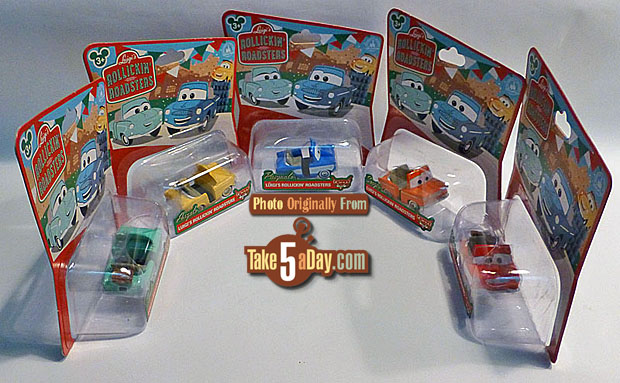 Thanks for the heads up and great pics, "John H."
They are listed as 1:55 in scale (well, at least one of them). If you go by a typical Italian "sedan" of tha era, it looks reasonably accurate in scale/size.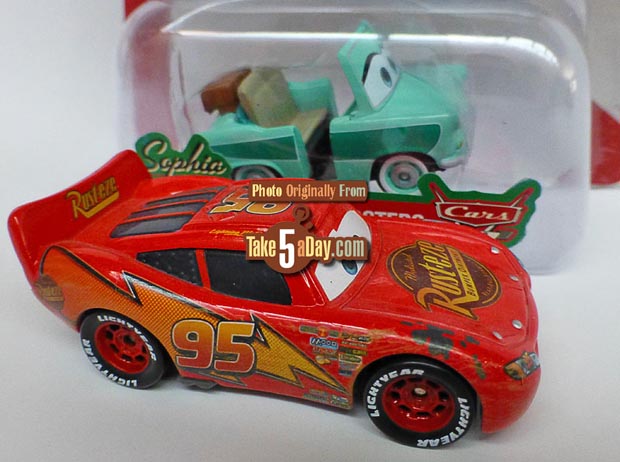 Of course, as a Disney theme park ride, these diecasts are small compared to the ride vehicle.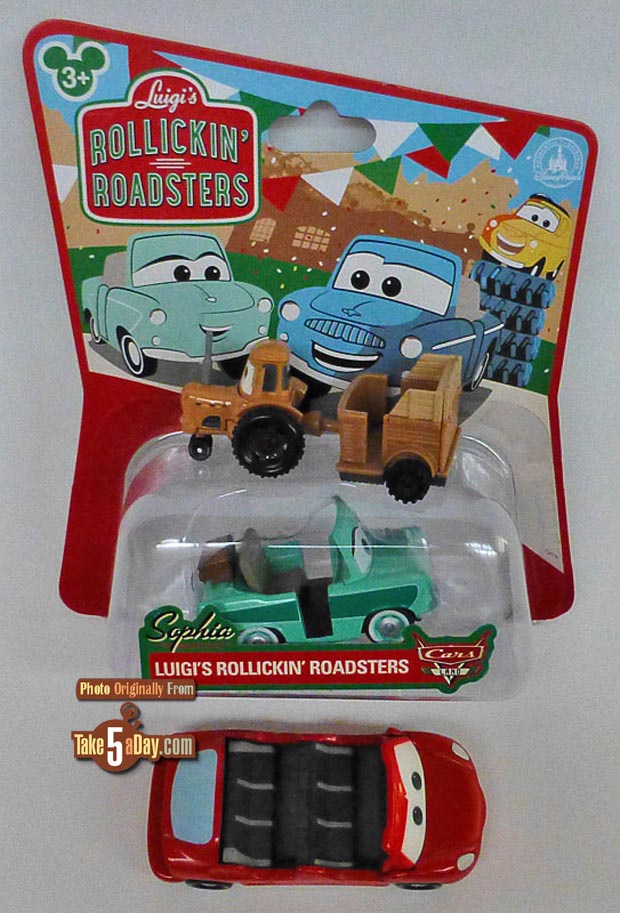 Compared with the other ride diecasts ..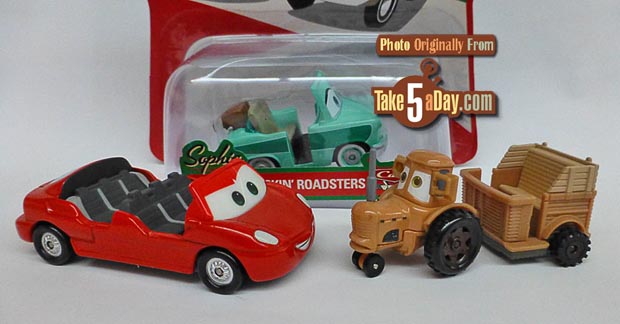 According to the poster there are 20 cousins, 10 boys (with grilles), 10 girls (with eyeliner).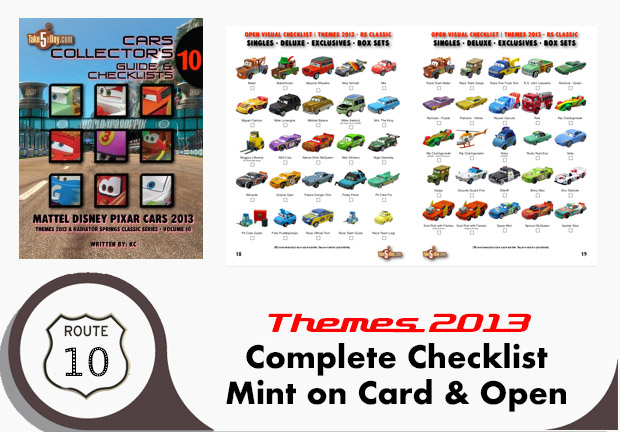 metroxing

9 January 2017

CARS Land, Disney Pixar CARS


No Comment