Home
»
Books
More Business & the Business of Business Reading …
The Hidden Wealth of Nations: The Scourge of Tax Havens
"In The Hidden Wealth of Nations, Zucman offers an inventive and sophisticated approach to quantifying how big the problem is, how tax havens work and are organized, and how we can begin to approach a solution. His research reveals that tax havens are a quickly growing danger to the world economy. In the past five years, the amount of wealth in tax havens has increased over 25%—there has never been as much money held offshore as there is today. This hidden wealth accounts for at least $7.6 trillion, equivalent to 8% of the global financial assets of households. Fighting the notion that any attempts to vanquish tax havens are futile, since some countries will always offer more advantageous tax rates than others, as well the counter-argument that since the financial crisis tax havens have disappeared, Zucman shows how both sides are actually very wrong. In The Hidden Wealth of Nations he offers an ambitious agenda for reform, focused on ways in which countries can change the incentives of tax havens. Only by first understanding the enormity of the secret wealth can we begin to estimate the kind of actions that would force tax havens to give up their practices."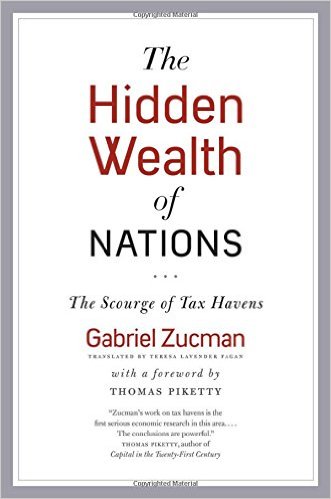 Empire of Things: How We Became a World of Consumers, from the Fifteenth Century to the Twenty-First
"In Empire of Things, Frank Trentmann unfolds the extraordinary story of our modern material world, from Renaissance Italy and late Ming China to today's global economy. While consumption is often portrayed as a recent American export, this monumental and richly detailed account shows that it is in fact a truly international phenomenon with a much longer and more diverse history. Trentmann traces the influence of trade and empire on tastes, as formerly exotic goods like coffee, tobacco, Indian cotton and Chinese porcelain conquered the world, and explores the growing demand for home furnishings, fashionable clothes and convenience that transformed private and public life. The nineteenth and twentieth centuries brought department stores, credit cards and advertising, but also the rise of the ethical shopper, new generational identities and, eventually, the resurgence of the Asian consumer.
With an eye to the present and future, Frank Trentmann provides a long view on the global challenges of our relentless pursuit of more—from waste and debt to stress and inequality. A masterpiece of research and storytelling many years in the making, Empire of Things recounts the epic history of the goods that have seduced, enriched and unsettled our lives over the past six hundred years."
The Green and the Black: The Complete Story of the Shale Revolution, the Fight over Fracking, and the Future of Energy
"Fracking has become a four-letter word to environmentalists. But most people don't know what it means. In his fast-paced, funny, and lively book, Sernovitz explains the reality of fracking: what it is, how it can be made safer, and how the oil business works.
He also tells the bigger story. Fracking was just one part of a shale revolution that shocked our assumptions about fueling America's future. The revolution has transformed the world with consequences for the oil industry, investors, environmentalists, political leaders, and anyone who lives in areas shaped by the shales, uses fossil fuels, or cares about the climate – in short, everyone. Thanks to American engineers' oilfield innovations, the United States is leading the world in reducing carbon emissions, has sparked a potential manufacturing renaissance, and may soon eliminate its dependence on foreign energy. Once again the largest oil and gas producer in the world, America has altered its balance of power with Russia and the Middle East.
Yet the shale revolution has also caused local disruptions and pollution. It has prolonged the world's use of fossil fuels. Is there any way to reconcile the costs with the benefits of fracking?"