Home
»
Internet
Have a Safe Veteran's Day!
A great feature to pass along …
"A French Soldier's View of US Soldiers in Afghanistan.
What follows is an account from a French ISAF soldier that was stationed with American Warfighters in Afghanistan sometime in the past 6 years. This was copied and translated from an editorial French newspaper.  Grammatical errors have been kept in-tact to preserve authenticity.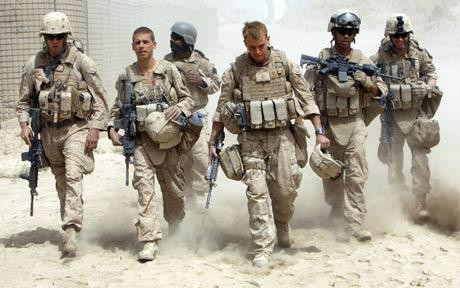 "… They have a terribly strong American accent – from our point of view the language they speak is not even English. How many times did I have to write down what I wanted to say rather than waste precious minutes trying various pronunciations of a seemingly common word? Whatever State they are from, no two accents are alike and they even admit that in some crisis situations they have difficulties understanding each other. Heavily built, fed at the earliest age with Gatorade, proteins and creatine- they are all heads and shoulders taller than us and their muscles remind us of Rambo. Our frames are amusingly skinny to them – we are wimps, even the strongest of us – and because of that they often mistake us for Afghans.
And they are impressive warriors! We have not come across bad ones, as strange at it may seem to you when you know how critical French people can be. Even if some of them are a bit on the heavy side, all of them provide us everyday with lessons in infantry know-how. Beyond the wearing of a combat kit that never seem to discomfort them (helmet strap, helmet, combat goggles, rifles etc.) the long hours of watch at the outpost never seem to annoy them in the slightest. On the one square meter wooden tower above the perimeter wall they stand the five consecutive hours in full battle rattle and night vision goggles on top, their sight unmoving in the directions of likely danger. No distractions, no pauses, they are like statues nights and days. At night, all movements are performed in the dark – only a handful of subdued red lights indicate the occasional presence of a soldier on the move. Same with the vehicles whose lights are covered – everything happens in pitch dark even filling the fuel tanks with the Japy pump.Here we discover America as it is often depicted: their values are taken to their paroxysm, often amplified by promiscuity and the loneliness of this outpost in the middle of that Afghan valley."
You can read the rest at Scout.com.
And a nice video of Usain Bolt stopping an interview to stand at attention for the playing of the Anthem.