Home
»
Disney Pixar CARS
,
Mattel Disney Pixar Diecast CARS
Mattel Disney Pixar CARS: Motor Speedway of the South, Going South and Downbound
As the evidence is rolling in, it does NOT look good for the Motor Speedway of the South diecast CARS. They are definitely going south … the sad, the bad and the ugly.
At first, it was thought it was just the Apple CAR – that it was a bad batch of white pigment/paint (see the first two posts HERE & HERE) but sadly, it's a bad infection that has spread to nearly every CAR in the set.
First, the bad is there's no set pattern where you can blame humidity or sunlight or an environmental issue as no matter the environment condition – damage is setting in and of course, we're taking typical and expected environmental conditions (all away from direct sunlight, of course) to the packed away – all in regulated room temperature as you'd expect – and of course, well within the normal expectation of a diecast toy car that's packed or displayed in a typical house/apartment from all over the country and in fact, the world. In other words, it's not a fluke nor one specific set of conditions causing the damage.
In short, the diecast CARS are developing pinprick "rashes" to the tampo decals cracking to the paint cracking underneath the clear coat to where the paint has actually fallen away because the clear coat has dried, cracked and then falling away.
THE RASH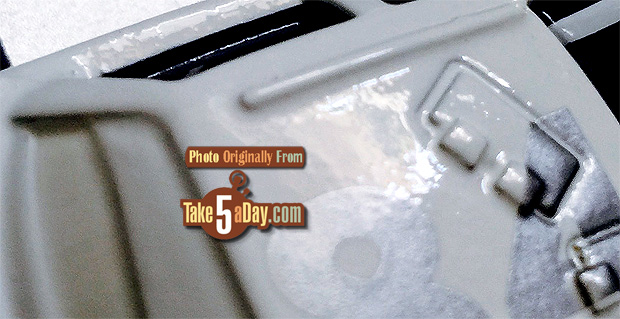 The CRACKING …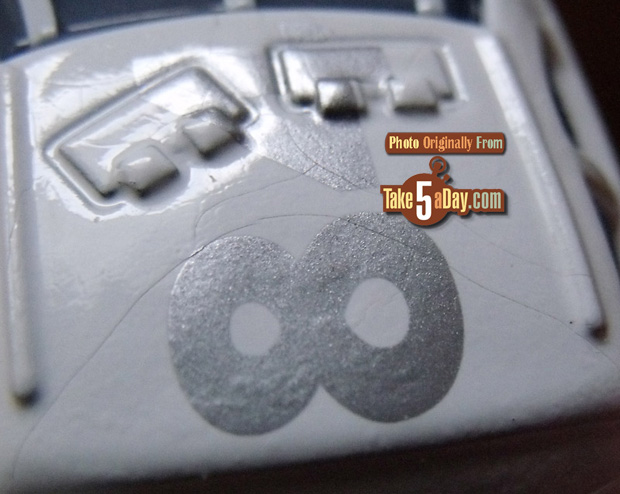 The LIFTING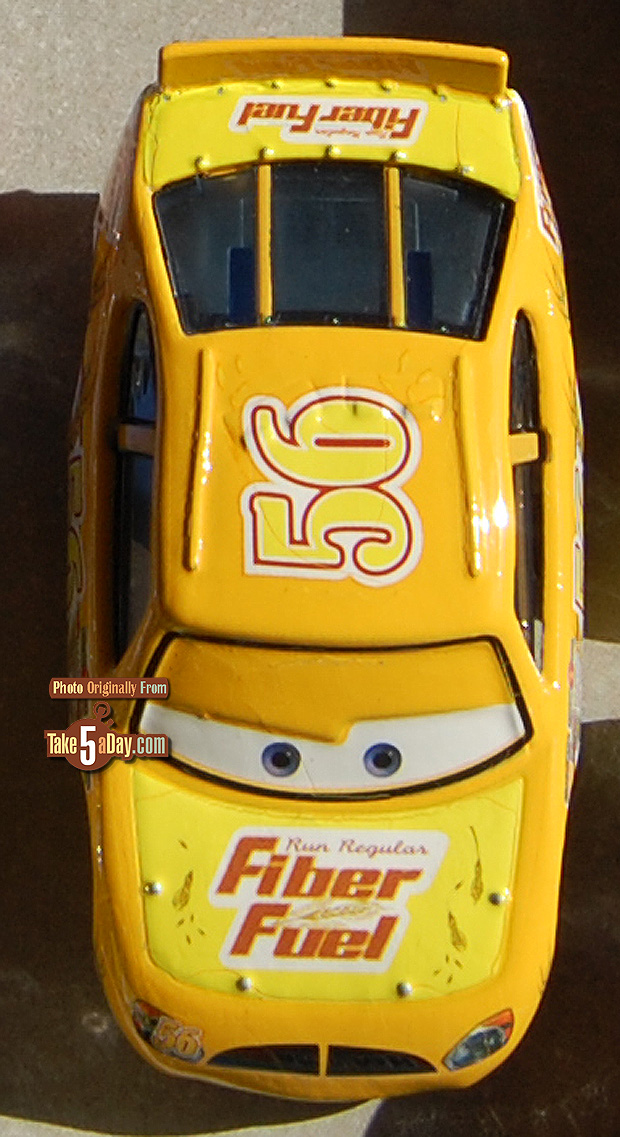 And the final stage – the BREAKING OFF/CHIPPING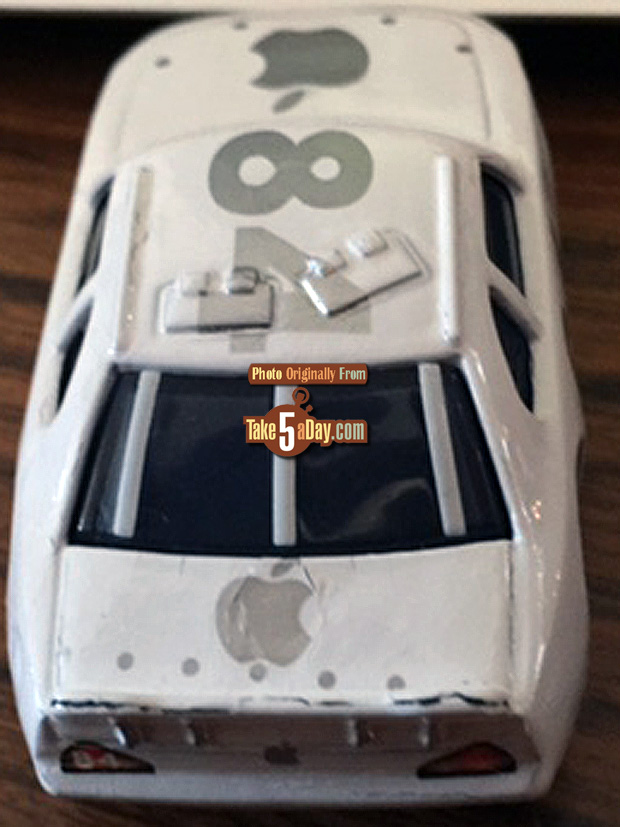 I took a look through my set, packed away and I probably haven't handled them in 7 years?
Of the 36 Piston Cup racers, 3 are still virtually mint – Retread, Transberry Juice, & Dale Jr.
About 6 have just a few tiny rash marks (1-4 tiny marks) that requires you to look hard.
About 21 have small noticeable patches of pinprick rashes.
About 5 have larger noticeable patches of pinprick rashes (like my Apple CAR in the 2nd photo).
And my Mood Springs has noticeable major cracks throughout.
But basically ALL but three have noticeable marks that will get worse.
"BMW" photo of her Mood Springs from when the set was issued in 2008 and recently …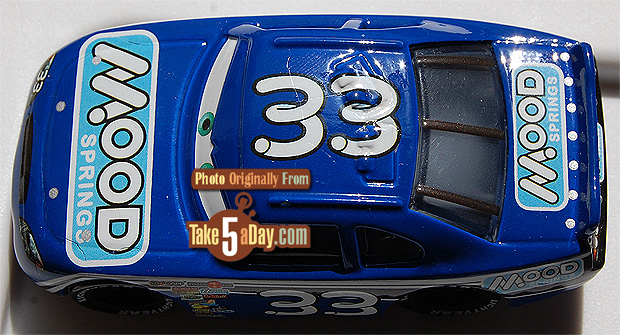 Original Roof – like butter.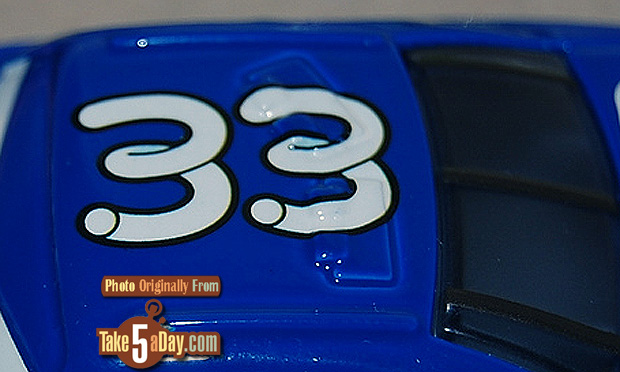 AND there's no pattern that precludes any one design – at first, perhaps we hoped it was the Nitroade/Apple CAR body with the small shaped spoiler ones but EVERY other body design is also infected – as are my King, Chick & Lightning – very small rash marks but they are there.
"BMW" also brought attention to the ones with the production date of 2777 that seems to have been painted over with a new date code stamped but again, it's not just those that are failing.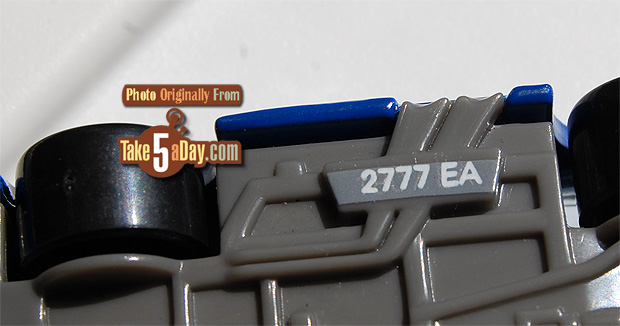 So, while all of 2777 date codes ones are infected, others with complete different production code are failing also so it's NOT just one color/pigment, not one body shape and not one production date – leaving only the clear coat. It is still for the most part buttery smooth and thicker than the usual clear coat on the normal retail ones … so it would seem to be the culprit by elimination.
I do not know if it's just the clear coat failing on its own or interacting with the pigment/paint to fail but it seems the only difference between these diecasts and the normal release ones is the clear coat.
I've looked through all my retail versions of these and all other CARS diecasts from the 2007-2008 era, no rash. Most have typical paint splotches or factory dings as expected with a mass produced toy if you look closely but no clear paint/clear coat flaws.
For instance, while "BMW" Fiber Fuel (photo above) is breaking apart, mine is mint so again, no obvious pattern.
So, what's next? Perhaps if we all chimed into the Mattel Consumer Customer Service page? (you can also call or chat with them).
BTW, Info you need to need to fill out the customer service form if you've forgotten, the set was $299.00 (+ 12.95 S&H) and it was sold on May 20, 2008. The Product Number is: L4721-9993 and the name of the item on the outside of the box was "Hot Wheels RLC Piston Cup Set."
Let us know what they say?
Thanks for the photos and info, "BMW" and everyone who contributed photos and info. Thanks!


metroxing

9 September 2015

Disney Pixar CARS, Mattel Disney Pixar Diecast CARS


11 Comments