Home
»
Disney
,
Disney Pixar
,
Disney Pixar CARS
,
Mattel Disney Pixar Diecast CARS
Mattel Disney Pixar CARS: Precision Series Radiator Springs
Thanks for the great pics, "Mariela and Pablo!"
The Precision Series is a plussed-up series …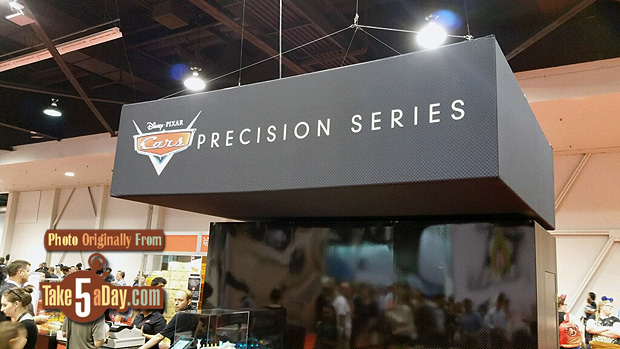 With diecasts – with what looks like "real" rubber tires, moving parts (opening trunks, hoods or raised axles or lights), metallic paint, better quality and an acrylic display case.
(Close up photos in our earlier post). 
Diecasts will be $9.99 each.
While the addition-featured diecasts are nice, the real surprise and welcomed addition is RADIATOR SPRINGS playsets!
Flo's is coming soon. Earlier close-up pics here. Here's one of Flo with a darker backdrop to see the great attention to details and the dazzling lights-up feature. ($99.99)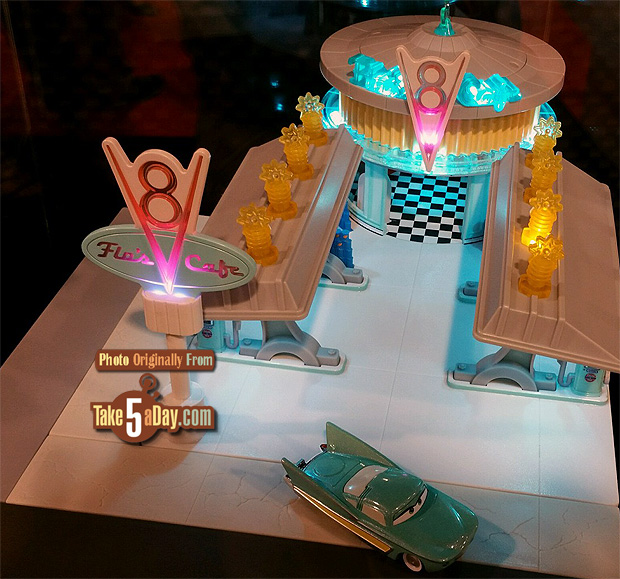 But that's the beginning. Next in line is Fillmore's Organic Fuel (Dome). $49.99.
So, I'm guessing the others will be priced between $49.99 and $99.99?
Sally's Cozy Cone Motel!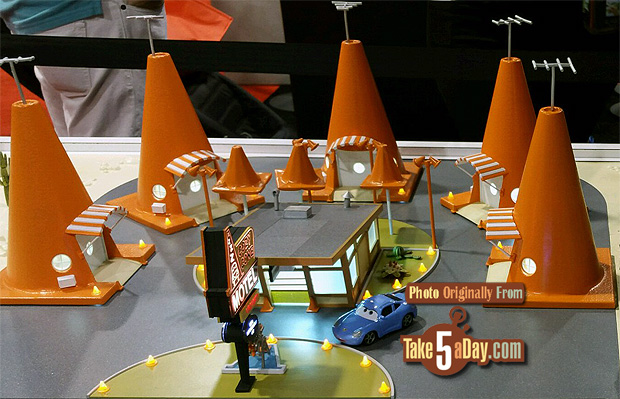 Doc's Ornamental Valley Clinic.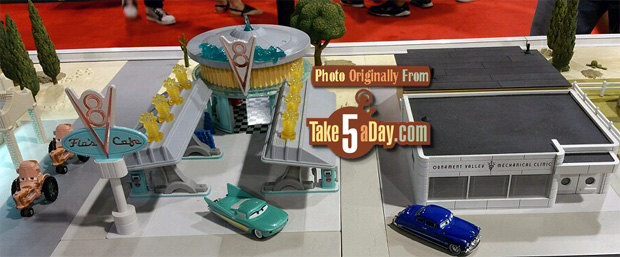 Courthouse!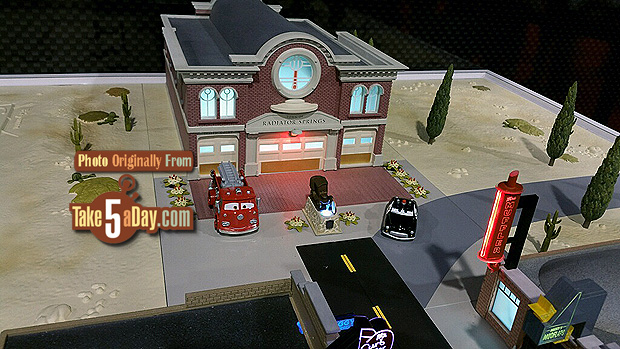 Lizzie's Radiator Springs House of Curios.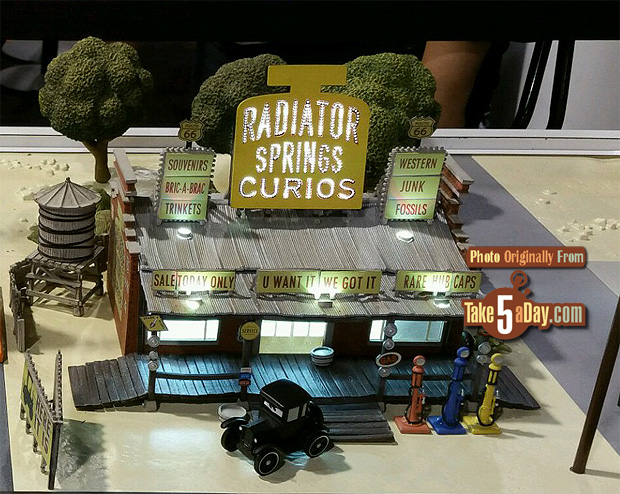 Sarge's Surplus Hut
Luigi's Casa Tires.
Main Street. Stores on Ramone's side (going to the courthouse) – The Oil Pan, Lube O Rama, Sparky's Spark Plugs, Pop 'n Patch Tire, Miss Piston, Carburetor Emporium Repair, Muddy's Mudflaps & Mrs. Muffler.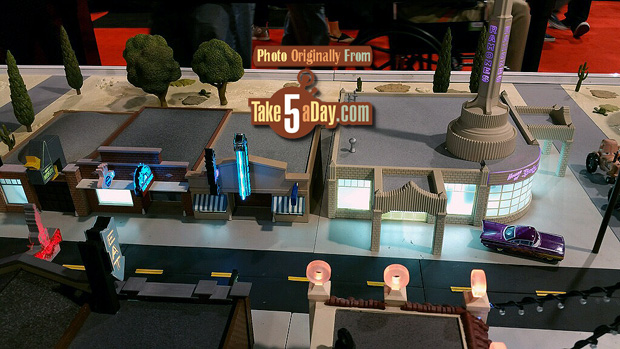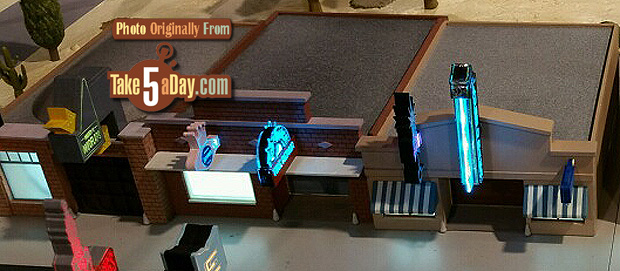 On Luigi's side – (toward Courthouse): Wimpy Wipers, Eat, Sparky's Spark Plugs, The Curb Feeler & Foggy's Windshield.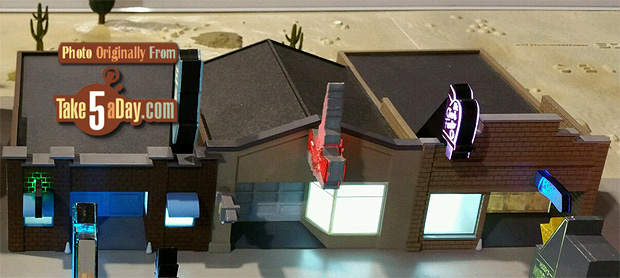 Glen Rio Motel?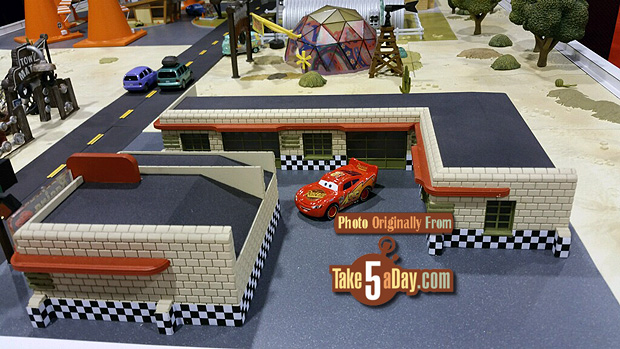 So, yea, they all seem to light up. So, it looks like there are 10 main businesses plus the two sides of Main Street (I presume the small stores are combined as one playset for each side of the street) so 12 playsets – as we march towards CARS 3 in June 2018, you can do the schedule. 🙂
More pics tomorrow – thanks Mariela & Pablo for the great pics!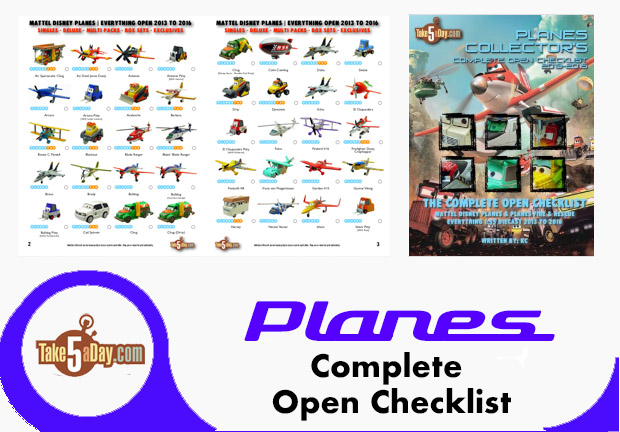 metroxing

17 August 2015

Disney, Disney Pixar, Disney Pixar CARS, Mattel Disney Pixar Diecast CARS


12 Comments