Home
»
Advertising
Target – Whoops, Our Bad – How About 10% Off This Weekend
As you may have heard, Target was the target of underground hackers … so if you still have a credit limit, Target is saying it's all good – bring back your credit card and get 10% off this weekend!
Target's CEO openly apologized today for the hack that swiped data from about 40 million credit cards.
He also said all Target customers will get a 10% discount on Saturday and Sunday. The deal is only good for one transaction and in store only.
There are no details on how this work. How does the 1 transaction limit work? I could see where this might work if you used a credit card but if you paid cash, how do they track/limit your discount to one transaction?
Or, yes, my toddler is buying this PS4 …
The rest of the apology …
Yesterday we shared that there was unauthorized access to payment card data at our U.S. stores. The issue has been identified and eliminated. We recognize this has been confusing and disruptive during an already busy holiday season. Our guests' trust is our top priority at Target and we are committed to making this right.
We want our guests to understand that just because they shopped at Target during the impacted time frame, it doesn't mean they are victims of fraud. In fact, in other similar situations, there are typically low levels of actual fraud. Most importantly, we want to reassure guests that they will not be held financially responsible for any credit and debit card fraud. And to provide guests with extra assurance, we will be offering free credit monitoring services. We will be in touch with those impacted by this issue soon on how and where to access the service."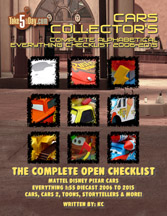 metroxing

21 December 2013

Advertising


2 Comments