Home
»
Books
,
Disney Pixar
,
Disney Pixar CARS 3
,
Mattel Disney Pixar Diecast CARS 3
Mattel Disney Pixar CARS 2 Diecast: The Take Five a Day Magazine Checklist is Here!
Yes, it took a while … but it's finally completed! It took 40 pages to get everything in there!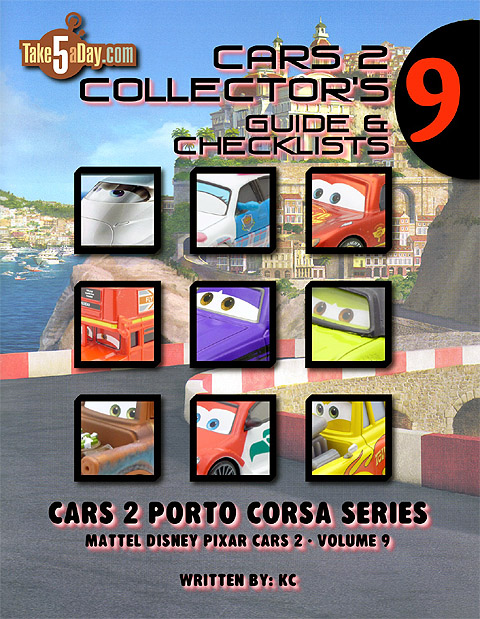 Click on the graphic or LINK here – it's printed on demand from MagCloud who will pretty ship worldwide. Remember your purchase helps supports T5 – so thanks and enjoy! You can also click to get a preview.
It was definitely a crazy series with re-releases of #1-26 on different cards and of course, the whole release & re-releases of the segmented 2-piece faces/expression plate and keeping track of the unibody re-releases – some on one card, others on both cards.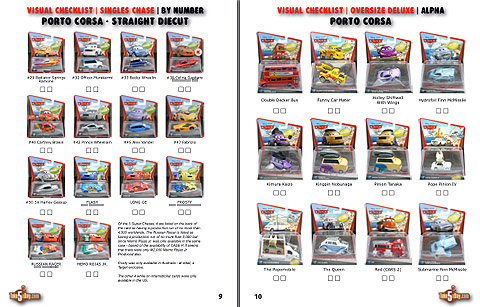 And the OPEN cataloging was even crazier. The final count is 206 plus 14 lights & sounds which were in the diecast bodies so really 220 BUT does anyone really need 7 Jeff Gorvettes? (5 below, silver one at the end of checklist, rubber tire version not pictured) So, for the Porto Corsa series, I included nearly everything no matter how pointless or minimal the variant and let you decide what to collect … I suspect you could easily subtract 80 CARS from the 220 and still be mostly complete … but for this series, I also included more variants that were fixes since you couldn't really help but collect most of them even if you didn't want them …  🙄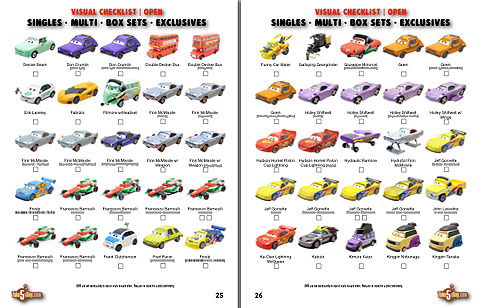 So, enjoy the journey back.
BTW, I kept the magazine issue count since it might be confusing if I went back to 1 so this is the 9th issue of the yearly series plus the two complete checklists of CARS 1.
#1 Desert Art (2006)
#2 Supercharged (2007)
#3 World of CARS (2008)
#4 Race O Rama (2009)
#5 Final Lap (2009-2010)
#6 Lenticular (2009-2010)
#7 Expanded Universe (2008-2010)
#8 Ultra Collectors (2006-2011)
#9 CARS 2 Porto Corsa (2011-2012)
Complete Year by Year CARS 1 & Expanded Universe
Complete CARS 1 & Expanded Universe (Alphabetical)
You can preview all the issues here.
I suppose at some point, I will merge the CARS 2 and CARS 1 into one massive complete checklist.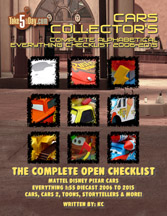 metroxing

14 April 2013

Books, Disney Pixar, Disney Pixar CARS 3, Mattel Disney Pixar Diecast CARS 3


8 Comments