Home
»
Disney
,
Disney Pixar
,
Video Games
Disney Infinity: Disney Pixar CARS Play-Set & Game Pieces
While the original trailer showed glimpses of Radiator Springs and CARS Characters, it's now doubly official with announced CARS gamepieces.

There are 4 worlds announced: Pirates of the Caribbean, Incredibles, CARS & Monsters University. Presumably Phineas, Toy Story & Tim Burton's Nightmare Before Christmas are coming next.
Without going into huge detail, you are a character that interacts in that world (obviously Jack Sparrow will be doing sword fighting while collecting gold pieces while Sulley of Monsters Inc is a more kid's oriented play – not much fighting, more puzzles and wacky fun). The 3D game piece allows you to store your character attributes … if you played Skylanders, that is the same – but of course, the game play and a piece that reps you is not a new concept – it's just now that technology allows a lot more storage and interactivity. One reason to collect more Skylander pieces/characters is that each have their own unique abilities so sometimes you'll need to switch to get through a level but I'm not sure if it's the same gameplay if you have to switch between Jack Sparrow and Davy Jones? But I think that's where the tokens come into play …
Er, that "Nixon" guy from The Incredibles? Will they really sell a gamepiece of that guy? 🙂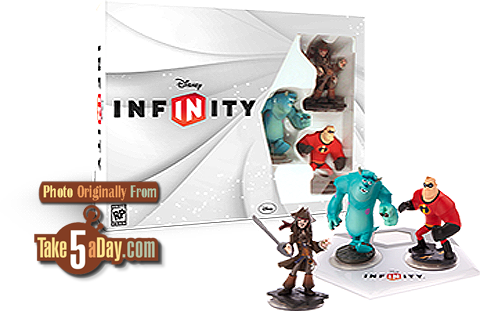 This is the main starter set with the video game disc. While the trailer shows you that characters can pop into other worlds but apparently only in the "Toybox," and not their "regular world." There are a bunch of videos at Wired's GeekDad. I did not watch all of them so maybe they explain exactly how that works.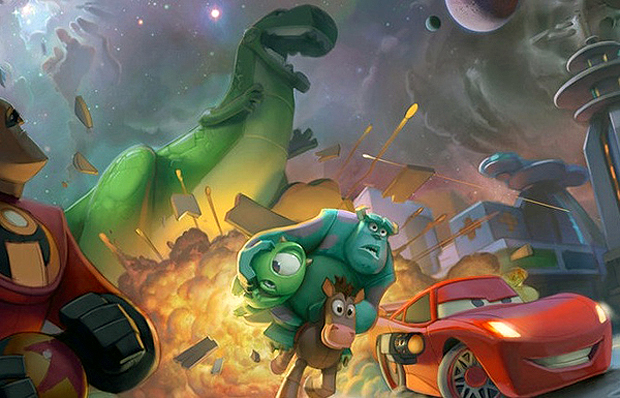 You can check out the trailer below – if the embed does not work, just check out the Disney Infinity site front page HERE.
It's available on the three gaming consoles, plus Nintendo DS. You can see photos at Amazon for the individual figures (sold separately) – Game is supposed to launch on June 28, 2013. Pricing is as follows,
Starter Pack $74.99: Game, three figures, Infinity Base, Play-set token for three adventures (Monsters University, Pirates and The Incredibles) and upgrade token.
Expansion Pack $34.99: Two figures and a Play-set token for as yet unannounced franchises for launch.
Figures $12.99: One figure.
Power-discs $4.99: Two tokens in each foil pack but unseen before purchase.
PixarPost has some screenshots via GameInformer of the CARS game pieces & Radiator Springs. Thanks!
I'll wait until they release Stanley, I think that's the speed I can handle. 🙂
Or Gus, the Field Goal Kicking Mule … he could win football games AND kick Davy Jones in the head. Or a Tron race with Lightning McQueen, that would be cool … Would it be wrong for Ariel to trident Jar Jar Binks?

metroxing

18 February 2013

Disney, Disney Pixar, Video Games


5 Comments