Home
»
Disney Pixar
,
Disney Pixar CARS 3
,
Mattel Disney Pixar Diecast CARS 3
Mattel Disney Pixar CARS Diecast: Radiator Springs Classic Box Sets
All three Toys R Us only Radiator Springs Classics CARS 1 re-release box sets listed are out.
(thanks for the great pics, John H.)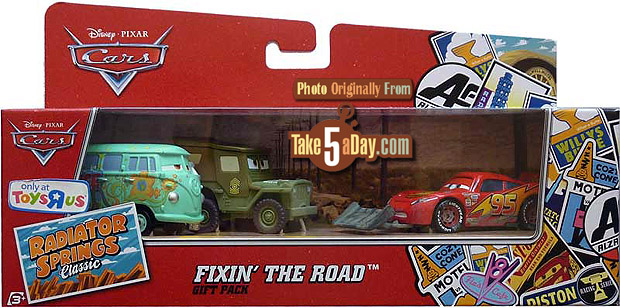 "Fixin' the Road" with Fillmore, Sarge and the nice Lightning McQueen with Shovel.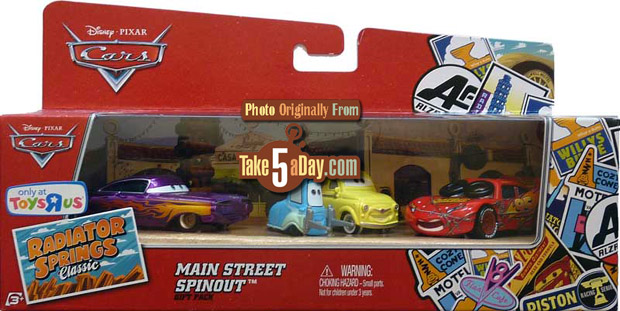 "Main Street Spinout" with Purple Ramone, Luigi, Guido & Spinout Lightning McQueen.
It's nice to note that Purple Ramone, Chick Hicks and the King are the only repeat re-release out of the first 23 releases in the Radiator Springs Classic lineup. And if you count the next 7 listed, that's 3 repeats out of 30 releases … nice for those still looking for the original Townies.
There is also the 10-pack … "Three-Way Tie."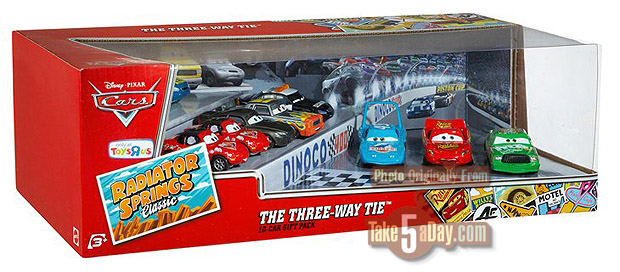 There's also a nicer photo from Mariela P. – Thanks!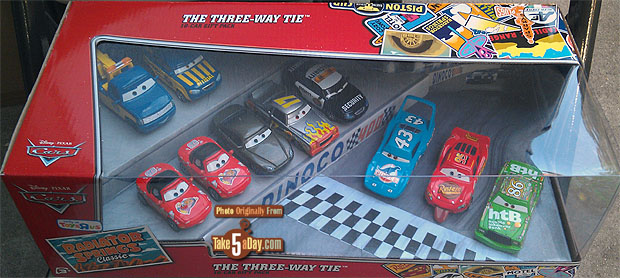 (of course, most people will want to replace the fans in the stands with actual fans CARS). 🙂
So, your box set releases contain the following:
Of course, the oddity is that original Lightning McQueen is not back (yet). Perhaps, they are hoping kids won't notice if you try and slip in a CARS 2 Lightning McQueen with Racing Wheels – there may be a few on the shelves or perhaps why they have included 15 Hudson Hornet (sticker) Lightning McQueen in the next few cases. FYI, don't try and slip one by any kid older than 3-months old … THEY WILL KNOW. 🙂
(The first sentence they'll complete will be – why does Spinout Lightning McQueen's tires on his windshield not rubber but thin plastic … clearly not like the full sized and 4×4 tires Lightning hit in the film scene. 🙂  ).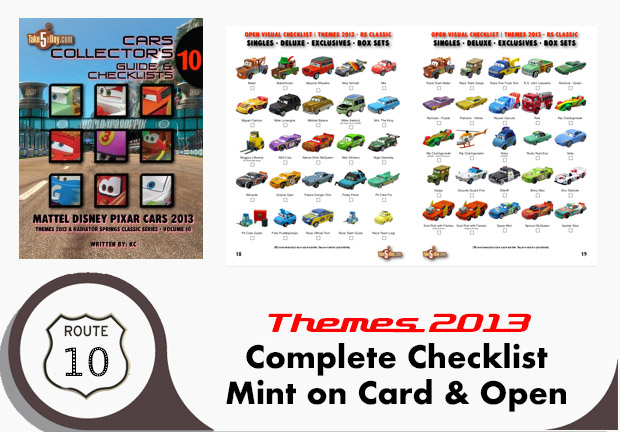 metroxing

10 August 2012

Disney Pixar, Disney Pixar CARS 3, Mattel Disney Pixar Diecast CARS 3


20 Comments