Home
»
Disney Pixar CARS 3
,
Mattel Disney Pixar Diecast CARS 3
Mattel Disney Pixar CARS 2 Diecast: Ultimate Chase US Distribution Only?
"Saukoon," an international collector was curious if there will be international distribution on the Ultimate Chases …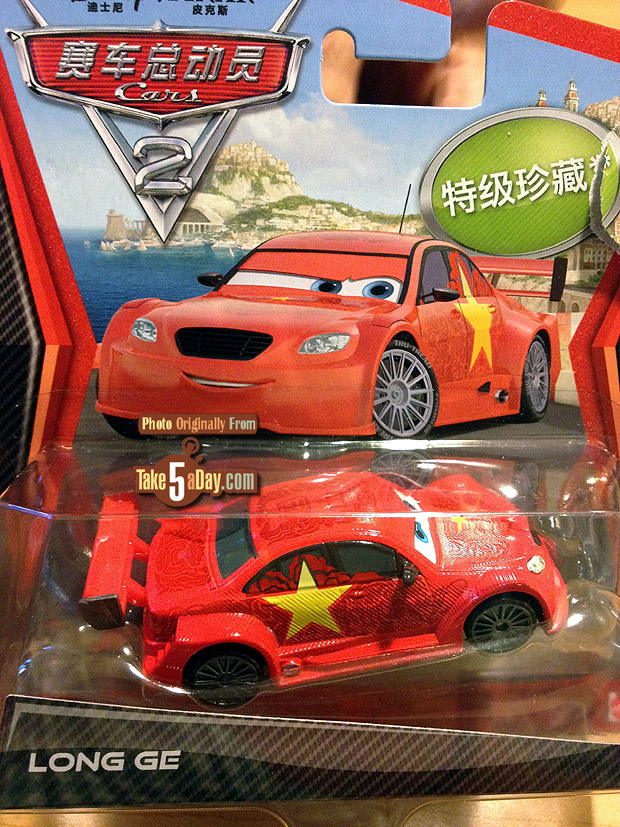 Ironically, even though they are on international cards, my feeling is they will not be packed in cases internationally – which pretty much includes everyone outside the US borders – even Canada … though keep in mind, I'm not even sure these will make it to US retail shelves …
First, there is no definite answer – as the Mattel international group does their own thing and avoids communicating with anyone here in the US but here's what I'm basing it on.
From the number of cases left in the warehouse from several sources, it definitely seems to add up to less than 4,000 cases of CASE G produced. Based on what's left in the US warehouses, it doesn't seem like there's many to send to international markets.* As the card states, there are less than 4,000 produced – it's a firm hard number. It's NOT a nebulous statement like in "regular" chases where at one point, it vaguely said that CHASE CARS were less than 1% of the CARS produced … which is so vague, it could pretty much mean 2,000 or 250,000 – if that was the month they were producing Finn McMissile's – what's 1% that month? Or is the 1% based on the entire factory run that year? 🙂
So, unlike a "regular" CHASE where other than saying it's NOT COMMON and NOT RE-RELEASED (in theory), we have no idea what CHASE production actually is (for CARS 1, it was around 20,000) – here we know the stated number.
Yes, some of the cynics might not believe it's true but Mattel has no real reasons to lie. These Ultimate CHASES are just repaints so it costs a few extra dollars/yuan to produce as all you have to do is design new tampos and packaging but beyond that, at the end of the factory year when all is said and done after making millions of diecasts, we're taking a few extra dollars. Mattel makes nothing more on it than regular wholesale so it's not even like an exclusive selling for $25 where maybe there's an incentive to sneak another thousand or two. If anything, I think 4,000 is stretching it because they want to be certain they are not even approaching that number.
* International cases are different anyway and do not cross the same warehouse paths. So, it's not like the US warehouses would send US cases overseas but that after accounting for the US cases, to create a case with these Ultimate CHASES for international would mean the US warehouses would receive way under the numbers reported, that is what I mean by "too few cases to ship overseas."
As noted, international countries reported the Becky & Officer M cases way before we received them and no one outside the US has reported seeing Ultimate CHASES at retail on card.
So, my feeling is that these Ultimate CHASES released so far will NOT get an international release.
Now, Saukoon also asks whether he should buy now or wait – whether they will show up overseas … that is the great mystery and another one that makes collecting interesting and confounding. Why does Rescue Squad Mater on card go for $60? Will these retain their value because there are never going to be more than 4,000 of them on these cards? What do you think?


metroxing

9 August 2012

Disney Pixar CARS 3, Mattel Disney Pixar Diecast CARS 3


18 Comments