Home
»
Gadgets
You Might As Well Own the Best Toys – 1:48 Scale Coney Island Cyclone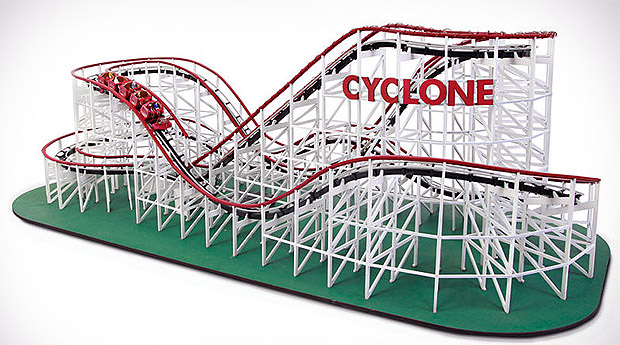 The Classic Wooden Roller Coaster.
This is the 1:48 scale working roller coaster that pays homage to the classic wooden roller coasters from the 1920s. Designed by a roller coaster engineer, this model is handmade from 464 pieces of laser-cut birch, painted with red handrails and white support structure. With a train that plummets down four hills and careens around three turns all under the power of its own momentum, the coaster comes fully assembled and begins when a rotating spring draws the train and its occupants up the lift hill, where it dives and rises into its first turn. The initial hill provides enough potential energy for the train to continue smoothly around the track until it reaches the beginning where it can continue indefinitely. Illuminated by flashing LEDs that wrap around the handrails. Requires 10 AA batteries. Ages 14 and up. Delivered fully assembled 46″ L x 22″ W x 18″ H. (30 lbs.)
From Hammacher Schlemmer – a little spendy at $699 but now you can build a mini town around it!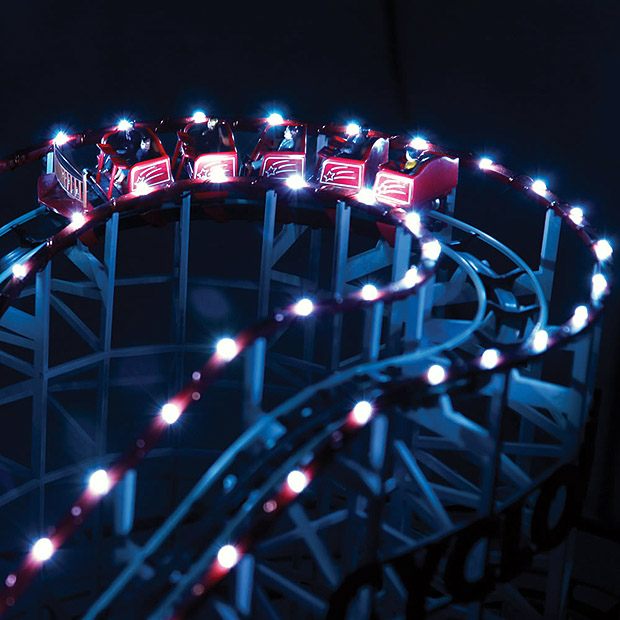 Wikipedia on the real Cyclone.