Home
»
Disney Pixar CARS 3
,
Mattel Disney Pixar Diecast CARS 3
Mattel Disney Pixar CARS 2 Diecast: Kmart CARS Event Pre-Sale Shipping & Re-Orders
So, the final word appears to be that if you placed an order on Saturday for $79.80, they have honored the price and in some cases have already shipped it so it will arrive on or before the event on the 16th this Saturday.
They have canceled orders if you placed orders for more than 1 case and the price is now $95.76.
So you will need to re-order again – ONE at a time if you want extra cases.
The LINK appears to be back to COMING SOON. It's hard to tell if that will change between now and the 16th but in the last few years, they also offered cases after the in-store event.
Clearly, it seems that even if Kmart.com is having an web sale, you can exclude items so why this was not excluded but listed at a "sale price," then disappeared and then canceled without any emails, it's hard to say.
In golf parlance, it's par for the course and we have yet to have an online event go without any major glitches.
So, chime in when you get your case … or try and order below.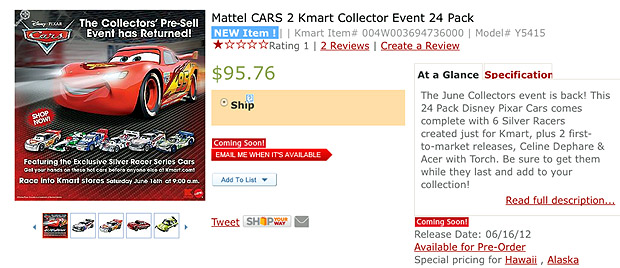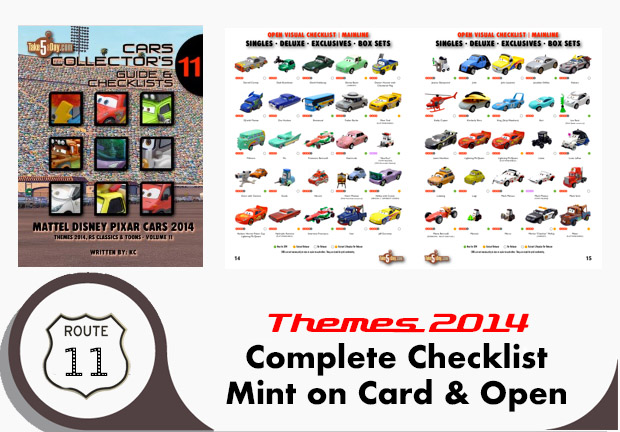 metroxing

12 June 2012

Disney Pixar CARS 3, Mattel Disney Pixar Diecast CARS 3


36 Comments