Home
»
Disney Pixar
,
Disney Pixar CARS 3
,
Mattel Disney Pixar Diecast CARS 3
Mattel Disney Pixar CARS Diecast: Kmart CARS Event Pre-Order Back Now?
June 10, 2012
Online CASE Pre-Sale
Online Case Pre-Sale LINK is LIVE or NOT LIVE? – Click on the big wheel and test your fortune, luck and internet tube skills.
It was supposed to go live SUNDAY June 10, 2012. It went live at about 3 AM Saturday morning – dropped out at about 10 AM Saturday – then came back for a few hours later in the afternoon. During this period, the price was $79.80. This included the weekend sale of everything at kmart.com from 5-20% off and free shipping.
Then when the page came back Saturday evening at the "regular" price of $95.76 it has remained inactive since then with an Email Me offer.
So, what is happening?
??
If I had to guess, they could not figure out how to post this without applying the weekend Friends & Family sale price plus the free shipping. So, they are waiting until Monday to put it back up when the sitewide sale is over so it should be active before I wake up on the West Coast … though I'm just guessing. Chime in when you wake up.
Presumably the KMART10PSAVINGS coupon code is still active so you can save 10% but to get free shipping, you'll have to sign up for the ShopperVantage program. Is store pickup "free?"
Good luck!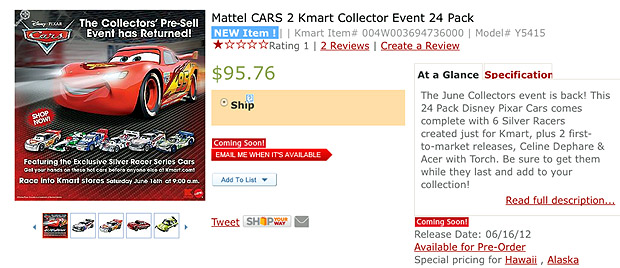 They are also having a sale on remaining CARS items – not a huge selection. Not sure if this applies in-store or only online.

See post here for Checklist & Case assortment.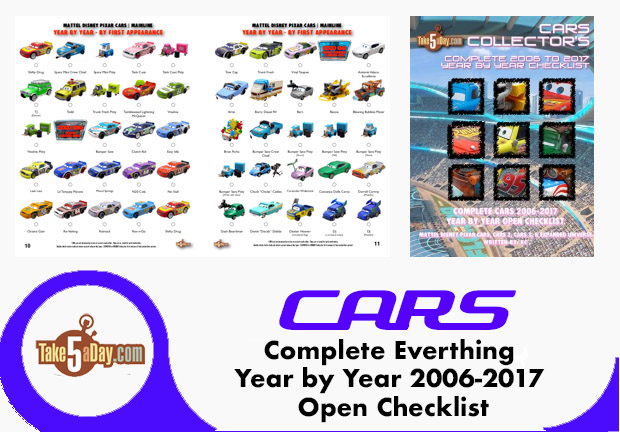 metroxing

11 June 2012

Disney Pixar, Disney Pixar CARS 3, Mattel Disney Pixar Diecast CARS 3


10 Comments