Home
»
Disney Pixar CARS 3
,
Mattel Disney Pixar Diecast CARS 3
Mattel Disney Pixar CARS 2 Diecast: Factory Geeks Arise …
So, it looks like the deluxe mega-oversize CARS Take Flight CARS are being produced at the Thailand plant and has different production stamping.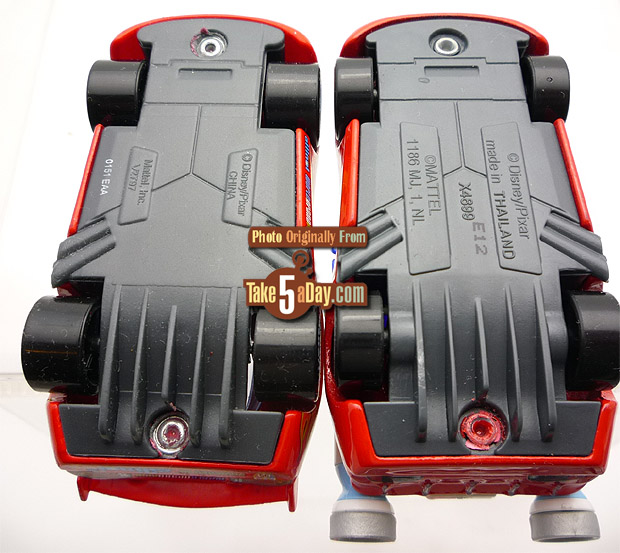 For instance, regular McQueen on the left was produced at at a contract China plant, Early Light (EA) The extra A for a specific factory as there is more than one factory plant there. They are a contract plant as Mattel signs a contract to buy X number of diecasts – they agree on a cost with the factory making a profit on each vehicle produced. There is a range of costs that can vary slightly from a particular character to another as some require more metal, more skill or more labor to assemble (adding more flags, etc …).
The base plates from these plants contain the product code for the McQueen base – V2797 and of course, the copyright info. The bases as well as the rest of the CAR is produced at different times and stored – when they are assembled, they are stamped with a production date and packaged. In this case, – the 0161 indicates it was finalized-produced on the 16th day of 2011 or of course, January 16, 2011. Mattel tracks inventory this way and pays for the final assembled and packaged product via an inventory count – each stamp is automatically counted as it pressed down. They can also trace any problems to this particular day or batch.
We know that this plant has lead to unauthorized production CARS – we don't know the actual circumstance of having extra bodies and bases – some portion of production is always counted as ramping up/waste/errors/quality control/shutting down, etc and counted as waste. Clearly, some of this waste is not really tossed and is being pulled off to be sold early or in some cases, repainted as "factory customs." When you crank out as many McQueens as EA does, even a small "waste" % adds up to the tens of thousands of possible bodies and bases for making your unauthorized customs.
Now, whether more CARS will be switched to Mattel's Thailand plant is hard to say at this point but it is different as the Hot Wheels plants are called "captive plants" and all the production is whatever Mattel orders them to produce so they do not bid out and try to win other products not from Mattel. Presumably, legally, Mattel does not own the plants outright to avoid any legal repercussions such as labor issues, etc … but basically Mattel is the big boss. It's different in that these factories don't have to make a profit per vehicle but of course, the actual production cost can't exceed the estimate but Mattel saves that extra X% that a contract plant would make since this plant is not under obligation to make a profit per vehicle produced.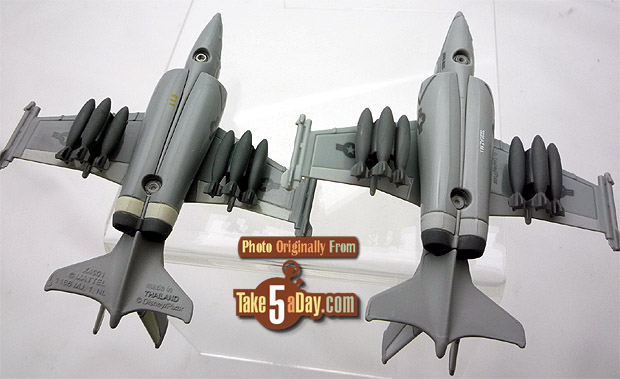 So, why the switch?
Probably because Mattel is not ordering as many CARS diecasts, labor costs are up in China and Mattel can save a little.
One main difference is the product production stamping. Since they don't need a stamp to make certain they keep track of numbers produced (since the factory does not charge Mattel per piece produced), they add all the main relevant product info onto the mold itself and since Mattel has access to all the production information necessary, they don't need to put it the vehicle. Versus a contract plant where they need to keep track of assembled product to make sure they are only paying for those (plus "waste,"), here at the HW plant, they don't make any "extra" money by producing extra – in fact, they lose money so Mattel has no worries there but again, can simply ask the plant for any production info necessary.
If you like to read about Mattel's audits on factories, here's some really fun reading.
Here's the oven the diecast portion of Lightning & Stu Bop came through …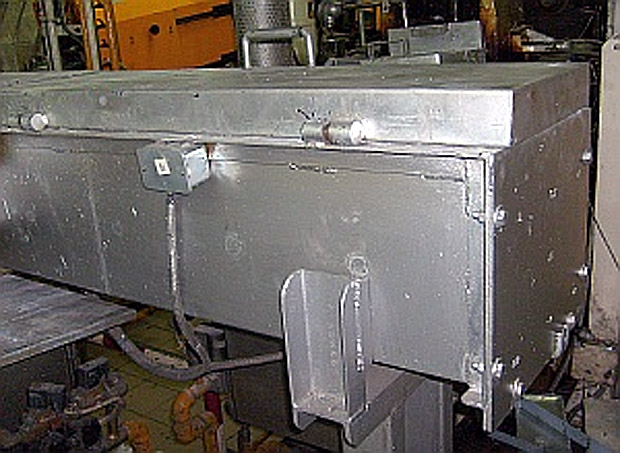 Well, maybe not this exact one but it is the bringer of diecast life … and DO NOT put your frozen pizza in there!
So, for those that asked, it's TMI on the factory plant from whence your diecast came. Now you know.


metroxing

9 June 2012

Disney Pixar CARS 3, Mattel Disney Pixar Diecast CARS 3


6 Comments