Home
»
Retail
Walmart Brand: Look, Read and Maybe a Quick Poison Control Call …
While you might be able to save a little on the Walmart store brand, make sure you keep everything in its proper place in your house …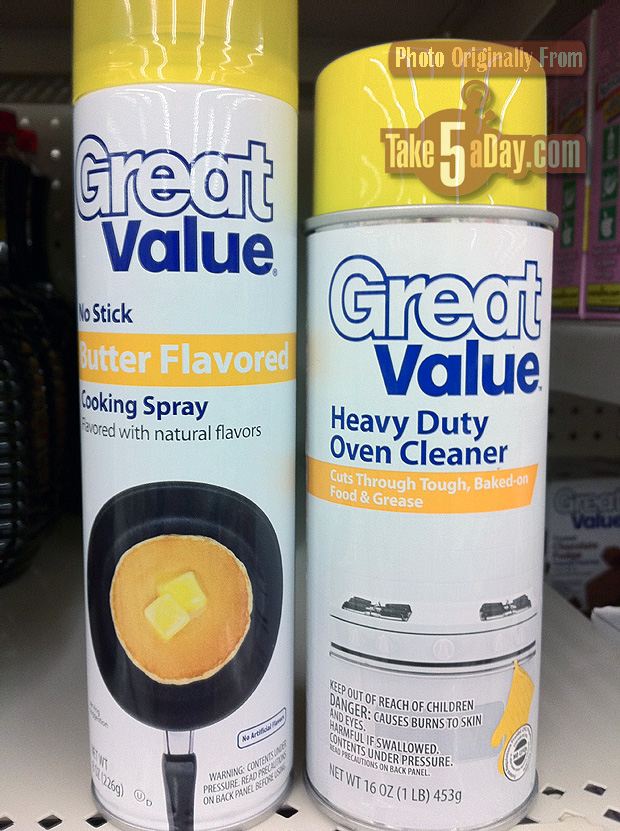 Yes, it a GREAT VALUE unless of course, you use the wrong stove photo item with the other stovetop photo item … of course, any fool knows a transparent yellow cap means butter while a solid yellow cap top means oven cleaner … right? You do know that, right?
I've never tried it but I'm guessing if you coat the inside of your oven with spray butter, it's not so good when you light the oven?
And I know I do not want oven cleaner flavored pancakes.
Though I guess you are saving $.40 … what's a little oven cleaner in your food – as long as you don't swallow it – it's perfectly fine.*
Is this literally playing fire by using one color and design for ALL products sold at Walmart?
Is there insect repellent and underarm deodorant designed the same also?
Is every GREAT VALUE WM brand store item yellow?
* Um, no, please do not make oven cleaner pancakes – no matter the savings.