Home
»
Film
,
Toys
,
TV
San Diego Comic Con Tickets: On Sale Today (For Real This Time)
SDCC will attempt to sell tickets again for NEXT JULY's Comic Con AGAIN today starting at 6 AM PACIFIC time or 9 AM Eastern, 8 AM Central & 7 AM Mountain.
HERE.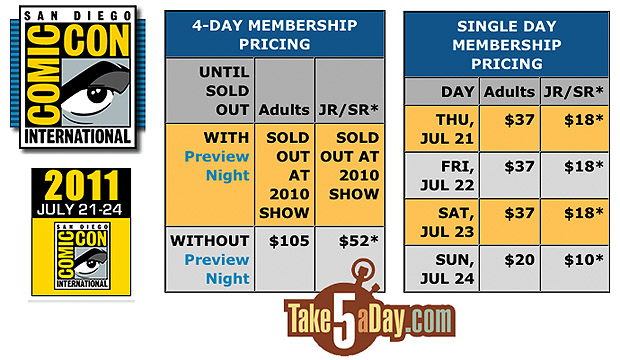 Apparently last time the system could not handle everyone trying to register as Barry Allen … just kidding.
They added some instructions and a REALLY, REALLY convoluted flowchart … especially for us geek nerds as if we never used a computer before or maybe the "EPIC" people running this has NEVER bought tickets before.
From SDCC …
It is important to remember a few things which can make your registration process run smoother and, hopefully, quicker:
Registration is conducted in Real Time. Be sure to have all necessary information ready before you begin the registration process. This includes credit card information as well as names and addresses of any additional people you may be purchasing badges for.
Do not select the Back button, as that will restart your session back to the beginning.
You may only purchase one badge at a time but you will have the option of purchasing additional badges before logging out.
Yea, make sure your computer is powered on and you are on an electricity & internet grid.
And you have not encased your finger in cement.
My question to EPIC is – how do I NOT buy tickets in 'real time,' is there a time-space warp setting I'm missing on my computer so that I can travel at a different speed than everyone outside my time warp bubble? No wonder I cannot find any CARS to buy, I'm always in another time or dimension?
Good luck all and for the love of all that is holy AND moley, do NOT break the internet and use the BACK button … have you no decency? Where you raised in ranch style house with only a two-car garage? Also, do not press the ANY key.
NOTE – YOU CANNOT resell the ticket. It is assigned to your name & the names of others who you are buying for.
You will need to show up with an actual ID in SD … so unless you find another person who's official ID name MATCHES yours – they will NOT be able to complete register there and get the actual badge to go inside. (you need the confirmation note plus a driver's license-passport).
Preview night is SOLD OUT. You could buy the 5-day ticket pass at last year's Comic Con.
If you're wondering about individual days …
THURSDAY – Massively packed. If your interest is buying very limited items (500 or fewer), love being able to move about in a hall without your feet touching the ground or you must attend some Hollywood sessions-panels, then consider a Thursday ticket. It is a mad crush of people so you will not cover much ground.
FRIDAY – Actually is kind of a lighter day for being on the floor as most of the serious buyers are gone by the early afternoon so buying lines will actually break up. And lots of Hollywood movie panels & sessions. Some limited items for sale will be sold out by end of Friday.
SATURDAY – Busy and packed again as people who actually work M-F arrive (what's up with that? 🙂 ). So, long lines for most things – freebies mostly last until end of Saturday. Fewer Hollywood sessions.
SUNDAY – Less packed, more kids. Not as many freebies (mostly given away already) – lines much shorter. Bargain hagglers can start in the afternoon with, "you don't want to carry that all the way back to Omaha, do you, I'll give you $25 for it." Not many panels-sessions with heavyweights.
Prediction – After the 4-day passes sell out – Thursday only tix will sell out first, Saturday – next, then Friday and – Sunday will hold on the longest.
Good luck and hope to see you there.
* Kids 11 and under with paying adult are free. Kids 12-17 pay Junior prices. Seniors 60 years or older pay the Junior/Senior reduced price. Active Military with ID can pay the Junior/Senior price. This deal does not extend to dependents.