Home
»
Mattel Disney Pixar CARS
,
Retail
Disney Pixar CARS: iTunes Mater Tall Tales COMPLETE as DVD
If you can't wait until your DVD arrives or if you want HD versions for your iDevice (iPod, iPhone, iPad or AppleTV), the Mater Tall Tales iTunes version is the same as the DVD-Blu Ray version content-wise.
Keep in mind the Mater Tall Tales DVD does NOT contain a digital version but if you know how to rip-convert a DVD or Blu Ray DVD to a portable or PC-Mac format, you're set but if you don't or don't want to bother, the iTunes version contains all the content on the DVD versions and is ready for PC-Mac or iDevice viewing.
The oddity is that unlike the UK files which are available as separate files only, the 9 shorts are in one 35-minute file. Viewing it with the Quicktime player lets you skip to a particular chapter OR there is a special iTunes Extras navigation thing.
Buying the HD version downloads you three files, the HD 35-minute 9 shorts file, the SD (standard def) 35-minute 9 shorts file AND the "iTunes extras" ("unmade" shorts, trailers and a preview of CARSLAND).
If you click the iTunes Extras file, this is what iTunes will now look like: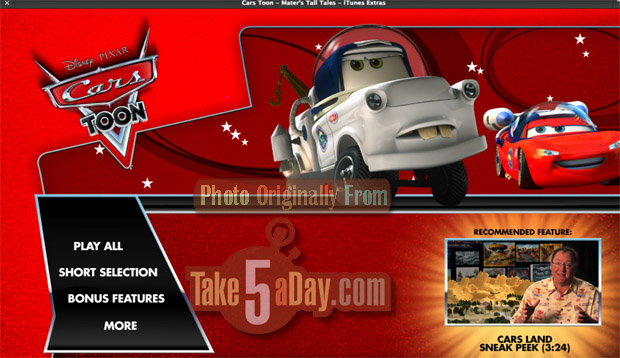 You get a navigation bar on the left and clicking on it is just like clicking on a DVD navigation window.
For instance, if you click on BONUS FEATURES, you get this list …
The "unmade" Mater shorts are presented by the animator at Pixar who pitched it – it's cute and amusing as the animators do all the voices and sound efx so if you're planning on going into animation, be sure you feel comfortable making noises. 🙂 There are 6 of these of varying length. The other bonus features includes the CARS LAND Preview + the trailer for Mater PI. Of course, you also get the 9 shorts.
So, if you want portability of the HD version of the 9 shorts, the iTunes version is a nice way to go. The extras are ONLY playable on a PC or Mac however and not on your iDevice – maybe someday they will add that functionality but for now, you can only transfer the 9 shorts to your iDevice but it is nice that it's unlimited – so every iPhone, iPad or iPod that is part of the HOME SHARING account – they can access and copy it to.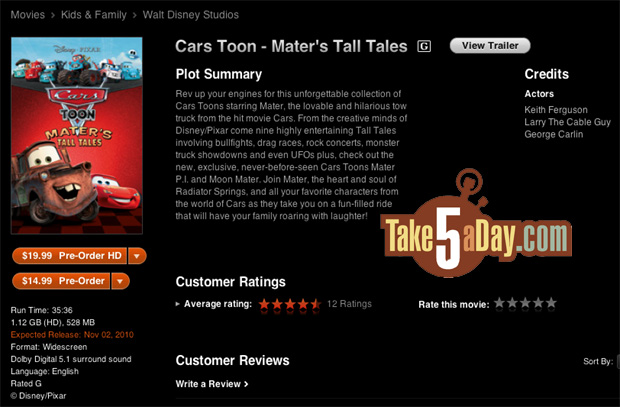 (clicking on link or graphic above will launch iTunes)
If you know how to rip-convert SD & HD files, or if you only want to watch them via a DVD-Blu Ray player, then the optical disc is the way to go …
AMAZON. (The Blu Ray DVD contains both the Blu Ray version & the DVD version).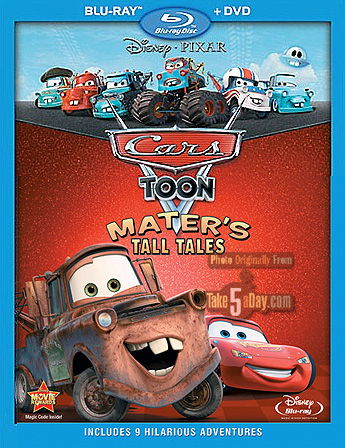 Or the plain ole DVD version. Amazon.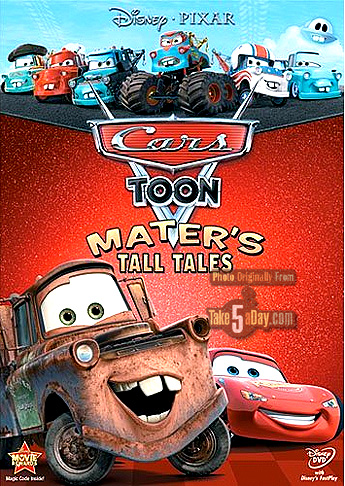 Apparently the Blu Ray disc is an ALL REGION disc.
Because of movie studio restrictions, you cannot buy an iTunes movie-TV show and just transfer it to someone else.
The iTunes files are only for those with a US iTunes account. However, it's an easy restriction to get around. All you need is a US iTunes card and set up a new account – you can fill in any name & address – all you need is a new email address.


metroxing

2 November 2010

Mattel Disney Pixar CARS, Retail


25 Comments