Home
»
Mattel Disney Pixar CARS
Mattel Disney Pixar Diecast CARS: CARS Paradise – Check Lane Division
If your idea of CARS Paradise is 360 on multiple trays at Walmart next to Hello Kitty Pez, welcome to the land of short card milk & honey …
This assortment contains 7 choices: Lightning McQueen, Chick Hicks, The King, Mater, Wingo, Dinoco McQueen, and Green Ramone.
"John in MO" somehow resisted temptation and left them all on the shelf for you.
Guess the computer system went a little wild at this WM … or the District Manager really hates Hal, the manager … and adjusted his order – in addition, this store got …
50,000 small I'm with Vegan t-shirts
8,000 packets of prune fruit strips
11,000 Lindsay Lohan CD's
2,000 11″ monochrome LCOS TV's
3,000 boxes of antioxidant creme Twinkies.
500 cases of Passover Pork Skin Chips.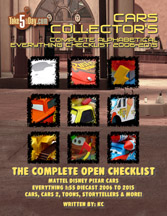 metroxing

14 September 2010

Mattel Disney Pixar CARS


11 Comments