Home
»
Mattel Disney Pixar CARS
Mattel Disney Pixar Diecast CARS: France Promo-A Rose Garden By Any Other Name
The France Promo fulfillment has taken a new twist …
The original offer …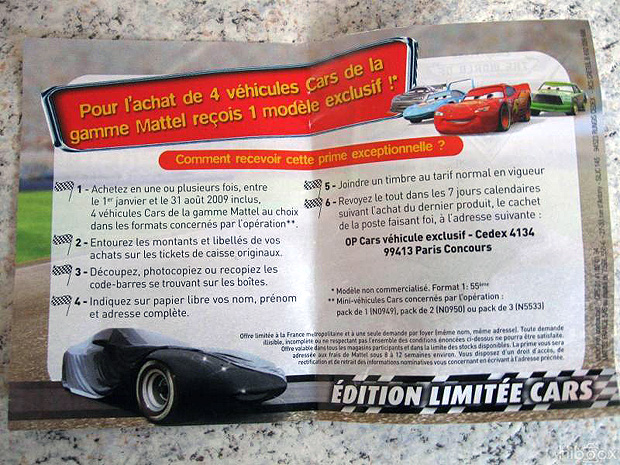 Rules are:
1 – Between 1st of January and 31st of August 2009, buy 4 Cars vehicles.*
2 – Send your receipt.
3 – Send or copy the barcodes on each pack.
4 – Write on a paper your name and address where to receive the free car.
5 – Add a stamp in your letter.
6 – Send your letter within seven days since your latest purchase to this address:
OP Cars exclusive vehicle
Cedex 4134
99413 Paris Concours
* "Free" CAR is 1:55 scale & not available in stores.
The fulfillent started out with Gask-its but they apparently ran out a few months ago – then a gap as they scrambled to figure out what to do next … well, they reached a decision …
Say hello to apology letter AND …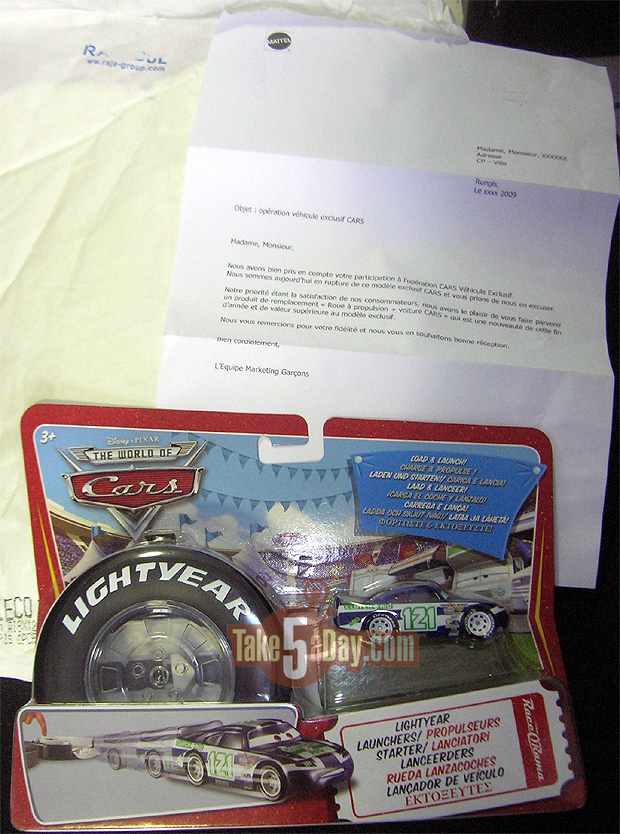 "David V." was kind enough to send along info, photos and translate the letter for us.
The letter reads in part …
"Thank you for your participation to the Cars exclusive vehicle promotion." Unfortunately, this exclusive car is out of stock and we present you our apologizes. Our priority is our consumers satisfaction, so we have the pleasure to send you this Lightyear laucher + a car which is a new release of this end of year…"
(and now here comes David's favorite best part of the letter)
… a car which value is higher to the exclusive vehicle."
David notes others have gotten Shifty Drug, Vitoline and Fiber Fuel Lightyear Launchers.
I guess they get by the skin of the letter of the law since these Lightyear Launchers are technically not in French stores … Tada!
And going by European pricing, they are getting a $22 USD item (I think they are priced at €15-18).
And a Launcher is so much cooler when you call it a "Lanzacoches." 🙂 Hence the extra $12 charge 🙂
First an Eggo shortage and now Gask-its.
But I guess it's all there in the Mayan prophecy
… the ground shall be fallow – thus round disc hard objects with geometric shapes that must be blessed by the Sun before consuming will be in short supply … and other disc based made by those across the ocean who sail with round anchors shall also foretell of a time of shortages. Though our movie will open #1 …
Those Mayan's could really call 'em.
Anything about Florida or Alabama?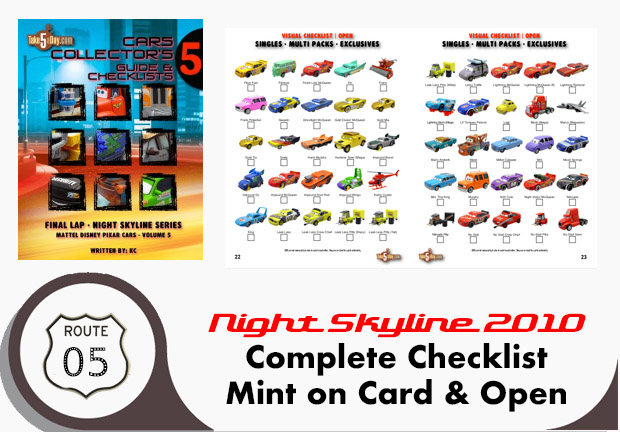 metroxing

22 November 2009

Mattel Disney Pixar CARS


22 Comments