Home
»
Disney Pixar CARS
,
Mattel Disney Pixar Diecast CARS
Mattel Disney Pixar CARS: 2-Packs 2016 ½ Visual Checklist
Unlike the last movie transition, this time we are getting "new" diecasts right up to the release of CARS 3 … so while it's 2017 in calendar time, it's really 2016 ½ for the CARS collector as the "themes banner motif" is continuing until CARS 3 diecasts arrive @May 1, 2017.
Today, the 2016 ½ 2-pack visual checklist.
Yes, the Bob Cutlass & Darrell Cartrip is essentially the singles with a plastic accessory BUT Darrell might be another (yet another) variant – I have to dig mine out to check (still in crates) but he seems to be a unibody WITH raised eyebrows … (and the correct non-clown mouth) which if correct would be yet another Darrell variant.
The Palace Gargoyle is presumably plastic – Mater appears to be the same Mater.
The rest of the releases are all re-releases but in all new configurations so if you're a card completist. Marilyn has also been changed to Marilyn Stickers …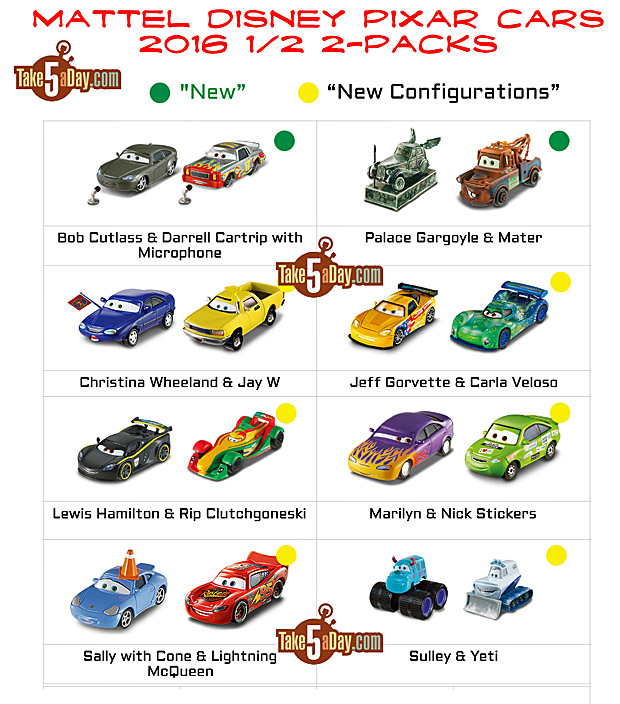 "Superfan" Mia & Tia are not listed as they are repeat configuration releases.


metroxing

16 March 2017

Disney Pixar CARS, Mattel Disney Pixar Diecast CARS


5 Comments