Home
»
Disney Pixar
,
Mattel Disney Pixar Diecast CARS
Mattel Disney Pixar CARS: "Quercy" Wants to Know If This is Kmart CARS Month, What's It Like When It's Not?
Quercy's note pretty much sums it all up for most collectors …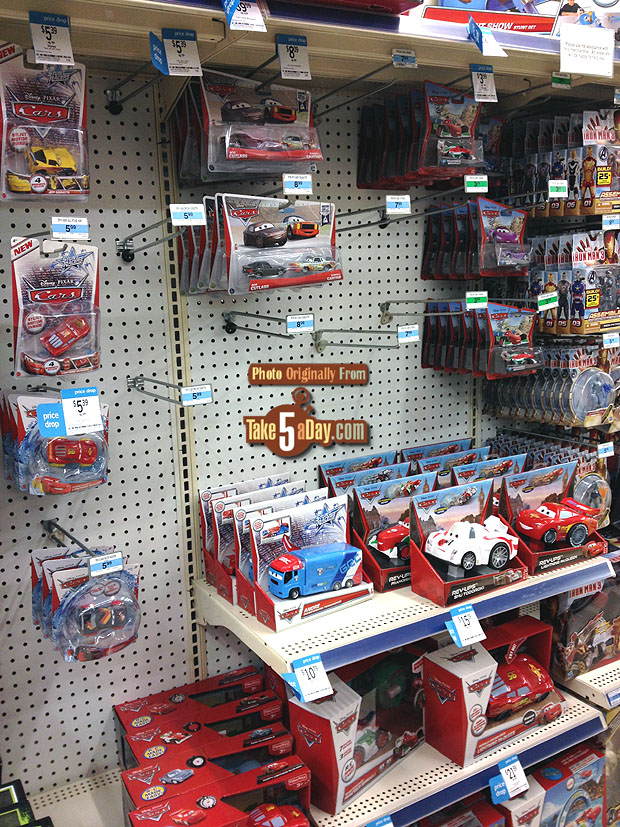 "Really? This is "Kmart's Month of CARS?" It's June 11th and there are NO 2013 singles, NO deluxe or Megasize, NO Micro Drifters, NO 3-Pack or any others multi pack, few old Porta Corsa singles and few 2013 movie moments…
If it was not because of T5AD, I won't know there is a mail promo for a free deluxe car… There is NO advertising about this promo or available form to fill and most of all, NO mention of the "Cars Month" @ KMart…
An employee told me …" I guess we have a car event coming soon… Maybe next month…" So I was the one who told her the "bad news" there will be no Cars event in June or in July… In fact that should be in October only…
Why do we know more of the promotions and events than them…?
I used to remember the day when one employee knows everything about their entire store…. Today not only each employee have their own department section to care about but they know less and less about what they are touching everyday…
Sooooooo, what is going on with this ? How come Mattel still doing special KMart events and/or exclusive/promotion with a dying store like KM?
TRU are so not in it this year… Target have done a good job to clear the singles especially the kings of peg warmers, such as Finn o mania, LMQ and Francesco with a dollar clearance twice within a year but have preciously keep Mater/Zen and Finn Deluxe for over 2 years on the shelves now…
Walmart have even done their efforts by doing a clearance… On Francesco only though…
It is very hard to follow the marketing strategy.. If there is one…
Quercy."
Thanks Quercy for the note. You are one crazy customer. Just because you have money to spend, why would Mattel want your dollars? :-/ Good thing there aren't thousands or millions of people like you – diecast metal CARS, it's not like you can just manufacturer them in a factory … oh wait, never mind.
You mean 0-3 Francesco Fan Mater's per store is NOT a CARS-a-June-bration?
It's like a MEGA Super Chase Lollapooloza! (except in states where there are no Kmart's).
Well, there is a marketing strategy, I've only worked in advertising, marketing, video production, creative, media planning, retail, licensing and sales with dozens of companies in dozens of industries but apparently none of my experiences qualify me to figure out just exactly what's Mattel's "marketing strategy."
It's a stumper, that's for sure.
I should've picked an easier topic to write about – like radiation.
I'm radiated. I'm dying.
I'm not radiated. I'm okay.


metroxing

19 June 2013

Disney Pixar, Mattel Disney Pixar Diecast CARS


19 Comments