Home
»
Disney Pixar
,
Disney Planes
,
Mattel Disney Pixar CARS
Mattel Disney Pixar CARS: Micro Drifters Fast-Flip Raceway – Still to Come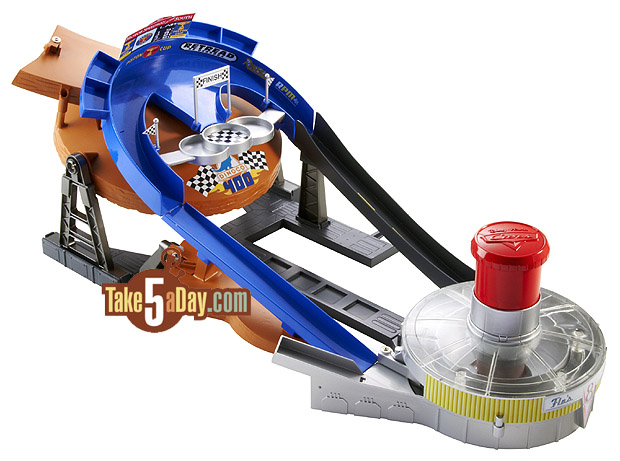 And flips over …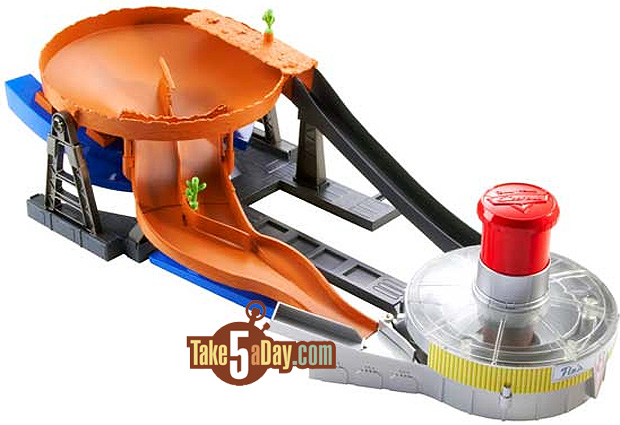 This is the "Disney•Pixar's Cars Micro Drifters™ Fast-Flip Raceway" track set
With a press of a button the action is started, launching vehicles around Willy"s Butte, where they can race, drift and swarm – just like in the movies. Time it right, and the set will flip to reveal the Piston Cup Race. It's a perfect way for kids to catch the drift!
In addition, there will be a "Flip Track Display Case" and a "Multi-Launcher" in addition to the PLANES Micro Drifters playsets.
The problem with the Micro Drifters is there does not seem to be much interest in the playsets – mainly because unlike typical playsets for CARS or Hot Wheels, few people have the vehicles to play with a MD trackset. In the case of Micro Drifters, you first have to accumulate enough Micro Drifters to make a playset like this fun. You need a few dozen Micro Drifters to be able to accelerate them out of the Flo's V8 Cafe spinning wheel – otherwise, it's not much fun … so that's why Micro Drifters are a tough call to see if they'll survive to 2014. While there is interest in the Micro Drifter singles, until people have a few fistful of the CARS, there is not much interest in the playsets which is the foundation of any line extension going forward … and PLANES certainly isn't going to help, while people might be willing to buy PLANES Micro Drifter singles, I can't see a mass market for MD PLANES that do not fly so why would you need a MD PLANES playset? … not to mention that at least CARS "drift," – that "drifting" ball-bearing PLANES don't make much sense … so while Mattel seems intent on making Micro Drifters a mass success, there are just too many strikes against it continuing for very long … remember to the average consumer, one Micro Drifter that is about 1/3 the size of a Hot Wheel AND costs TWICE as much as a Hot Wheels metal diecast car … or for 3 plastic Micro Drifters, they can essentially buy about 2 diecast CARS …

metroxing

17 February 2013

Disney Pixar, Disney Planes, Mattel Disney Pixar CARS


One Comment