Home
»
Disney
,
Disney Pixar
,
Disney Planes
ToyFair 2013 Preview: Disney, Mattel & Thinkway
Disney Consumer products is offering up a preview for Disney licensed merchandise coming up in 2013.
Here's the full PR blurb for PLANES (the movie) …
Disney Toon Studio's Planes
Planes takes off with an international cast of the fastest air racers around, in a comedy packed with action and adventure starring Dusty, a small town dreamer who longs to enter the most epic around-the-world air race despite his fear of heights. With the help and support of a fleet of new and hilarious characters, Dusty wings his way into the biggest challenge of his life.
Disney Consumer Products' merchandise program will be incremental to the Cars franchise with a robust lineup featuring of toys with broad retail support. The diverse product assortment draws inspiration from key, iconic film moments and features Dusty and his international racer friends with elements of global aviation.
Fans will not be disappointed with the all-new collection of die cast vehicles, play sets and the Planes Tilt and Fly and Planes Air Race Trackset from Mattel anchoring the Planes toy line. Planes fans can also recreate their favorite moments from the film with the deluxe remote control Dusty Plane from Thinkway, complete with an infrared remote control feature allowing kids to program this Dusty with action combo sequences.
With an innovative line of exciting toys bringing new characters and adventures to life, the Planes merchandise line will provide new play options for Cars fans.
They are showing off two PLANES items …
From Mattel: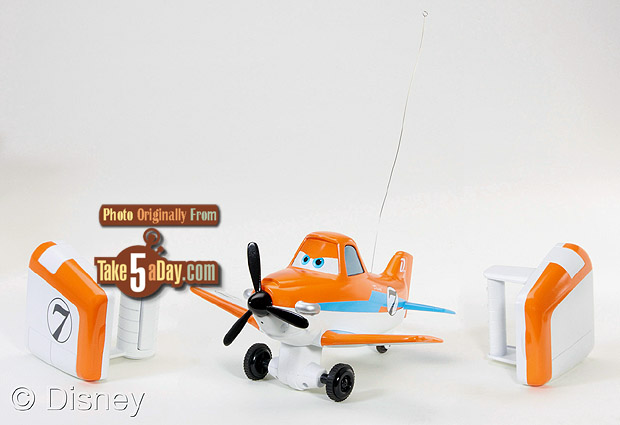 Disney Planes Pilot Pals™ Dusty Crophopper Remote Control Plane
MSRP: $39.99
Available: August 2013
Kids can have high-flying fun recreating the action seen in Disney's Planes with this RC vehicle that offers role-play remote control, which means the plane moves when they do! Push the button to set its propeller spinning and move it forward, then use the two controllers – one for each wing – to tilt the wings and control its movement through mimicry. Sounds and phrases amp up the action for a thrilling air-venture
If you read this carefully, it does not really say these PLANES can fly. I'm not an expert on RC's but it certainly seems to read that they just drive around on the ground, am I wrong? Part 2 to that – aren't kids going to be disappointed in playing with a plane that does not fly?

For Monsters University … looks too scary for me, I prefer Sulley at the end of Monsters, Inc … 🙂
Scare Off Sulley
Manufacturer: Spin Master
MSRP: $69.99
Available: Fall 2013
The Scare Off Sulley Feature Plush has 5 modes of play! Using sound and light detection technology, Sulley is able to sense his environment and change play modes to match the present surroundings. Kids can start their Scare Training as Sulley teaches them everything he knows. But once he feels they're ready, prepare for a Scare Off! Scream loud enough and Sulley will fall backwards in fear! Scare Off Sulley is the most interactive Monsters University toy delivering Scare Training, Speed Scare, Scare 'O Meter, Room Guard and the Scare Off Challenge! Relive the magic of Monsters University with the Scare Off Sulley! Ages 3+.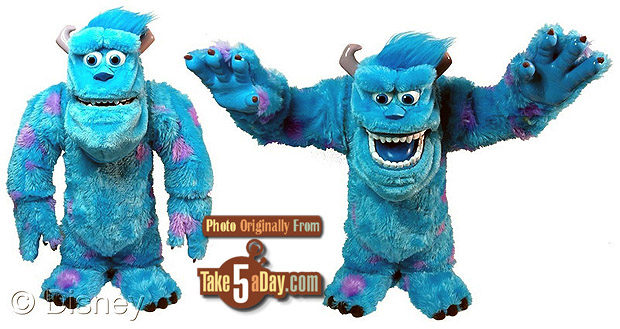 Can a Texas Chainsaw version be far behind? Or Simon Cowell?
The Duplo Jake's Pirate Ship Bucky Playset looks pretty cool …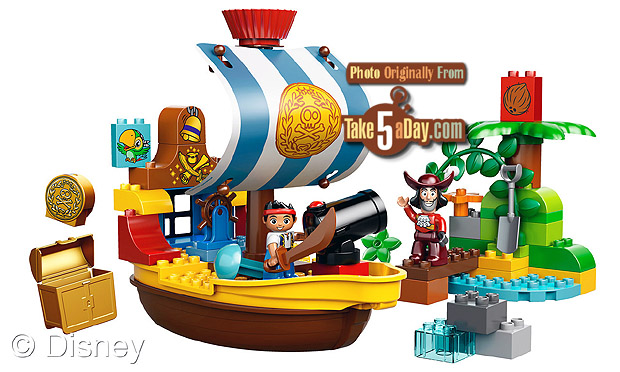 And no photos yet, but there will LONE RANGER Lego sets – sounds pretty fun!
And Return to Oz gets some nice looking figures … am I the only person creeped by dolls with dolls or have I watched Chucky too many times?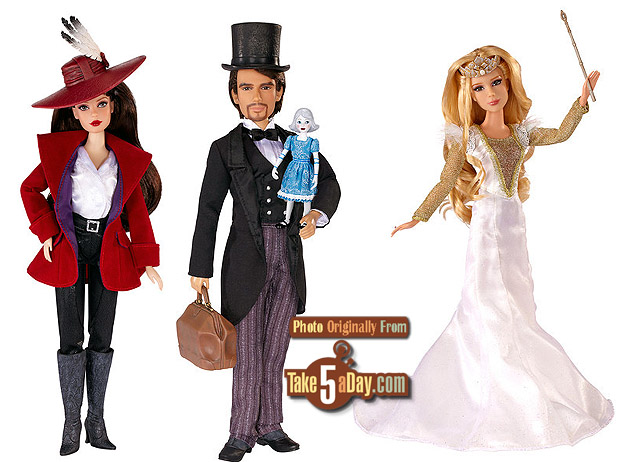 Manufacturer: Tollytots
MSRP: $19.99 each
Retailers: Kmart, Target, Toys "R" Us, Walmart
Available: February 2013
Welcome to the magical Land of Oz! A land that is uniquely strange yet eerily familiar, filled with exotic plants and flowers, and intensely sparkling water. It is like no place you have ever seen! This mystical place and its inhabitants hide many secrets. Now, you can relive the magic of this amazing land and the fantastical adventure in your own home with these fabulously beautiful dolls. Collect Oz, Evanora, Theodora, Glinda, and China Girl. Ages 3+.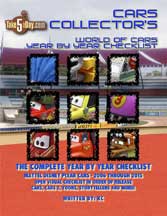 metroxing

7 February 2013

Disney, Disney Pixar, Disney Planes


5 Comments